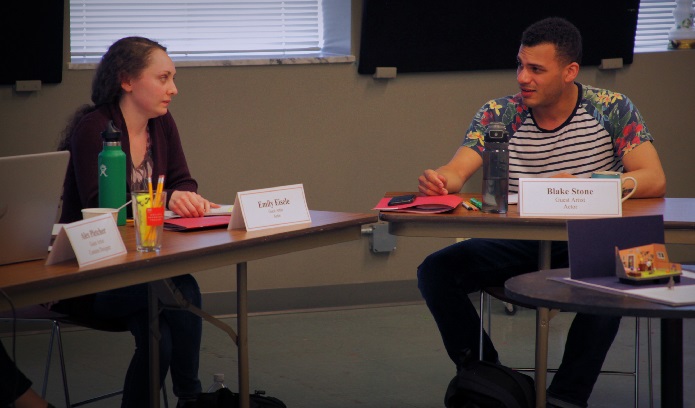 Photo: Emily Eisele and Blake Stone at the first rehearsal of "I and You." Photo by Jeff Hayes
Artists Repertory Theatre's final show of the season, "I and You," has a synchronicity between the play's two characters and the actors who portray them.
"I and You" tells a funny, tender and surprising story of two young people falling in love with the mystery of human connection. Homebound due to illness, the smart and sarcastic Caroline is suspicious of the sweet and athletic Anthony after being thrown together to work on an English class project about Walt Whitman's Song of Myself. As the pair stumbles through the poem, they begin to share secrets and let their guards down, eventually unlocking the mystery that brought them together in the first place.
In a press release announcing the play, playwright Lauren Gunderson says, "It is a really special play for me because it is a play that allows us to examine the surprising connections we have with each other, and how much we actually need each other, even if we think we may not have anything in common."
Having never met before they began rehearsing the play, actors Emily Eisele and Blake Stone were surprised to discover the synchronicity in their own lives – including that both have Jewish mothers.
"I definitely thought it was pretty interesting that our show has a 100 percent Jewish cast," says Blake. "We do have a lot of other very interesting similarities, both being around the same age and growing up in rural settings. I remember reflecting on being perhaps the last generation to grow up constantly playing out in nature during our first meeting."
"It has been a pretty incredible experience getting to know one another as we discover this play together," he says. "Emily and I have had a great time talking about the characters, Anthony and Caroline, and bringing them to life. I'd say the most interesting aspect has been the way that Emily and I test one another's boundaries to develop a partnership and friendship – just as Caroline and Anthony do in the play."
Emily agrees. "I always find these sorts of hidden connections interesting," she says.
Though both actors knew their moms were Jewish, religion was not part of either's upbringing.
Blake says the adults in the family often discussed the family's Jewish roots, and he attended some Passover seders hosted by friends.
For Emily, "Though I don't practice the religion, my Jewish heritage is deeply important to me."
Her earliest connections to Jewish culture were food. Her Grandma Shirley worked in a kosher restaurant, so on visits Emily would eat plenty of matzah ball soup and challah French toast, which she claims is the only way to make French toast.
Thanks to an uncle's research, she learned her grandfather emigrated from Germany to South Africa in 1938 at the age of 14; most of his extended family died in the concentration camps.
"Last year, I spent some time traveling in Poland. I took an incredible walking tour in the Jewish Quarter of Kraków that traced a pattern of events starting centuries earlier and leading up to the Holocaust. The next day, I stood in Auschwitz where about a dozen of my distant relatives were killed. Some structures in the camp are starting to decay, and that image really affected me. I often think about how I will be among one of the last generations that was able to actually meet and hear from survivors in person, and how imperative it is to preserve their stories and memories."
The two actors will participate in post-show discussions following the Sunday matinees on June 3, 10 and 17 as well as the Wednesday matinee June 6.
"To me, this play is most simply about the fundamental need for human connection and the universal qualities that we share as humans," says Emily. "The only way we are able to explore that honestly is in a very warm, supportive rehearsal room, which is made possible by our lovely team – JoAnn Johnson, Chelle Jazuk and Megan Moll."
"I and You"
WHERE:  Artists Repertory Theatre, Morrison Stage, 1515 SW Morrison St., Portland
WHEN:  Through June 17: 7:30 pm, Wed-Sun; 2 pm, Sun; 7:30 pm, Tue, June 12; noon, Wed, June 6.
TICKETS: $50, $25 student; 503-241-1278 or artistsrep.org