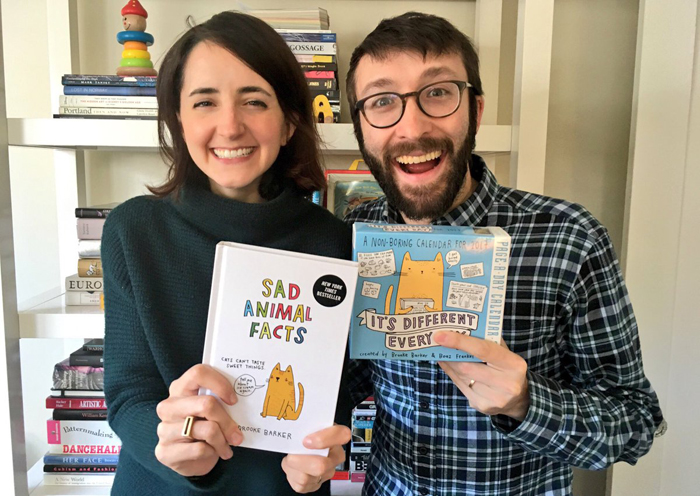 Photo: Husband and wife, Brooke Barker and Boaz Frankel display their individual and collaborative writing endeavors.
Boaz Frankel moved to Pittsburgh in March of 2019, but he will return to his native Portland, along with his wife, Brooke Barker, on Feb. 5 for a book signing of Let's Be Weird Together: A Book About Love at Powell's City of Books at 1005 W. Burnside St. in Portland.
Let's Be Weird Together is the first book collaboration from the couple. They have been working on "It's Different Every Day" for the past six years, a page-a-day calendar comprised of a collection of animal facts, miniature models, games, trivia, finger puppets, and more quirky tidbits.
Their editors at Workman Publishing suggested they write a book together. "They're like, 'I wonder if there's a book you two could write together about something," remembers Boaz. At first, they weren't sure. "When we got home, we thought, 'What if we did it, what would that look like?' Then we started generating ideas, and I was like, 'Oh gosh, this could actually be pretty funny,' " says Boaz.
The idea behind the book started to grow on them, and they put together a pitch and presented it to their editors. Let's Be Weird Together, "a book about weird couples and the tiny two-person universes they create," was born.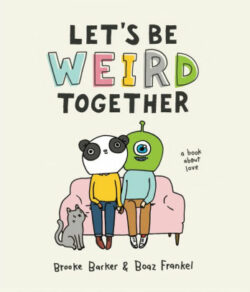 Boaz and Brooke co-wrote the book and Brooke did the illustrations. Brooke has also written and illustrated two prior books, Sad Animal Facts, and its sequel, Sad Animal Babies. Her books have been translated into nine languages, and her comics have been featured in New York Magazine, Forbes, Entertainment Weekly, Parade, and The Guardian, among others.
Boaz can now add author to his other titles of filmmaker, talk show host and, curiously, museum curator. For six years, Boaz hosted "The Pedal Powered Talk Show," a fusion of a late-night-style-talk-show production and a cargo bike.
"We just started pedaling around Portland, and then a couple of years later, we were at Mount Rushmore with it, or on the top of the Space Needle," says Boaz. "We really took it so many more places than I ever imagined it could go."
When asked if he would ever consider getting back on the bike, he replies, "Never say never. The bike desk is still ready to go, so who knows?" With a sponsor, he could realize his dream of taking the bike desk to Tel Aviv.
In the meantime, he's busy remodeling The Kazoo Museum he started more than 10 years ago. Yes, you read that right, a kazoo museum.
It started when Boaz was living in Seattle. "The startup I was working for had all these random glass cases in the office," says Boaz. "I put a few kazoos in there and then I went on eBay and bought a few older kazoos, because unlike Picasso's or something, you can buy antique kazoos pretty cheap. For under $10, suddenly you have an 80-year-old kazoo – because you're probably the only one who's interested in that."
As the collection grew, so did his love for one of the few instruments invented in America. "It's sort of the truly democratic instrument in that anybody can pick it up and play it," says Boaz. "You don't have to take violin lessons or oboe lessons; you have it, it's in you. It's a fascinating instrument, and there's not a lot known about the origins of it, so it's been fun to try to research and figure that stuff out."
He started arranging the cases and putting placards in them, and then they got some local press about the novelty of a kazoo museum open in Seattle. "I gave little tours, it wasn't very big," says Boaz.
When he left Seattle, he put the kazoos away into boxes and thought that's where they might stay for a bit, but as fate would have it, he met the owners of The Kazoobie Kazoo Factory. They had just purchased a larger space and offered to house the museum in front of their factory in Beaufort, SC.
The Kazoo Museum and Gift Shop are open Monday through Friday from 9 am-4 pm. They are getting ready to do a remodel. "It hasn't had a major update in 10 years, so it's time," says Boaz. "It's a free museum so people can't expect too much. We're running on a pretty limited budget, as you can imagine. Free museums don't tend to generate a lot of money."
Between the book tour and the museum remodel, Boaz is also working on a documentary project called "PGH Stories." When he moved to Pittsburgh, he learned that the city is made up of 90 diverse neighborhoods – so he decided to do a 90-part documentary series exploring each one.
"It seems like a fun project," Boaz says. "If I work fast, I should finish this project in 5 to 6 years, so it'll be a while."
Boaz also (somehow!) has time for his other interesting hobbies, including making animatronic birds and working to reclaim his Guinness World Record for the most high fives in an hour, but those are a story for another time.
Let's Be Weird Together: A Book About Love is available on Amazon and at Barnes & Noble, Target and other retail locations. To keep up with Boaz and his adventures, visit stuffbyboaz.com.