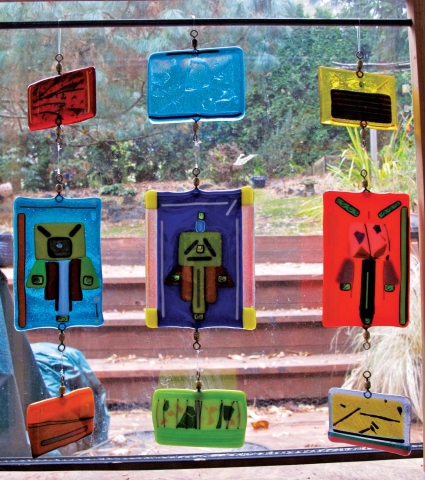 Spring encourages us to look optimistically toward Oregon's precious months of sunlight.
That light has been married to color in the kabbalah Glass studio of Eugene artist and advice columnist Helen Rosenau for the past decade.
Rosenau straddles two arts – glass-making and writing – both of which draw on her Jewish spirituality. "I'd always been a cultural Jew, not a practicing Jew. But shortly after I began my stained glass studies, I encountered the mystical context of the Hebrew alphabet and that became my doorway back into the profound nature of Judaism. Then I began to examine Kabbalah. I consider it an antidote to darkness."
Both of Rosenau's parents were German Holocaust survivors, and their experience helped form her childhood.
"My primary identity is as a seeker," Rosenau says, noting that in the '60s, she might have described herself as a "New Age Buddhist-pantheist with variations." She now feels very right and back at home in the Jewish tradition of her family. "Those other journeys … inform me, but my path is very much in the tradition of kabbalah and Torah."
Not all the art Rosenau creates is Judaic, but she finds that when she develops Jewish themes, it becomes both a reflection of where she is and a conductor of spiritual energy.
"To me it's all about opening heart and soul to the divine," she says. "My goal as an artist is to work directly with individuals to create meditation pieces that reflect their spiritual process and evolution."
Like many artists, Rosenau doesn't take credit for the content she produces, but views herself as a vessel through which the art flows. "It's partly a dialogue between me and a higher power, and partly between me and the tools and process," she says. "Kabbalah Glass is for the part of us that walks the mystic path."
A perfect example is her hanging glass Etz Chaim or Tree of Life panels, which she calls "moving mandalas." She has several hanging in her own garden.
"They're a beautiful focus for awareness, intention and spiritual direction," she says. "Each is designed to meet a longing for holy silence, to resonate with the stillness of deep prayer."
Rosenau says that when she melts glass layers together to create fully fused glass, "I can't always control the results, so I consider the process a kind of alchemy."
She used that method to create a social justice award commissioned by Temple Beth Israel's GLBT community for Rabbi Maurice Harris when he left his position at the Eugene congregation in 2011.
"The artist statement I wrote for Rabbi Maurice told how he strengthened our community by supporting and promoting equality and visibility for all," Rosenau says. "The artwork … is entitled Hineini. It's what Moses says to G-d at the burning bush. It means, 'I am here. I am present. Amidst the chaos, mystery and beauty of this world, I am here. I accept what you are asking of me.'"
Rosenau considers her pieces sacred art, whether they are privately commissioned or designed for public spaces like synagogues and gardens "that inspire people to sit down, to breathe deeply and to listen for what they want and need to hear."
Rosenau has become increasingly involved in Eugene's Jewish community life including giving several d'var (sermons) at TBI. Her glass art includes customized Parshah Panels, Trees of Life and protective hamsa – spiritual hand symbols – individually designed after discussions with people "to whom the art speaks." The finished products come with a set of meditations drawn from the kabbalistic tradition.
"It's always fun to share art with folks who have attained a certain level of consciousness," she says. "The biggest test of its value is if it sticks with you. Not me talking about it, but the colors and imagery of the tiles – the feeling of it as well as the visual."
Rosenau recalls a moment 20 years ago when she "heard a voice" asking what she wanted of life. "In my heart, I answered 'goodness, joy, creativity.' But my spirituality is an evolving process, as is the art. I put my intentions into glass, and through it, I find out who I am, and, hopefully, help others find themselves as well."