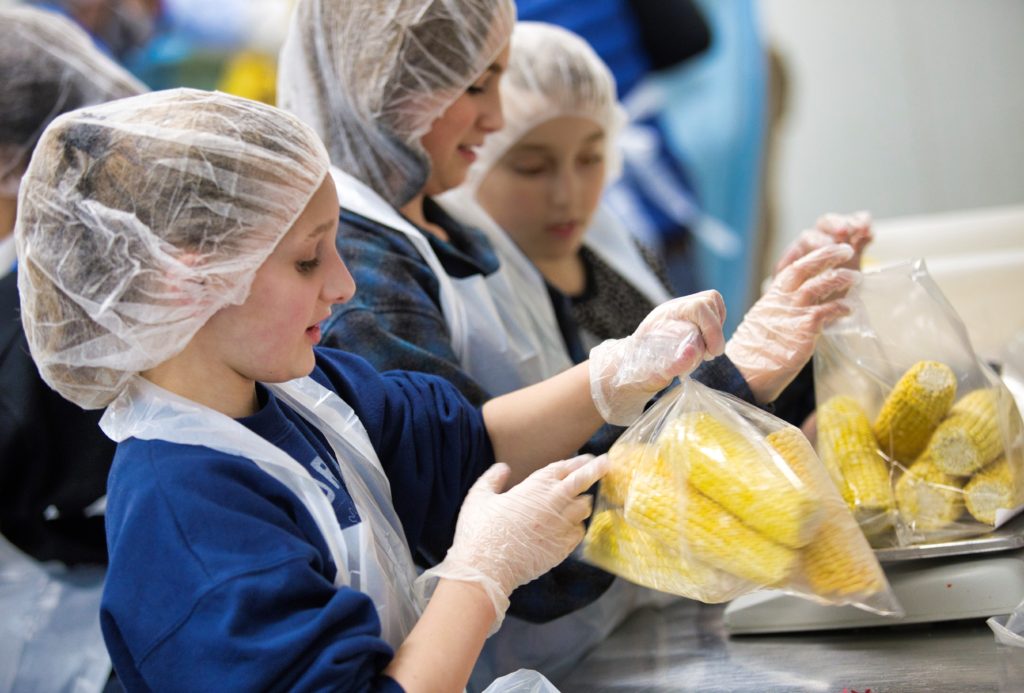 PHOTO: Volunteers pack bags of corn at the Oregon Food Bank at the Jewish Federation of Greater Portland's Doing Tuesday mitzvah project. In addition to the Jewish Federation, Portland Jewish Academy and Havurah Shalom have recently sent groups to volunteer with Oregon Food Bank.
At the dawn of the new millennium, Oregon topped a list that no one wanted to top.
Oregon was the hungriest state in the nation in 2000. Since then, many programs and thousands of people throughout our state have acted in concert to reduce hunger statewide.
By 2018 the state had improved, dropping to 12th hungriest state and 14th in food insecurity, defined as not having enough food for an active, healthy lifestyle.
As chair of the food bank's advocacy committee, Rabbi Daniel Isaak wants to keep Oregon on track to eliminate hunger. As the Passover Haggadah reminds us at this time of year, "Let all who are hungry come and eat." Rabbi Isaak shares the origin of the mitzvah of feeding the hungry in the accompanying story.
Last month he was invited to speak at the Oregon Hunger Taskforce Legislative Breakfast. Though snow cancelled the breakfast, he did deliver his talk later in the morning: "We agree that no one should go hungry. …Whether we are food bank volunteers, or SNAP administrators, cooks in schools who see to it that children begin their day with full bellies or our state legislators, together we have the power to do all we can so that no one wonders if there will be food to eat tomorrow."
In addition to advocating for the Oregon Food Bank, the Supplemental Nutrition Assistance Program and the farm bill, Rabbi Isaak says the committee addresses the root causes of hunger. The committee has advocated for accessible transportation, rent stabilization, affordable housing, minimum wage increases and other measures that enable families to afford food.
According to the Oregon Food Bank, Oregon is closer than any other state in the country to ending hunger. Why? Because an infrastructure of food assistance has been built in a statewide network of 21 regional food banks and more than 1,200 programs and partners. This achievement has not been duplicated in other states. We have a 30+ year history of collaboration and working together across the rural/urban divide and across political boundaries, because hunger is an issue that crosses all of those differences. We have grappled with the fact that systemic inequities such as racism fuel hunger, and when we name the problem, we can start to solve it. Oregon is an agricultural state that grows more than 200 high-quality commercial food crops, and our agricultural partners are committed to ending hunger. The Oregon Food Bank is only as powerful as the community who supports us, and our community is powerful beyond measure.
"The food assistance network is heavily reliant on the faith community," says Oregon Food Bank CEO Susannah Morgan. "Many food pantries are hosted by congregations, and several food drives are conducted by congregations. Numerous congregations participate in public policy advocacy with MAZON: The Jewish Response to Hunger or the Christian Bread for the World. At its best, faith shines a light on our shared humanity and requires us to act for the good of our neighbors."
Rabbi Isaak says he first connected with the Oregon Food Bank after telling Susannah he considers hunger a religious mandate.
"My goal is to help religious organizations become more involved and get positive PR for their work," says Rabbi Isaak. "Hunger is a noncontroversial issue for religious groups to work on together."
In addition to being motivated by his faith, Rabbi Isaak is moved by his personal experiences to alleviated hunger.
The son of Ellen and Helmut Isaak, he never experienced hunger growing up in California. But his mother's stories of food deprivation in Nazi Germany have always stayed with him.
His mother, Ellen Heymann, was born in Berlin in 1922 and often spoke about her experience of food rationing as a teenager. "The family received one egg per week, which, because she was sickly, went to her mother," says Rabbi Isaak. "The memory of rationing food never goes away. … You lead the rest of your life concerned that food may not be available."
After Ellen arrived in England on the Kindertransport in 1938, she was treated as a servant in the household that took her in. When she saw other servants throw away bread crusts, she "immediately retrieved those crusts, shocked that perfectly good food would be dealt with so cavalierly," says her son. "That experience … emphasized for her the sacredness of food and the constant realization that many places in the world live with food rationing and much worse."
In 2007 Oregon Gov. Ted Kulongoski accepted the food stamp challenge to eat on just $21 for the week – the average amount allowed Oregon food stamp recipients. When he then challenged government employees to do the same, Rabbi Isaak and his wife, Carol, decided to try it, too. The difficulty of eating for the amount really hit home when the rabbi realized they could not afford a loaf of challah for Shabbat unless that was the only food they bought that day.
Now rabbi emeritus at Congregation Neveh Shalom, Rabbi Isaak is also moved to fight hunger by the reaction one of his young congregants many years ago.
"When she was 5 years old, Jensen Gilbert confronted hunger for the first time – not her own, but that of others," says Rabbi Isaak. Walking through Multnomah Village, Jensen asked her mom why a family was going to Neighborhood House. "Ellie explained that there are people in our community who may not have enough to eat. They can come to Neighborhood House where food is available. … Jensen was visibly stunned. It was so disturbing to her.
"Ellie decided that this experience required an appropriate response. Together they headed to the nearest supermarket, filled a bag with food … and left it for the family on the hood of their car."
Jensen will celebrate her bat mitzvah at Neveh Shalom this June, and she has not forgotten that experience. Last year Jensen's school competed to see which class could collect the most food. Jensen's class took first place. The second-place class donated 36 pounds of food, but her class collected two tons for Neighborhood House.
"Jensen's shock at the existence of hunger is the appropriate response," says Rabbi Isaak. "Jensen reminds us all that hunger should not be accepted as normal. Hunger is immoral. We have the means – we need the will to eliminate it."
Oregon Food Bank Statistics
Pounds of food distributed in 2018: 50.7 million through Oregon Food Bank and 94.9 million through the Oregon Food Bank Network.
Number of recipients: 260,000 monthly
Volunteers: 40,000 volunteers donated 201,513 hours in 2018 to pack 19,813,442 pounds of food.
Distribution Centers: 36 Free Food Markets across Multnomah, Clackamas and Washington Counties; 37 School Pantries across the state of Oregon.
oregonfoodbank.org
See related story on volunteers needed to pack and deliver food boxes for Passover.