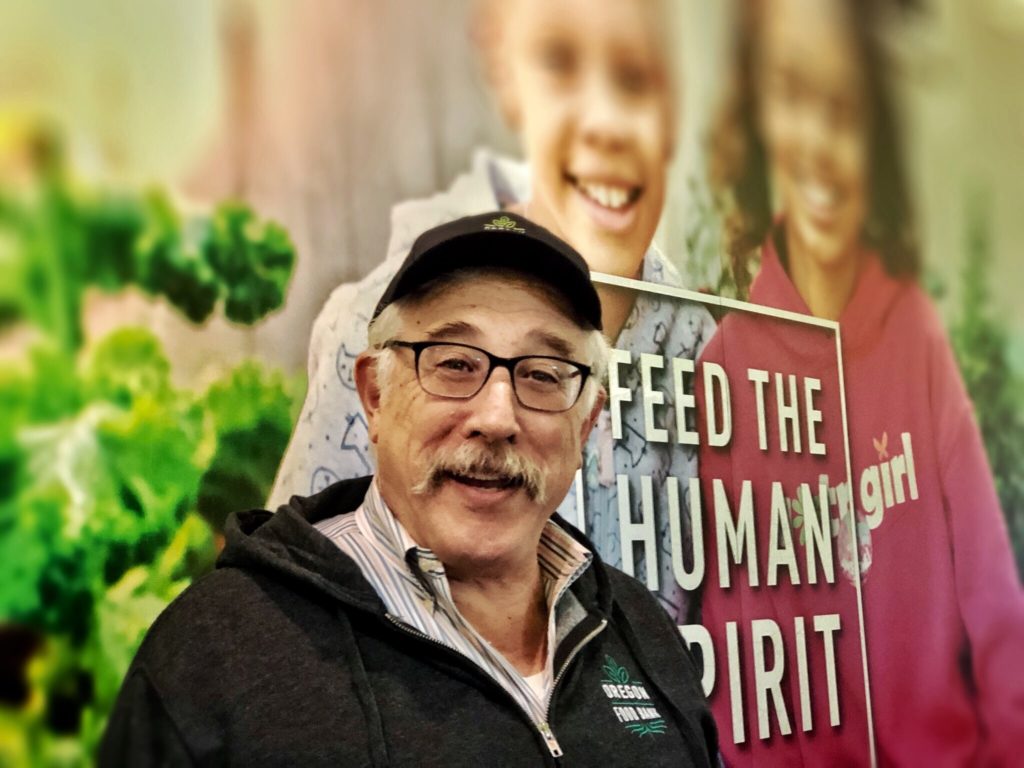 Rabbi Daniel Isaak at the Oregon Food Bank. PHOTOS BY CAROL ISAAK
By Rabbi Daniel Isaak
The mitzvah of practicing hospitality in Jewish thought derives from earliest Jewish memory. In Genesis we read that when strangers pass by, though recuperating from surgery, our forefather Abraham urgently welcomed them to his tent, offering water to bathe their feet as well as food to eat.
On Passover in particular, no Jew should be alone. Every Jew must have others with whom to celebrate the Passover holiday, to fulfill the obligations of reciting the Haggadah, enjoying the first taste of matzah and sharing four cups of wine.
Many of us do our best to seek out seniors, widows/widowers, singles and new arrivals, who may not have local family, to include at our seder tables. Synagogues solicit names of families with space at their tables to match with those seeking a home to join.
Hunger itself is a particularly cruel and painful form of enslavement. Each Yom Kippur we recite the echoing demand of Isaiah: "to share your bread with the hungry, and to take the wretched poor into your home." Every Jewish holiday asks us to be cognizant of the poor, for example with gifts to the poor on Purim and Maot Hittim (wheat money) prior to Passover.
The famous invitation in our Haggadah to join the Passover celebration, "Let all who are hungry come and eat," is not simply an act of hospitality; rather, it recognizes some people do not have the means to create a Passover observance. It is easy to forget that there are those in our midst who are hungry, who experience food insecurity temporarily or permanently due to infirmity, health, dislocation, unemployment or other reasons.
The antecedent to our invitation to welcome the hungry appears in almost precisely identical words in the Talmud, where we read that Rav Huna, a wealthy man of his time, whenever he would sit down to a meal would open his door and declare, "Whoever is in need of food, let him come and eat" (Taanit 20b). And why, the rabbis ask, is the invitation extended in the Haggadah in Aramaic rather than Hebrew? Because, they respond, at the time of its inclusion Aramaic was the lingua franca, the language understood by all. Thus it was not meant pro forma, just to be recited, but it was meant to be acted upon, for the people, both host and potential guest, to understand that the invitation was extended in earnest.
On Passover when we retell, and in some sense reenact, our liberation from bondage, we present ourselves as equals, no rich and poor, no haves and have-nots. We were all slaves, all seeking liberation. We all ate matzah, poor bread, or perhaps the bread of the poor, because there was insufficient time for the dough to rise.
Historian Cecil Roth, editor of the Szyk Haggadah, includes the following observation: "The Jew who sits down at his Passover meal, oblivious to the call of those who are in want, has missed the entire spirit of the celebration."
Rabbi Daniel Isaak is an emeritus rabbi at Congregation Neveh Shalom in Portland. He also sits on the board of the Oregon Food Bank and chairs the advocacy committee.