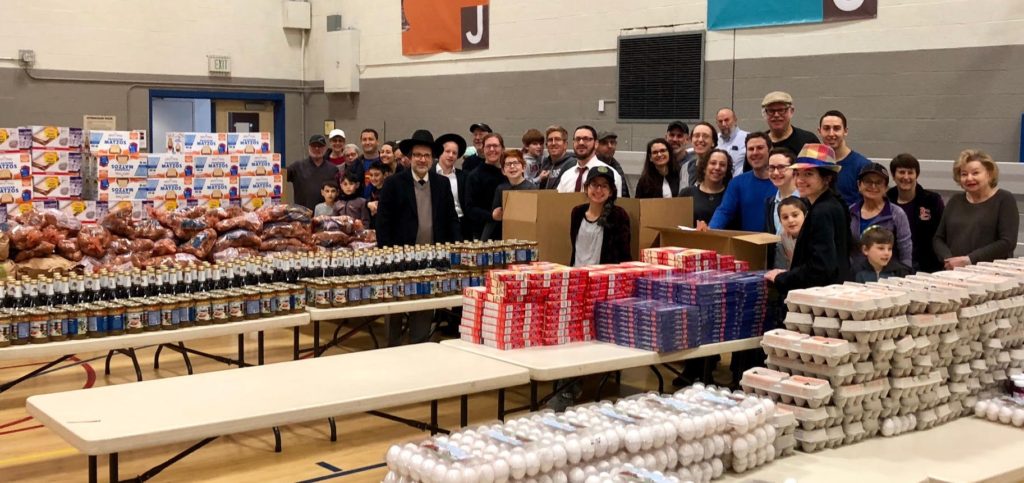 Volunteers are needed April 14 to pack and deliver Passover food boxes to families and individuals in need. The Maot Chittim Project – literally "Money for Wheat" – ensures that area families have the food they need to truly celebrate Passover. This year the Maot Chittim Project will deliver about 125 kosher-for-Passover food boxes to clients of Jewish Family & Child Service.
Names of recipients are provided by JFCS, funding is organized by the Jewish Federation of Greater Portland, food is procured by Allen Levin Café @the J and volunteers come from across the community.
Volunteers of all ages are needed as packers, schleppers and drivers. Jobs are available for both kids and adults. All you need to participate is the ability to put things into a box and a smile. The project is based at the Mittleman Jewish Community Center, 6651 SW Capitol Hwy., Portland.
At 8:30 am, strong volunteers are needed to carry all the cases of food (weighing 20-50 pounds) to the packing area. Packing the food into boxes for families starts at 9 am.  Delivery drivers will begin departing around 11 am as boxes are completed.
To RSVP, please contact Jon Perrin jonperrin@gmail.com.
In addition to Passover, JFCS clients in need have received Thanksgiving food boxes for many years. The advancing ages of Holocaust survivors and increasing cost of food has prompted JFCS to partner with the Sunshine Division and launch a quarterly kosher food box delivery beginning June 11.
"The holiday food boxes like the Passover and Thanksgiving deliveries are clearly meeting a need beyond the specialness of the time," says JFCS Board President Lee Cordova. "We are pleased to better meet this growing need with the quarterly food delivery."