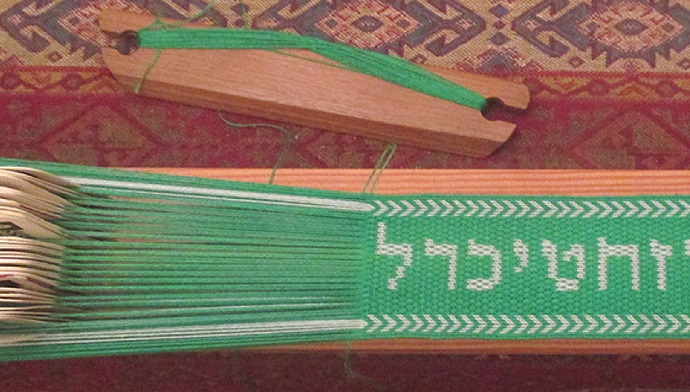 Weaving and photo by Linda Hendrickson
In May Congregation Shir Tikvah and Jersey Girl Handwovens will offer a two-part class, "Tablet Weaving the Aleph Bet." The class will be taught by Linda Hendrickson, a Portland-based master in ply splitting and tablet weaving. Participants will learn to weave the aleph-bet, the Hebrew alphabet, using an ancient technique called tablet weaving, a method of producing narrow, sturdy textiles such as straps, belts and trim.
"Once students master the technique, they can weave Hebrew text to adorn a variety of items such as bookmarks, an atarah for a tallit, or a Torah scroll binding ribbon," says Leah Hershey, a member of Portland Handweavers Guild who is organizing the class.
"The equipment is very simple and inexpensive," Leah says. "No previous weaving experience is needed. The class will focus on reading a pattern graph, turning the tablets to create designs and unweaving to correct mistakes. Yarn and tablets are included. Other materials are provided for class use with an option to purchase. A graph of the aleph-bet will be provided. Students can expect to complete one or two letters during class time.  You will leave the workshop with enough materials to weave the entire aleph-bet or a short phrase on your own."
Hendrickson has been teaching tablet weaving since 1992, and is the author of several instruction books including Please Weave a Message.
There are two sessions, Sunday, May 20, from 1 to 5 pm, and Wednesday, May 30, from 5 to 8 pm. Classes meet at Congregation Shir Tikvah, 7550 NE Irving St. (between NE Glisan and Halsey, at 76th Ave.) The $60 fee ($50 for Shir Tikvah members) includes instruction, yarn and tablets. Enrollment is limited to 12. Register at bit.ly/TabletAlephBet.
For more information about the class email jerseygirlpdx@comcast.net or call 503-459-2492. For more information about the instructor, visit lindahendrickson.com.