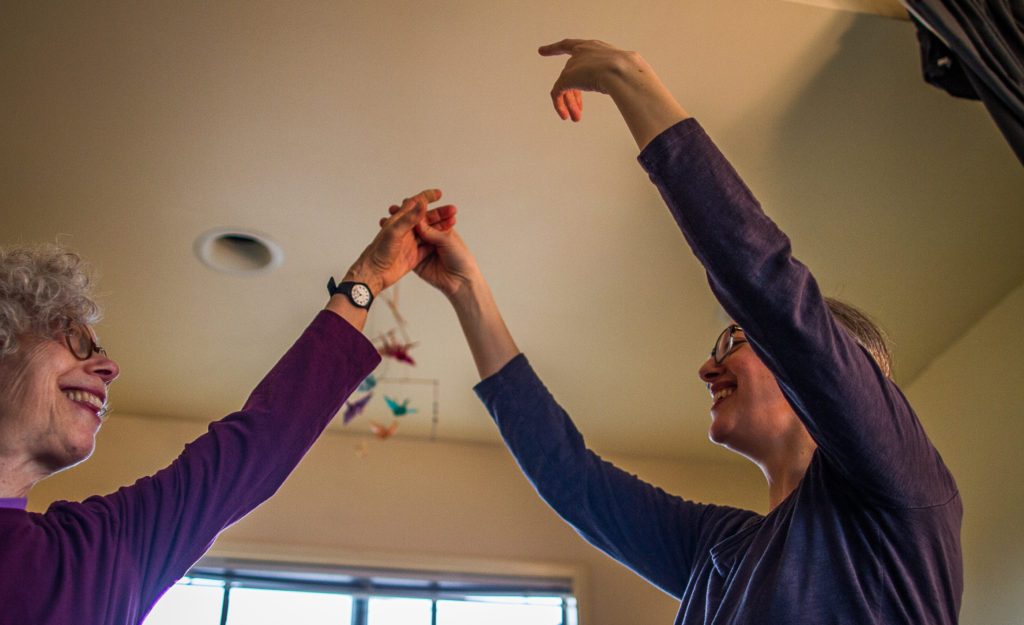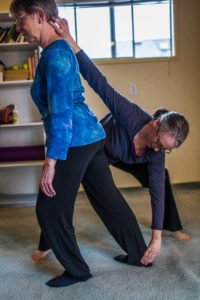 PHOTOS: Alexander Technique teacher Eve Bernfeld works with students. Photo by Andrea Leoncavallo
Seniors can explore their balance this month in a workshop that is both informative and playful – aspects reflected in the class title, "How to Not Tip Over."
"Humans are amazing balancing bipeds, but as we get older the balancing act can get more challenging," says workshop instructor Eve Bernfeld, certified teacher of the Alexander Technique, on which the workshop is based.
Eve says the 120-year-old Alexander Technique "calls into question many of our assumptions about living: that gravity is hard to deal with, that being on two legs is unstable, that back pain is inevitable, that standing up straight is hard work."
The April balance workshop will be held at the Mittleman Jewish Community Center, where Eve has been teaching workshops since 2016. Eve says the MJCC class is geared toward seniors, but all ages are welcome. She says she had a mother and adult son take one class together.
"I love working with seniors both at the J and in my private practice (In Balance Alexander Technique) in Southeast Portland," says Eve. "Seniors are perfect students of the Alexander Technique because many of them have already come to the realization that rushing and 'muscling' our way through the day are inefficient long-term life strategies."
"Helping people become more 'In Balance' is the focus of my work," says Eve. "This involves unpacking our idea of balance. Balance is not a fixed state, but a dynamic process. We don't hold our balance, we modulate it."
The workshop will help students explore the intersection of posture and balance, and learn how to improve both by tweaking their thoughts and motions.
"For anyone suffering from severe balance issues, I would not recommend starting with a group workshop," says Eve. "It would be safer to work one-on-one with a certified Alexander Technique teacher. … Alexander Technique has been shown, when taken as a course of individual lessons, to improve balance and mobility in seniors and to be an effective intervention for chronic back and neck pain as well as for Parkinson's disease."
A member of Congregation Beth Israel, Eve says she appreciates that "both Judaism and Alexander Technique are holistic and embodied. Just as Judaism can, if we let it, infuse and enrich all of our daily activities with holiness, so (does the) Alexander Technique cultivate an interest in the mundane bits of our lives."
Eve says that while growing up in Jackson Hole, WY, her Jewish communal experience "was limited to a highly anticipated annual Hanukkah party." Her family did observe Judaism at home, and she attended services at Temple Emanu-el in Tucson, AZ, when she visited her grandparents. "It has been very rewarding as an adult to work on filling in the gaps in my childhood Jewish education."
In Balance Alexander Technique: 503-915-7400 | eve@inbalanceAT.com | inbalanceAT.com
EXPLORING BALANCE WITH THE ALEXANDER TECHNIQUE
WHEN: 2-4 pm, April 14
WHERE: MJCC, 6651 SW Capitol Hwy., Portland
COST: $45 ($25 MJCC members)
INFORMATION: 503-244-0111, oregonjcc.org/fitness-wellness/fitness-wellness-programs