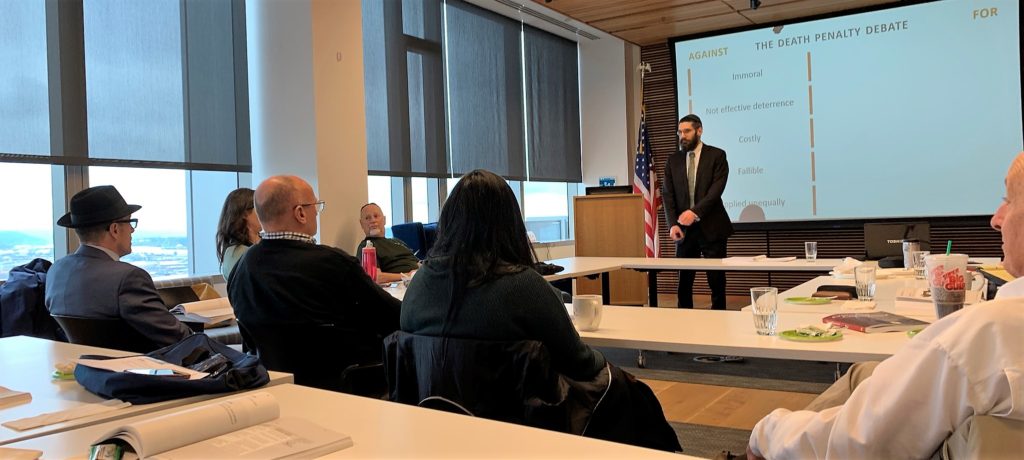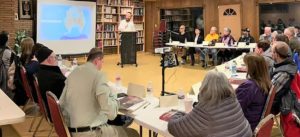 PHOTOS: Above, Rabbi Motti Wilhelm teaches the Portland Crime and Consequence class at Stoel Rives Law Firm. Right, Rabbi Avrohom Perlstein teaches the Salem class.
Crime and Consequence, a six-session Jewish Learning Institute course on the Jewish perspective on criminal justice, drew nearly 70 attorneys and laymen to the Portland and Salem course locations.
The course tackled questions such as What's the purpose of prison: punishment, deterrence or rehabilitation?; What's Judaism's position on the death penalty?; and Can criminals ever make amends, and if so, how? The course drew deeply on ancient Jewish sources, while using contemporary materials to give a modern context to the discussion.
"It was a singular experience to see that the roots of our common law dated thousands of years to a system of rationale justice and morality that ancient Jewish scholars used to reconcile the competing needs of individuals, as well as the competing needs of a society at large against the freedoms and responsibilities of the individual," says Jeff Babener, a longtime attorney who took the course.
The course was accredited by the Oregon State Bar for nine CLE credits including three Access to Justice Credits.
"It is a profound irony that the United States is a true beacon of democracy, freedom and the rule of law while it imprisons more of its own citizenry than any other country," wrote Professor Alan Dershowitz, professor emeritus at Harvard Law School, in his endorsement of the course. "Crime and Consequence … brings rigorous legal analysis, statistical data on incarceration and rehabilitation, and case studies into a uniquely profound dialogue with the values undergirding our entire political tradition."
Criminal justice is not just an armchair study and discussion for Chabad Rabbis Motti Wilhelm and Avrohom Perlstein, who presented the courses. In 1976 the Rebbe – Rabbi Menachem Mendel Schneerson of Righteous Memory – called upon his students and followers to bring meaning and joy to those incarcerated.
"If a person is being held in prison, the goal should not be punishment but rather to give him the chance to reflect on the undesirable actions for which he was incarcerated," the Rebbe said in Yiddish in a 1976 talk. "He should be given the opportunity to learn, improve himself and prepare for his release when he will commence an honest, peaceful, new life, having used his days in prison toward this end."
In Oregon that philosophy is furthered through chaplains who visit and help prisoners. Chabad Rabbis Avrohom Perlstein and Chayim Mishulovin are chaplains at the Oregon State Penitentiary and the Federal Correctional Institution in Sheridan, respectively.
JLI courses in Portland are presented by the Benaroya Jewish Learning Academy, the adult education arm of the Chabad Center for Jewish Life, Southwest Portland; for information, call 503-381-7119. For information on the Salem classes, presented by Chabad of Salem, call 503-269-4666.
Watch this clip from the American Judaic Legal Symposium in which Rabbi Michael Broyde shares the Jewish view on vaccinations.