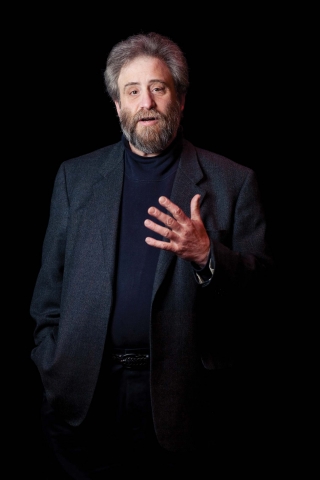 Values like kindness, benevolence and compassion are key elements of Jewish identity. Portland Story Theater co-founder Lawrence Howard grew up no stranger to these values as the middle child in a Jewish family in New York. But the value that made the deepest impression on him as a teenager was fortitude. Fortitude runs deep in the Jewish psyche.
Howard's father, Marty, used to tell him, "We are made of good Russian peasant stock, and there is nothing in life that we cannot endure."
When Howard was 14, he read Albert Lansing's The Endurance. It was that sense of fortitude that drew Howard deeply into the story of Sir Ernest Shackleton and his 1914 Antarctic expedition. Howard and his father shared a passion for this story of exploration and the fortitude of the human spirit.
In 2008, on the fifth anniversary of his father's death, Lawrence Howard created a one-man show, Shackleton's Antarctic Nightmare: The 1914 Voyage of The Endurance, weaving material about his relationship with his father into the epic tale of Antarctic survival. People flocked to his performance, mesmerized by this gripping, true story. Shackleton's dream of being the first to traverse the Antarctic continent became a nightmare when his ship was trapped in the pack ice of the Weddell Sea and crushed by the pressure of the ice. The story of how he and the 27 men of his expedition survived on the ice and eventually came to safety is an epic tale of hardship, courage and endurance. Shackleton's Antarctic Nightmare has had three sold-out runs at Portland Story Theater, which was co-founded by Howard.
Howard believes this story inspires people during these challenging times. He wanted more people to hear it; so he applied to The United Solo Festival in New York City. "Shackleton's Antarctic Nightmare is a perfect fit for United Solo," Howard said in his bid to participate, "because it embodies what are, to me, the classic attributes of solo performance: with no set, no costumes, no props, no fancy lighting, a lone performer holds the stage and singlehandedly creates an entire universe with nothing more than gesture, words and voice. This is a return to the ancient roots of theater. This is theater at its most elemental, most essential core."
Apparently United Solo agreed, because Howard was selected from among hundreds of solo artists from all over the world. A board selects shows in a vast range of categories, including storytelling, improv, music and other forms of solo theater. Participation is by invitation only.
Howard's 140-minute production will take place at Theatre ROW on 42nd Street in the heart of New York's theater district on Oct. 24 at 3:30 pm. He has also been awarded a generous Professional Development Grant from the Regional Arts and Culture Council in support of this artistic opportunity.
It will be the first time his 86-year-old mother has seen him perform live. What a gift that will be … to have his family witness this honoring of his father with a story of fortitude, courage and endurance.
Find out more about Lawrence Howard at
www.lawrencehoward.name.
Lynne Duddy is the chief instigator at Portland Story Theater. She directed by Shackleton's Antarctic Nightmare for three sold out runs in Portland. She is a narrative artist, writer and science junkie with an unbridled passion for connecting people through story.