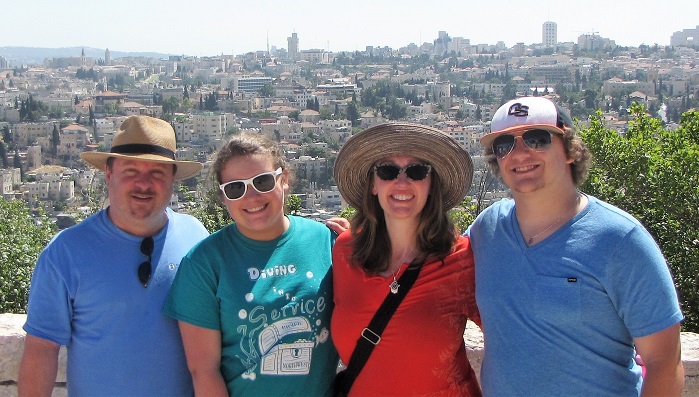 PHOTO: Laurie Lebowsky and her husband, Brad, and stepchildren, Justin and Amanda, visited Israel in 2013 with Congregation Shir Tikvah.
Laurie Lebowsky is proud to be one of more than 24,000 women running for office in the 2018 elections.
In February, she was appointed from a pool of 56 applicants to an open seat on the Vancouver City Council. As an incumbent, she believes she has a leg up for the non-partisan race for a four-year seat on the council. The two candidates who receive the most votes in the August primary vie for the seat during the November general election.
Like many women, Laurie began to seriously explore seeking public office following the 2016 general election and the Women's March in January 2017.
Before she was appointed, Laurie attended a meeting of Emerge, a national organization dedicated to increasing the number of Democratic women leaders from diverse backgrounds in public office. Laurie had intended to enroll in Emerge's six-month training program before she was appointed to office. She has signed up for two shorter candidate training programs – one through the National Women's Political Caucus and another through a Realtor's group.
She has launched a website (electlebowsky.com) as well as Facebook, Twitter and Instagram accounts (@electlebowsky).
Laurie attributes her appointment to the city council to her strong background in urban planning, which has given her experience in public hearings, policy and ordinances. After earning her bachelor's degree in political science from Michigan State University, she moved to the Pacific Northwest and earned a full-ride scholarship in Urban and Regional Planning from Portland State University, where she obtained a master's degree. Her 24-year career includes her current post – since 2005 she has served as a planner for Clark County.
She also has been an active volunteer in Vancouver and Clark County. Laurie chaired the Clark County Public Health Advisory Council and served as vice president of Bike Clark County.
She also helped launch a Bike to Leadership program with the Vancouver School district. "We teach students about bicycle and pedestrian safety, then they become leaders in their schools and teach their peers. … Bikes give kids independence, which they don't have as much of anymore."
She feels her professional and volunteer experiences will serve her well as she works on the council for Vancouver's future.
"This is a great group of people," says Laurie of her fellow city council members. "I am excited to work with them to serve the city and tackle issues facing the city."
Laurie and her husband, Brad, a nonprofit consultant who cofounded Hunger for Success, were married in 2009 at Congregation Neveh Shalom. Her stepson, Justin, now 24 and a mechanical engineer in Hillsboro, became a bar mitzvah at Neveh Shalom. Then the family joined Congregation Shir Tikvah, where her stepdaughter, Amanda, now 19 and a student at the University of Washington, became a bat mitzvah. With both children no longer at home, the couple is considering joining Vancouver's Congregation Kol Ami.
"The ethics of Judaism inform my desire to be a public servant," says Laurie.
The issues she focuses on include aging in place, jobs, affordable housing, inclusion and transportation. Several of those issues are interconnected.
"I love cities and downtowns," says Laurie. "Cities are more livable when you have safe places for people to walk and bike. It's also important in aging in place ؘ– having safe places to walk is really important to keeping seniors in their homes longer."
On the issues page of her website, she notes that she understands the challenges for regional travel, neighborhood streets and addressing the needs of all people, whether young or old, drivers or walkers, public transit riders or bikers.
"According to the U.S. census, by 2030 a full quarter of U.S. residents will be over the age of 60," notes Laurie; therefore, she "supports forward-thinking ways to help people age in place, such as age-friendly home-design concepts, reviewing comprehensive plan standards to anticipate the needs of citizens and creating opportunities for alternative accessible housing for our seniors. Along with a progressive transportation system, we can help Vancouver become an age-friendly place for all citizens in the city."
Laurie has lived on both the east and west sides of Vancouver, which she feels gives her good perspective on dealing with the diversity in the community and the varied needs of different parts of the city.