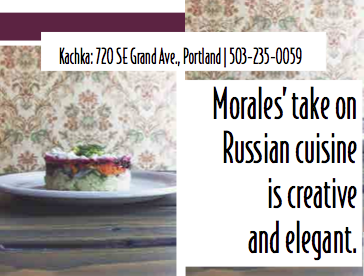 According to The Oregonian, Russian-speaking immigrants are one of Portland's largest immigrant groups. Even so, the cuisines of Russia seem to be sadly underrepresented in this town. Fortunately, with the arrival of Kachka, Portlanders can now enjoy classic Russian specialties such as blini, vareniki (dumplings) and ukha (fish soup).
Kachka opened in fall 2013 to critical acclaim. Headed by Belarusian-Jewish chef Bonnie Morales, the restaurant continues to be one of the Central Industrial District's biggest hotspots. Reservations are hard to come by; walk- ins often require at least a 45-minute wait. (One way to avoid the hordes is to arrive at 4 pm, when the restaurant opens.)
Morales' take on Russian cuisine is creative and elegant. Caviar is served on elongated white plates with overlapping blini, smears of cultured Smetana butter and stripes of chopped chives and sieved hard-boiled egg. A smoked fish plate is a colorful wheel of blood-red smoked salmon, white and black breads, silvery mackerel and pinkish capitaine.
One of Morales' most popular dishes is sprat buterbrodi (open-faced sprat toasts), which won the "Judges' Choice" award at this year's Feast Portland Sandwich Invitational. The chef works hard to extract stunning flavors from her ingredients; she house-cures her own pickles and salmon roe. Some of Kachka's dishes are suitable for the vegetarian; there are farmer's cheese vareniki and vegetarian blintzes. The mushroom stroganoff can be ordered without beef tongue.
Morales is passionate both about her Jewish heritage and her restaurant. "This restaurant is a deeply personal expression, and I am trying to honor my family in every aspect," she says. The name "Kachka" holds great personal meaning for the chef; it brings to mind her grandmother, who narrowly escaped death during World War II. Explains Morales: "Along her way after escaping the ghetto, (my grandmother) was stopped by a Starosta – a Nazi-appointed town warden. He was convinced that my grandmother was Jewish and wanted to turn her in to the Germans. She made up some story about being a Ukrainian peasant going to visit family in Russia. The Starosta doubted her story. He asked her, 'If you're from Ukraine, how do you say 'duck' in Ukrainian?'
"She was Belarusian, not Ukrainian. The languages have some overlap, but not completely. But she just crossed her fingers, prayed and said the Belarusian word for duck: 'kachka.' It miraculously happened to be the same word in Ukrainian. He begrudgingly let her go. The word 'kachka' is a tie to this amazingly brave woman I am proud to call my grandmother."
Morales, whose first language is Russian, grew up with her parents' Belarusian cuisine. In addition to serving it to her customers, she also aims to offer some of her items via retail. "That's very important to me; I want these foods to be enjoyed at home, around a table of good friends and family. This is the way I came to love these dishes."
For now, diners can head over to inner Southeast and explore one of the most exciting dining experiences in Portland.