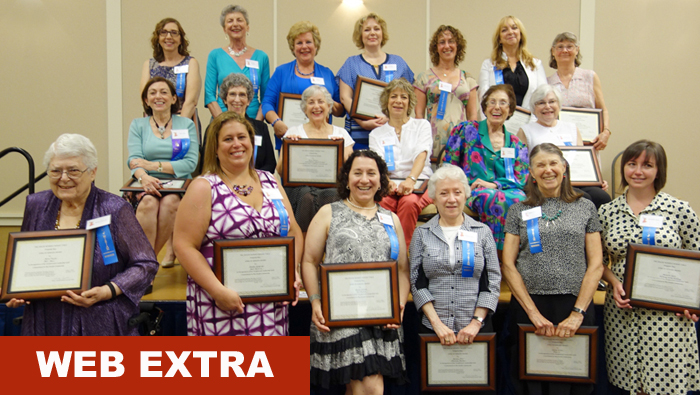 (Photo by Carole Glauber)
The Jewish Women's Round Table presented the 23rd Annual Song of Miriam awards to 19 women June 7. The Song of Miriam Awards honor women who volunteer their time and energy to ensure the continuity and vibrancy of the Jewish community of Oregon and Southwest Washington.
This annual event is sponsored by the Jewish Women's Round Table, whose mission is to strengthen the Jewish community by honoring the excellent work of women volunteers and bringing the community together to celebrate Jewish life. The brunch held at the Mittleman Jewish Community Center also collected $613 for the Oregon Food Bank.
From left, honorees are: (front row) Mimi Orzech of Beit Am in Corvallis, Heather Kirkbride of Congregation Beit Haverim, Rachel Schatz of Kol Shalom, Arleen Slive of Havurah Shalom, Hilda Welch of Congregation P'nai Or, Michelle Katz of Portland Jewish Academy; (Middle Row) Toby Blake of Congregation Neveh Shalom, Marge Congress of Mittleman Jewish Community Center, Sherry Fishman of the Jewish Federation of Greater Portland – Women's Philanthropy Committee, Jeanne Freeman of Temple Beth Tikvah, Evelyn Freedman of the Robison Jewish Health Center Sisterhood, Arlene Gintz of Congregation Shaarie Torah Sisterhood; (Back Row) Paula Boga of Temple Beth Sholom, Leatrice Kaplan of Congregation Kesser Israel, , Elaine Coughlin of the Oregon Jewish Museum & Center for Holocaust Education, Naomi Hall of Congregation Shalom Bayit, Julie Poust of Congregation Shir Tikvah, Linda Harrison of Women of Reform Judaism / Beth Israel Sisterhood, and Deawn Herrmann of Congregation Kol Ami of Vancouver.
To find out more about JWRT, go to our new website at jwrt.org. Learn about the history of the SOM awards, see a listing of past honorees, the JWRT board and more.