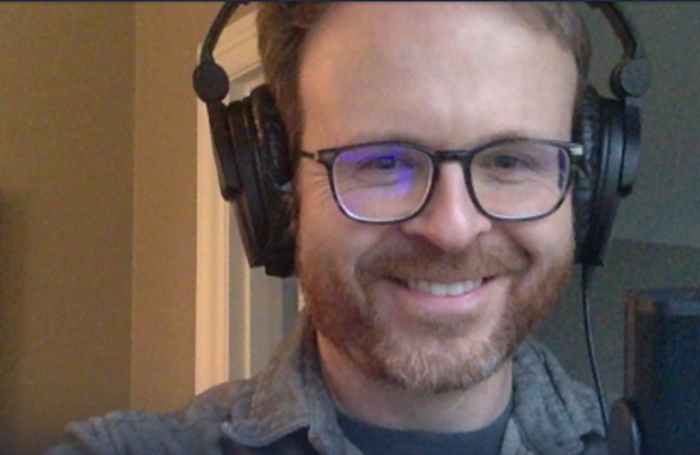 Photo: Justin Jude Carroll
The inspiration for Justin Jude Carroll's podcast, "Quality Human," came to him a few months into the pandemic. There was a question he had that stuck with him, "How is it that certain people can do their best work, work that is good for them and helps other people, and remain a good person because there's so many demands and distractions in the world?"
As he searched for an answer, he realized that it was an opportunity to share stories that he felt are so needed right now.
"We need to remember that amid all these dark clouds, there's these incredibly inspirational stories every day," says Justin. He started to educate himself about podcasting, lined up some folks to interview and began to ask, "How do we do our best work while being our best selves?"
Justin had some audio editing experience, but he had no experience with podcasts and the intricacies involved in getting onto the Apple and Spotify feeds. But with some help from a few friends and overcoming a large learning curve, Justin launched "Quality Human" in September 2020.
The podcast has also helped in Justin's recovery from a traumatic brain injury he sustained in 2015.
He and some friends were staying at an Airbnb in New Orleans. They were climbing stairs to an outside deck when the staircase collapsed from the weight. Justin fell 10 feet, broke his leg and developed post–concussion syndrome from his brain injury.
Before the injury, Justin worked as a composer and singer-songwriter and was even named Oregon's Best Singer-Songwriter in 2007. He has released three albums of original music, taught musical theater camps, synagogue Sunday school and was also the early childhood music instructor at Portland Jewish Academy.
"What I've learned from my own experience, and from being around other brain injury survivors, is the challenging thing about brain injuries – it really gets you," says Justin. "It attacks you in your identity because your perceptions of the world, and yourself, can be altered. You can't do as much as you used to do. There's a lot of adjustment to a new reality you have to do."
Justin had to scale his work back during recovery. He shares that there were weeks in the first year where all he could do was rest and take walks. Justin couldn't read or use screens very well because it was too draining. But what he did discover was a passion he had as a child and had not done for years – he began to draw again.
"I found myself going back to that first love," says Justin. "That led me over the last three years to teach myself to paint again," He has done a few art shows with his work around his neighborhood of Multnomah Village. "I think that probably gave me enough confidence to say, 'OK, we're  pretty functional here creatively, so let's stretch and try this podcasting experiment.'"
With "coming back to square one" with his creativity, other things grew like music and writing. He recently wrote and performed a song with his daughter for her bat mitzvah, and he's done song leading and teaching at synagogues in Portland, including Havurah Shalom, where he and his family are members.
Being a part of the Jewish community is a big part of Justin's life and he believes his spirituality and daily meditation practice make him the best dad, husband and artist he can be. "I cannot express the gratitude I have for the calm, clarity and joy it gives me."
Some of the "pretty amazing people" he's interviewed for his podcast come from the Portland community, including musician Mark Sherman and artist Ahuva Zaslavsky. He also interviewed author Anna Solomon, whose book The Book of V was a bestseller in 2020, and Broadway actor and playwright Rodney Hicks who was a member of the opening cast of "RENT."
Now that the podcast is gaining attention, Justin is moving out of his "network"  and reaching out to people that he doesn't know personally.
"I've had a lot of great people agree to appear in the next six months," he says. "Hopefully, that will keep building. I'm still very interested in interviewing folks who are not 'notable,' but who are doing really valuable work in their lives."
There are 11 "Quality Human" episodes to date, and you can listen to them at quality-human.com.