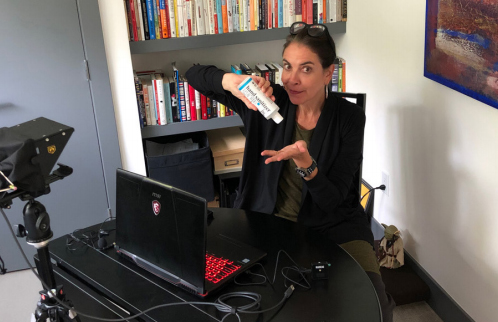 Do you want to live a more fulfilling and adventurous life? Then continue reading the following interview with Becki Saltzman and find out how you can join the Tribe of the Curious.
ORJL: Let's start with your unusual title. OK, founder is obvious, but what does it mean that you're Chief Curiosity Seeker at Applied Curiosity Lab?
Becki: It's a fun and accurate way of describing that with all I do, in-person workshops, speaking, executive coaching, and online courses and programs, the lens is always curiosity.
ORJL: Tell me more about the online courses you offer.
Becki: I'm an author and content creator for LinkedIn Learning. I have courses on Applied Curiosity, Ideation, Critical Thinking, Judgment, Recognizing & Rewarding, Judgment, and Decision Making…with more on the way.
In the past, I've always traveled to the LinkedIn Learning studios in Carpinteria, CA, to film my courses. Right now, I'm working with the team to make cool courses from my home office/studio. Decision-Making Under High-Stress Situations, is coming out this month.
I'm also very excited about an online training & coaching program I'm creating called High Stakes Decision Making (HSDM).
ORJL: How is your own program different from your courses on LinkedIn?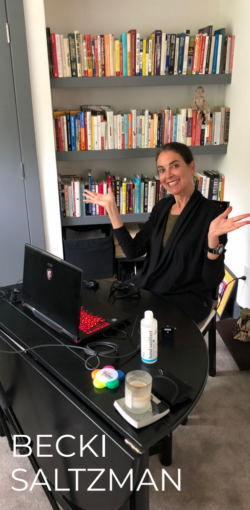 Becki: The HSDM program will be geared toward middle to senior executives in mid and large-sized companies and organizations. It's training that will prepare executives for making the most out of decision models and machine learning algorithms that will soon be "hired" to make decisions for us. We've all got to prepare for how we'll stay relevant…as humans. HSDM is preparation.
ORJL: How will people access the program?
Becki: HSDM is a membership-based training and coaching program that will be accessed through my website, Applied Curiosity Lab. It'll consist of training videos, worksheets/workbooks to personalize decisions, and virtual executive coaching for up to 10 cohorts at a time. In addition to the core HSDM program, experts will provide bonus content for all members on things like high stakes investment decisions, the role of mental illness in high stakes decisions, creativity and high stakes decisions, international first responder decision-making, decision mapping, etc.
If you're curious whether you're high-stakes decision-making ready, we'll have the HSDM-Readiness Survey available soon. We're taking applications now for beta testers for this fall, and we're taking reservations for 2021. Early feedback has been fantastic. I haven't seen anything like it.
ORJL: Is all your training virtual?
Becki: We love conducting in-person Applied Curiosity training, but there's no denying that we have to consider distributed workforces as a major part of all of our futures. I love training people from around the world, and I'm not going to let travel impediments get in the way. It's more cost-effective to have executives from around the world log into a program with a group of cohorts, than to have them all take time off to fly across the world for training.
That said, we're excited to re-introduce our Curiosity Quests (training travel adventures) and in-person workshops when the time is right.
Here's a plug for giving our precious brains some time and attention while many of us are isolated and swimming in a sea of uncertainty. If you've ever thought, "If only I had more time," what did you think you'd do? Do that now.
I'm here to advocate on behalf of our brains.
We spend the vast majority of our lives learning what to think. Memorize this. Do. It. Like. This. My goal is to help people improve how to think. Just to steal a little bit of time and effort away from focusing on what to think, to devote a wee bit more time to improve how to think. We know we should exercise and fuel our bodies. Shouldn't we give our brains some attention, too?
ORJL: I love that! What's the best way to do this?
Becki: Drink more water. Wake up in the morning and drink 38 ounces of room temperature water before your coffee. Before your breakfast. Your brain (and skin) will thank you. Get 7-8 hours of sleep. The science is clear on these things. Read the book, Why We Sleep. It'll change your life.
Also, since we're all still probably sipping on Quarantinis, an easy way to fuel your brain is to access LinkedIn Learning courses. I like my courses, but there are lots of excellent instructors on the platform. If you don't have a membership, it's easy to get one. I think they're offering a free 30-day trial right now.
Here's one of my favorite pro-tips: follow your curiosity and join your local library. There are so many free perks…often including free memberships to Lynda.com/LinkedIn Learning and free audiobooks. Use this time to give your brain a bit of a workout!
This spring, I'm launching a LinkedIn Live show called, Good Thinking. There will be plenty of brain fuel on the show…and plenty of me looking like a fool, I'm sure.
ORJL: How can people get ahold of you?
Becki: Anyone should feel free to contact me through LinkedIn or through my website at AppliedCuriosityLab.com. You can also Google Tribe of the Curious and join. Bring more MOTs to the Tribe of the Curious!