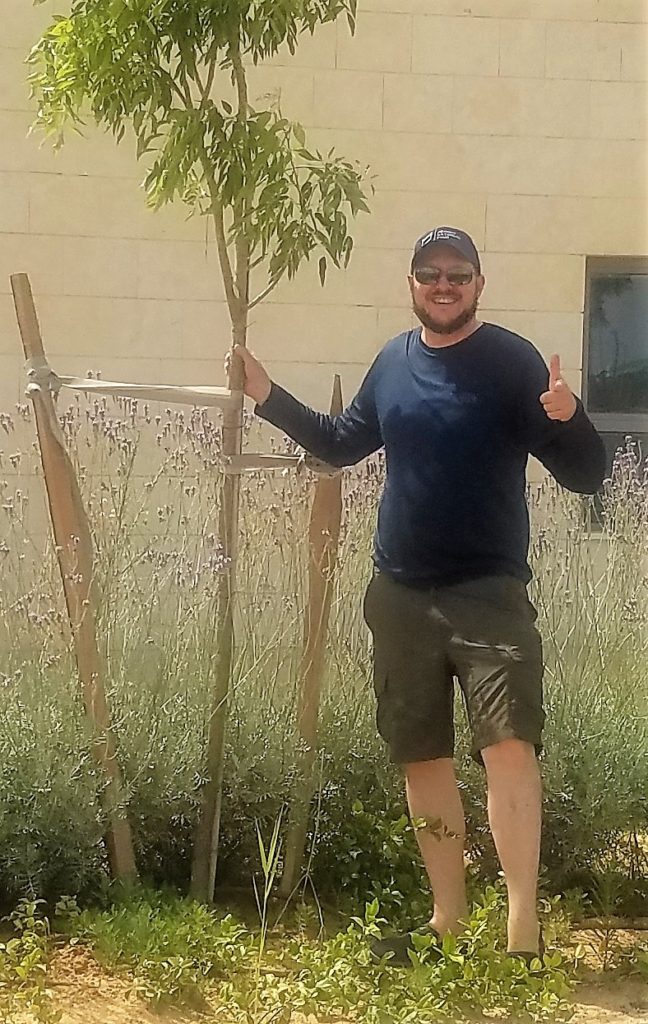 PHOTO: On his second JNFuture mission to Israel, Dan Spear visits the tree he planted on his first mission the year before.
Following a rather common path for Jewish teenagers, Dan Spear "dropped out" of organized Jewish life after his bar mitzvah in New Jersey. Then he planted a tree in Israel.
Now 39, Dan is spearheading the local effort to engage young adults in the Jewish National Fund. As a volunteer, he has coordinated several JNFuture events for Portlanders aged 25-40, including a Tu B'Shevat cider tasting, a happy hour, a pre-Hanukkah party and a Shabbat Under the Trees potluck.
JNFuture is a national initiative created to introduce a new generation to JNF's work in Israel. Since its founding in 2007, JNFuture has grown from one city to more than 20 across the United States and Israel. This year, nationally, JNFuture is expected to reach 1,000 donors giving in excess of $1.5 million, a 15% increase over 2017.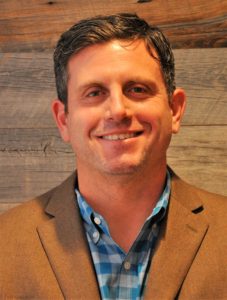 "In the Pacific Northwest, we are witnessing growth of about 28% in terms of number of donors and giving received," says Josh Lipsky, director of the JNF Pacific Northwest region (Oregon, Washington, Alaska and Hawaii).
JNF has had a Pacific Northwest office since 2015. The Seattle office has two staff members – Josh and Israel Programs Admission Director Alissa Hartnig. In addition to Israel programs for adults, Alissa recruits high school students for the Alexander Muss High School, which JNF purchased three years ago.
The JNF National conference is in Phoenix this year, which Josh says is much more accessible for the Pacific Northwest region than past conferences. Since Josh's mother, Toni Dusik, is co-chair of the conference, Josh is especially eager to take a large contingent from the region to the Oct. 26-28 conference. (See details below.)
Dan plans to attend this month's conference and hopes to take about a half dozen other Oregonians.
"I can introduce them to the people I know. I've made a ton of true blue friends from all over the country," says Dan, who has been on two JNFuture missions to Israel and attended JNF's national conference last year. "It's a chance to meet fantastic, dedicated people from across the States."
With conference registration just $240 for everyone younger than 40, Dan urges his peers to attend the national conference. In addition to new friendships, Dan says two other draws are Zionism and amazing projects.
"It a chance to learn about and be a part of an organization doing meaningful work to improve the welfare and well-being of Israel," says Dan.
Dan works for the Bonneville Power Administration focusing on the Endangered Species Act mitigation, so it is perhaps natural that he is especially drawn to JNF projects such as environmental stability, water sustainability and reclamation, and creating communities in desert environments. He is also impressed by JNF's work to promote the inclusion of people with special needs into the fabric of everyday life in Israel.
Portlanders might also be interested to go the conference and hear speaker Captain (Res.) Libby Weiss, former IDF spokesperson. Libby is a graduate of Portland Jewish Academy and was featured on the December 2016 cover of Oregon Jewish Life.
Dan says his journey to discovery of all that JNF does began with a happy hour. He had joined a former college friend on a vacation to Israel and was struck by how at home he felt immediately. So when he saw two happy hours the same evening, he choose the one featuring a discussion about water in Israel. At the happy hour, he heard about JNF trips to Israel and signed up for a 2016 JNFuture volunteer mission to Israel. In addition to planting a tree, he worked on building paths and plant trellises and other "small but meaningful projects."
"It meant so much to go to places where JNF is involved and to be there with passionate, educated Jews."
A year later he joined another JNF trip and, when he returned to Portland, he began planning events to introduce other young adults to JNF.
He hopes they find the same magical connections that he has discovered.
Josh Lipsky: JLipsky@jnf.org or 206-760-1188 ext. 940
Dan Spear: danspear7@yahoo.com or 971-570-9005
2018 Jewish National Fund National Conference
Oct. 26-28 at The Arizona Biltmore, 2400 E. Missouri Ave., Phoenix
JNF's National Conference brings together more than a thousand committed Jewish and Israeli leaders, philanthropists and college students from across the U.S. and Israel to learn about the key issues of the day over a powerful and impactful weekend.
Speakers include: Portland Jewish Academy graduate Captain (Res.) Libby Weiss, Marlee Matlin, Ronald S. Lauder, Dr. Deborah E. Lipstadt, Izzy Ezagui, Bari Weiss, Jamie Geller and more.
For more information, visit jnf.org.