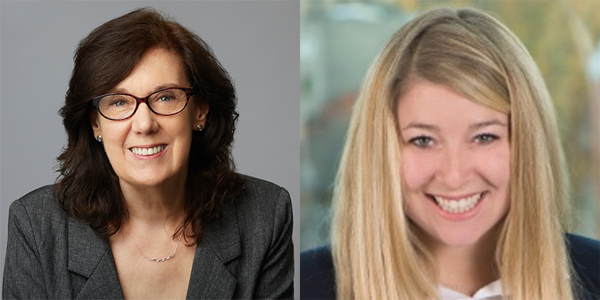 Photo: Ruth Scott, left, and Hannah Holstein
Jewish Family & Child Service board of directors unanimously voted last week to appoint Ruth Scott as Executive Director. "We are confident Ruth is the right leader at the right time. She has the existing knowledge, skills, and expertise to be effective from day one," says JFCS Board President Larry Holzman. "JFCS has thrived under Ruth's strong vision and we have full confidence she will continue to support the Jewish community through strategic partnerships."
Holzman continues, "the Board felt that Ruth's work and commitment to the agency made her the natural choice and well-positioned to take JFCS forward despite the challenges facing our community. I have really enjoyed working with Ruth and look forward to more progress for the agency as we meet the needs of our community."
"Although we considered her our "Interim" Executive Director, she has put in long hours helping our agency move forward," says Lee Cordova, Immediate Past President. "We have expanded our Board during her leadership. No one could have predicted the onset of the coronavirus pandemic and the effects it would have on our community.  We are looking forward to Ruth's helping our agency as our Executive Director and helping us navigate through these difficult times."
Ruth has recruited Hannah Holstein as the new Development Director, stepping into the role on Sept. 8. Before joining JFCS, Holstein was an associate director at the Portland State University Foundation, overseeing the university-wide annual giving program and major gift fundraising for the School of Social Work, Honors College, and Library, individually raising $600,000 and over $1.8 million within the units she served. She holds a B.A. in Early Childhood Education from Lynn University and a M.A in Non-Profit Management from Northeastern University.
"We are delighted to have Hannah on board," says Larry Holzman, Board Chair. "She has the right personality and skillset to work with the community and corporate leaders to advance our fundraising and marketing activities."
Hannah brings a wealth of knowledge from the non-profit sector to JFCS. She has served on the executive committee for the Massachusetts Sibling Support Network, worked with the Gopen Fellowship at the Massachusetts Developmental Disabilities Council, and was a lead presenter for the Sibling Support Project. Hannah worked on two capital campaigns, multiple fundraising and stewardship events, and most recently has been part of the PSU $300 million comprehensive campaign.
Hannah, when asked about her fundraising experience, says, "I've been fundraising since I was six! My father, annually, led the instructional sessions for our local Super Sunday branch in NJ. I'd pick up the phone and make solicitation calls while the group watched. I'm proud to say my dollars raised has increased over the years!"
In her new role as JFCS's development director, Hannah will play an integral role, leading and expanding JFCS's development efforts, connecting donors with philanthropic impact, and finding mutually beneficial ways to successfully engage the community in JFCS's vital mission.
I am thrilled to join the JFCS team," says Hannah. "JFCS has a unique position in the community to bring social services together and create long-term change."
*Per unanimous Board decision, David Holstein, Hannah's husband, will continue to serve as JFCS board treasurer and follow the JFCS conflict of interest policy regarding decisions pertaining to his wife.