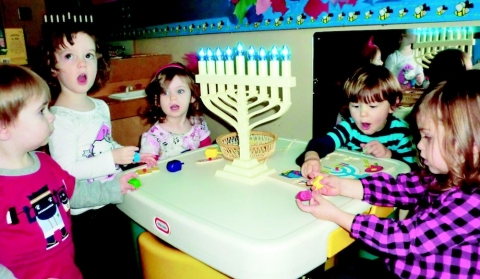 About a year ago, I moved to Portland from New York with my husband, George, and son, Liam. George and I quickly became overwhelmed researching childcare facilities and preschools for our son. Some schools maintain waiting lists that rival those of New York, while others were prohibitively expensive. I knew that we wanted our very active, energetic son to be both physically and mentally engaged. Also, as a Jewish woman in an interfaith marriage, I wanted to find a way to introduce my son to his Jewish roots. We found that Portland's Jewish preschools offer an impressive array of creative programs. I was pleasantly surprised to come across Beth Israel Preschool. We had driven past the lovely synagogue but had no idea of the hidden jewel it held inside. When we met with the early childhood education director, Deborah Kaplan, she led us on a tour that included an art studio, a chapel for Shabbat services and a huge auditorium where children could run around and play – a necessity in rainy Portland. Colorful pictures decorated the classroom walls, and the sound of happy children filled the air. I felt that our discovery of the school was beshert (destined).
Kaplan spoke to us about how preschool socially and emotion- ally prepares young children for elementary school. After our conversation, I found numerous studies that point to the value of a high-quality preschool education. According to Developmental Psychology, a journal published by the American Psychological Association, research indicates that pre-kindergarten programs enhance cognitive, language and social development. These positive effects may continue over the long term. One well-known study, the Carolina Abecedarian Project, found cognitive benefits up to 30 years after preschool. Jewish preschools offer the added bonus of immersion in Jewish religion and culture. Kaplan says of her program: "Children here find discovery, creativity, imagination and an introduction to Judaism within a development-appropriate curriculum." One of the classroom resources she uses is "What's Jewish about Butterflies? 36 Dynamic, Engaging Lessons for the Early Childhood Classroom." This lesson plan, written by Maxine Segal Handelman of the United Synagogue of Conservative Judaism, brings the teachings of Judaism into everyday life. Kaplan feels this book helps to instill a love for Jewish learning in preschoolers. "We are all about tikkun olam, taking care of our earth, making sure that we help others. We ask, How do we connect Judaism to the everyday world and incorporate that into our day with learning?"
Kaplan provides several examples of how Jewish values and culture fit into the Beth Israel Preschool educational model. "In Judaism," she says, "our main discussions are involved around food. That's a big piece here. We do tons of cooking – we love to cook together, and the children love to be a big part of that." Introductory math and science are introduced via the concepts of measurement. Children at the preschool learn how to collaborate and cooperate. "They are taught to pour the juice and pass it to the next person. We might take some of this for granted, but we are setting a foundation for these basic skills," says Kaplan.
Jewish music is an integral part of life at Beth Israel Preschool. "It gets the kids' attention," explains Kaplan. Classes open with an enthusiastic rendition of "Boker Tov" (good morning) and end with "Shalom Haverim" (peace, children). At the Shir Shabbat services, held every Friday morning in the Shemanski Chapel, children can listen to the sweet sounds of local vocalist and guitarist Beth Hamon. The musical aspect was very important to my husband and me, as we are both musicians. As a young girl, I grew up with all of the beautiful Hebrew songs. Music is also an important focus at Portland Jewish Academy's preschool in Southwest Portland. Erika Saiers, director of early childhood education, says: "Music ties the Judaic piece into our curriculum. Our music specialists, Mora (teacher) Leeza and Kim Palumbis, teach Torah stories to children as young as 1. They re- inforce what the teachers are talking about in the classroom, both the general curriculum and the Judaic curriculum."
Saiers feels that the process of creating music supports children's self-confidence. "We put the children in situations where they get up in front of 100 people to sing and dance. That avenue of music and movement really helps support them with the leadership and self-esteem piece."
She cites the strengthening of Jewish community as another important benefit of Jewish preschool. "One of the things we really enjoy here at the school is seeing young families coming back and really retracing their own Jewish culture."The school encourages family participation by means of a monthly Kabbalat Shabbat, take-home bags with family Shabbat journals and ongoing community-based learning projects. One of these projects, which ties into a Kabbalat Shabbat performance of "The Mitten," requires the children to gather mittens and hats. These items are then donated to the Jewish Family & Child Service of Portland and the Sunshine Pantry, a local food bank. Explains Saiers, "We believe that it is never too early to teach children about tzedakah."
Both Saiers and Kaplan subscribe to the view that Jewish preschool lays the foundation for a strong Jewish identity. Saiers maintains, "Jewish preschool is the first stepping-stone of young children's exploration into Jewish life." Kaplan adds that Jewish preschool introduces children to an excit- ing lifetime journey of learning. She states, "One of the taglines we use is 'Lifelong Learning Begins Here.'"
I look forward to watching my son learn more about his Jewish heritage and explore the world around him. Beth Israel Preschool is encouraging his artistic development, and he has begun to partici- pate in imagination play. Best of all, he is slowly but surely learning how to collaborate with the wonderful children in his class.
Food and travel writer and jazz pianist Kerry Politzer is a recent transplant from New York. She has written for WhereTraveler, In New York and Dessert Professional.
WEEKDAY* JEWISH PRESCHOOL PROGRAMS IN GREATER PORTLAND
Beth Israel Preschool – 503-222-2037
Foundation School Congregation Neveh Shalom – 503-293-7307
The Gan at Maimonides Jewish Day School – 503-977-7850
Gan-Garrett Jewish Preschool – 360-256-0859
Ma'ayan Torah Day School – 503-245-5568
Milt & Cissi Carl Parent-Child Preschool Congregation Shaarie Torah – 503-226-6131
Portland Jewish Academy – 503-535-3536
*Many congregations around the state also offer preschool programs during their religious school sessions on Sundays. Contact your local congregation for information