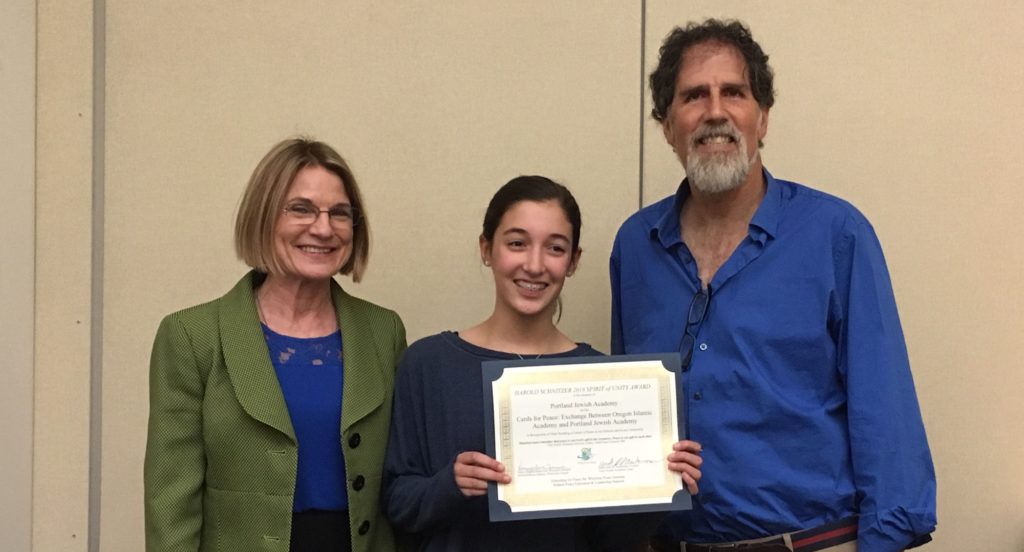 PHOTO: PJA student Liana Kressel with Wholistic Peace Institute Executive Director Nancy Spanovich and event guest speaker Rabbi Arik W. Ascherman.
By Elana Cohn-Rozansky
First there was a letter. Next was a play. Then there was a friendship.
Portland Jewish Academy seventh-grader Liana Kressel fondly remembers the first note she received from her pen pal (who is unnamed for privacy reasons) at Oregon Islamic Academy. Its kind words and an amazing drawing moved her. The letter exchange program served as a starting point for conversations between PJA and OIA middle school students before attending the Oregon Children's Theatre production of "And In This Corner: Cassius Clay, The Making of Muhammad Ali." A grant from the Leonard & Lois Schnitzer Charitable Supporting Foundation of the Oregon Jewish Community Foundation sent these young people to the play together last March.
The shared viewing of Cassius Clay's inspiring journey to Olympic athlete and human rights activist provided a wonderful springboard for talking about personal identity and values. During these discussions, students got to know each other better.
"It became clear that we clicked," says Liana. "I realized we had a lot more similarities than differences."
First there was a letter, then a play, then a friendship. And then there was an idea.
Liana and her pen pal emailed regularly after a second meeting during a PJA visit to the Muslim Educational Trust campus in late April. When Liana's pen pal, a gifted artist, shared a vision for a book in which a Muslim girl and her Jewish friend solve the Israeli-Palestinian crisis, they hit upon an idea. Why not use their talents for writing and art to create greeting cards that could be sold, with the profits going to further support the budding partnership between the two schools? The girls' project became known as Cards for Peace.
From letter, to play, to friendship, to idea. Then to an award.
In November The Wholistic Peace Institute presented PJA with the 10th Annual Harold Schnitzer Spirit of Unity Student Peace Award in recognition of Cards for Peace. The honor came with a $500 prize to cover the printing costs for the project, ensuring that every penny spent on cards will go directly to promoting more interfaith programming between PJA and OIA.
Liana accepted the award and made an acceptance speech at the awards ceremony. Guest speaker Rabbi Arik Ascherman, founder and director of Torat Tzedek and former director of Rabbis for Human Rights, shared his thoughts about "Educating for Human Rights and Peace in Our Schools." His fundamental message was that human rights means putting people first, not money or land or political agendas.
There is no doubt that Liana and her pen pal know what it means to put people first as reflected so beautifully by their friendship and their project.
Elana Cohn-Rozansky is the service learning coordinator at PJA.