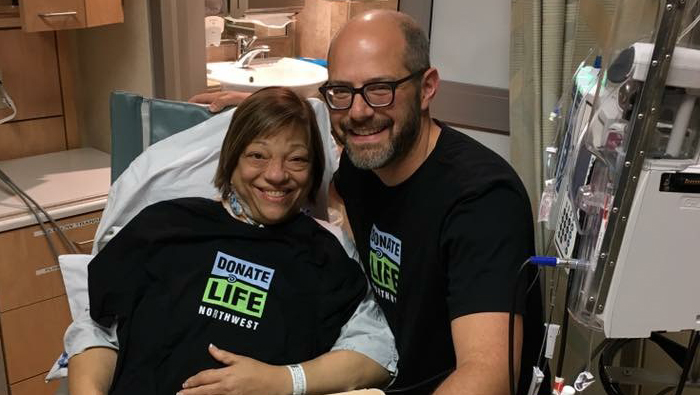 On April 18, Jonathan Cohen donated a kidney to longtime Portland Jewish professional Jen Feldman. Both are recovering at their homes. We profiled Jonathan in our April issue not knowing that later in the month, he would save Jen's life.
We are planning a story for our June/July issue about Jen, kidney donors, people who have played a role in this story and Jewish views supporting organ donation. But for now we wanted you to know Jen has a new kidney and is recovering.
The following posts show the path that brought the two together at the hospital:
In December 2016, Congregation Beth Israel, where Jen is the development director, sent out the following email:
"Life's a party and everyone is waiting to be invited." Jen Feldman has built her life around this mantra. She has never met a stranger and has dedicated her life to building community. There is no one who works harder and is more dedicated to the strength and vibrancy of our community than Jen. Today, she needs to call upon the strength of our community in search of a kidney donor. Jen needs us. As many of you know from a past bulletin article, Jen has kidney disease and is in need of a transplant. She is now at 8% of kidney function and in kidney failure.  Her health is at a precipice.  She needs a kidney donor immediately.
As you may know, we are all born with two kidneys, and we can still thrive and lead normal healthy lives with one kidney. As one doctor explained, "Just think, people have no problem having only one kidney, so we have to ask, why did God give us two kidneys? Perhaps it is so you would have an extra one to donate and save a life!"
There is no greater Jewish value than saving a life. In the Talmud, saving a life supersedes almost all other values, and thus organ donation is one of the greatest Jewish acts.  The Reform Movement has constantly reaffirmed the value of organ donation, and particularly kidney donation, based on the biblical mandate "You shall not stand idly by the blood of your neighbor." (Lev. 19:16). For more information on organ donation go to organdonor.gov
Facebook post from Jessie Burke, wife of donor Jonathan Cohen, April 17:
Several months ago, we received a group email about the happenings at our synagogue… and in that email we learned that the woman who welcomed us with open arms at such a difficult time in our lives was in dire need of a kidney transplant, and there were no donor matches to date.
Amazingly, 40 people came forward after that email went out. Including Jonathan. He said it didn't hurt to get tested – he had always wanted to donate a kidney. I told him no one says that.
After weeks of testing, we learned that Jonathan was a match… and after a few more days, learned he was the only match.
We went to the day-long final testing, where they perform a CT scan, an EKG and you meet with nutritionists, social workers and the surgeons. In meeting with the social worker, she asked how friends and family and work were responding, and Jonathan shared that while he hasn't been sharing it with too many, he's gotten mixed reactions. Some think he's a hero, while some think it will be inconvenient for his work, and others questioned why he is risking his own health. She said that was normal, and when asked how he should respond, they said to just start talking about it. Normalize it. Because it's only because it is such a rare occurrence that people respond this way, and we need more people to see it as normal and help. We've waited on saying anything because they do blood work up until the day before to make sure they continue to match. But today everything was confirmed.
And so this is me saying, my guy, Jonathan Cohen, who I've spent half my life growing up with, I'm proud to say is the kind of brave that shows up and walks the walk. He's made it through every last test, and tomorrow we will go to OHSU so he can save our friend's life… And I couldn't be more proud.
Prayers and positivity and good thoughts are requested for both Jonathan and Jen Feldman as they undergo this procedure together tomorrow (April 18th). And hopefully Jen will get back the health and energy to raise those grandbabies of hers, and love her kids, and keep bringing joy to all of us. Thanks for always inviting everyone to your party, Jen. #teamfeldco
Facebook post from kidney donor: Jonathan Cohen, April 21:
I wanna give a big shout out to my kidney recipient, and one of my favorite people, Jen Feldman… When I found out that she needed help, I didn't hesitate to volunteer because she is one of those special people that just emanates life. While everyone has been singing my praises, I want to be clear that it's people like Jen that get forty people to sign up to donate a kidney because she is that kind of wonderful… I just happened to be the best match.
Every interaction with Jen, she is radiating positivity, is engaged in helping others, and is working tirelessly for the greater good. No matter how she is feeling, she wonders how you are doing, and how she can help you… She recently shared with me the most important attribute in life to her, one that she always has tried to teach her children: Resiliency. We should all be so lucky to be as resilient as she has proven to be.
A toast to Jen and Howard Feldman. It is an honor to help Jen live a longer and healthier life!