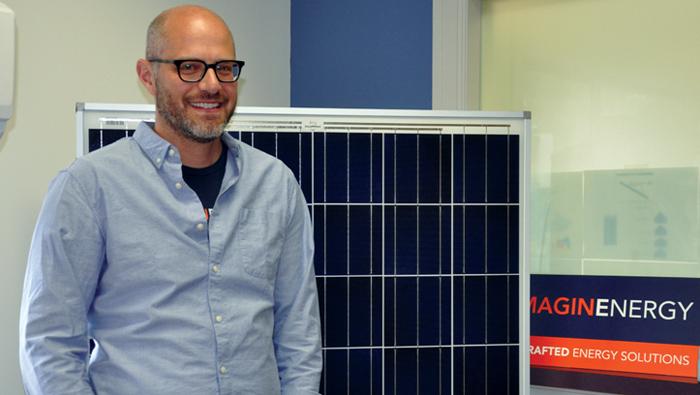 When Jonathan Cohen moved to Portland, potential employers saw his diverse skills as a lack of focus.
While earning a degree in aerospace engineering from Penn State, he worked on a farm near campus and later volunteered on an environmental farm. He did an internship working on wind turbines at the National Renewable Energy Lab in Colorado. He built a house and worked at a charter school. He tried working at a high-tech firm, but he didn't like it.
So he decided to use his skills and start his own business at the age of 26. "In my industry, being older implies experience," says Jonathan, who turns 40 this year. While he had a wealth of diverse experience that belied his age, he didn't tell customers his age until recently.
In 2003, and excited by the proliferation of technology available for green power, Jonathan launched Imagine Energy as an online resource to connect people to creative solutions to fulfill their energy needs. In 2005 he needed an income stream; inspired by the availability of solar energy grants from the Energy Trust of Oregon, he added solar installation to the business. Then he expanded to installing the heating, ventilation and air-conditioning solutions he had devised for unusual projects. He now has a partner, Ross George, who serves as operations manager. They employ about 25 people and do all of their own installations.
Alternative energy is now clearly a trend, not a fad, Jonathan says, adding solar is the most appropriate option for urban areas. "I'm proud of the role our company has played in moving this paradigm over the last 15 years."
"No matter what they think about climate change, people do understand we can't expect fossil fuels to last forever," he says. "I'm not sure I thought such a shift in people's thinking was going to happen."
Imagine Energy specializes in unusual commercial projects such as historic buildings and indoor cannabis cultivation. Historic buildings routinely call for maintaining the historic character of the building, and they often require structural augmentation to support the weight of a solar installation. Indoor cannabis growers need dehumidification and heat-dissipation solutions, similar to those in the pool industry, which Imagine Energy also serves.
On the residential side, the company takes a holistic look at homes.
They are not married to specific suppliers or one-size-fits-all solutions. "As long as we are solving your problems, we don't care what we sell you," Jonathan says. Many of the complicated residential projects they focus on feature geothermal, radiant-floor and multi-zone systems. "We use our engineering capabilities to solve problems."
Those problem-solving skills were a key element in designing and installing an HVAC system for the historic Society Hotel, of which he and his wife, Jessie Burke, are part owners. Built in 1881, the building is on the National Historic Register, so a paramount consideration was how to heat the building without the HVAC system being visible.
"It required out-of-the-box thinking," says Jonathan.
The building has no insulation, but the exterior walls are thick brick, which slows heat loss in winter. Combined with that, the people who use the building generate warmth – and the more people, the more warmth – "so we could reduce the size of the equipment and use fewer small pieces of equipment to fit in a small constrained building," he says.
The building's tall proportions (18 foot ceilings on the first floor) provided options. "In the halls we were able to drop the ceilings 6 inches to hide the ductwork, and in bathrooms we lowered the ceilings to hide the equipment. The guest experience looks very much like it did – very open and tall," he says.
They also installed a small (6.5-kilowatt) residential-sized solar array on the roof, which took up so little space they were able to have a roof deck without the equipment being visible.
Two other residential trends that Imagine Energy has stepped up to meet are the demand for efficient heat pumps and solar backup systems.
As energy sources shift from fossil fuels to electricity, heat pumps are becoming a popular heating method. Previously heat pumps could not heat homes efficiently when temperatures fell too low outside. But new technology allows heat pumps to heat efficiently down to 5 degrees.
As awareness increases of the potential for a high-magnitude earthquake in our region, many people with grid-connected solar arrays on their home are installing battery backup systems. Using a process called net metering, home-based solar arrays create power during daylight hours and send the power to the electrical grid. That way, the home draws power from the grid full time, including at night when the sun isn't shining, but the homeowner gets credit for the power contributed by their solar system. When the grid goes down, most solar inverters shut down. But with a battery backup system, the solar inverters will pump energy into batteries instead of the grid.
"Battery backup combined with a solar array stores solar power," explains Jonathan. That stored power can be used in the event of an earthquake or other natural disaster that damages the power grid.
On a personal note, Jonathan and his wife are members of Congregation Beth Israel. He says they have begun many rewarding relationships there, including business relationships.
"There was a gap in my active Jewish life from young adulthood till I had kids," he adds.
He became a bar mitzvah at Temple Beth Am in Philadelphia. In 2000, he went on a Birthright Israel trip, which he says showed him there are many ways to live Jewishly.
"Meeting people from all over the world with different Jewish experiences and seeing how secular Israelis live gave me so many more perspectives," says Jonathan.
As an interfaith couple, Beth Israel has been a good fit.
They joined CBI when their oldest daughter, Anouk, now 9, started kindergarten. They now have two more children, Julien, 5, and Miette, 2.
"Beth Israel binds us together and brings richness to our lives in Oregon," says Jonathan.
imagineenergy.net | 503-477-9585