---
Jeana Edelman was born in Eugene, OR, but her family moved to Portland when she was just 5 years old. Her parents, Alfred, z"l, and Carol Edelman, were both architects and moved to Oregon from New York City when her father got a job at the architectural school at the University of Oregon.
The family moved to Willamette Heights in 1965, where Jeana started first grade at Chapman Elementary School. She went to Metropolitan Learning Center for middle school and moved to Catlin Gabel private school for high school.
She acquired her love for art in middle school at Metropolitan Learning Center. There, she learned quilting, ceramics, calligraphy and batik. She would practice her craft with batik wax melting on a hotplate in the basement and quilting projects spread out.
Jeana attended Pacific Northwest College of Art in Portland (after a false start in the Bay Area, she says) and then went to graduate school at Columbia University in New York City.
She stayed in New York for a few years, and then she and her husband, David Yudkin, moved back to the West Coast to help with the family business, HOTLIPS Pizza.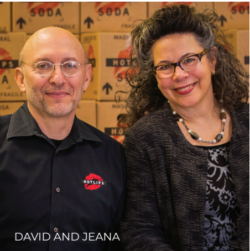 ALL IN THE FAMILY
Alfred Edelman was a founding partner of HOTLIPS Pizza in 1984. At that time, he owned restaurants in Seattle, WA and the greater Portland area. "In 1989, he called and asked if we would come to run Seattle, and that started a few years of taking over the ownership of the company from the other partners that had started it with my dad," says Jeana.
After the family became sole owners, Jeana and David would drive back and forth between Seattle and Portland, running all the restaurants. "We finally said, 'This is crazy!' We were trying to have a baby, and I said, 'Pick a town!' " remembers Jeana. The couple chose Portland. At this time, her father was very ill, so they sold off the Seattle stores and moved to Portland full time in 1994.
And where did the name HOTLIPS come from? It is – you guessed it – from the character on M*A*S*H. Loretta Swit played Major Margaret "Hot Lips" Houlihan for 251 episodes of the beloved television show.
"It's so funny, young people now have no idea what that means," says Jeana. "Someone said to me not long ago; you mean the M*A*S*H with the asterisks? And I had to think about it for a minute, but that's how the word is spelled out."
Today, Jeana and David are the sole owners of six HOTLIPS locations in Portland with 155 employees. David works very hard on maintaining their values in their business practices, namely through support of local producers and the local economy. Many of their ingredients are bought from local farmers and farmers' markets. HOTLIPS also makes all of its packaging compostable and takes sustainability one step further, with the heat from the ovens at their Pearl District location used to heat the entire restaurant.
Jeana has pulled away from the day-to-day operations of running the restaurants; David is in charge there. "I wanted to get back to my creative life after the kids were gone and all that jazz," jokes Jeana.
She has managed over the years to find a way to combine the pizza business with her art. She calls herself the "aesthetic engineer," seeing that the brand stays true to its foundation: pleasure, culture, intellectual rigor, aesthetic beauty and responsible business.
"I'm the boss of everything that is seen and felt in the environment," says Jeana. "So early on, I realized that if I was going to provide all the artwork for all the restaurants, I certainly didn't want them to look like the same person had done it all."
This idea eventually blossomed into her photography work. She has been taking photographs for a long time, and her father was also a photographer. "I call myself a multiple personality artist because I would make different kinds of work that didn't look like the same person had made them for the restaurants," she jokes.
FOR THE LOVE OF ART

For the first 10 years after graduate school, Jeana had an art show every year. That schedule became harder to maintain with children and running a restaurant chain.
"I did sort of drift off the art for a bunch of years," says Jeana. "I didn't necessarily stop making art, but I stopped trying to achieve in the outside world, which was a big relief. I could also quit feeling like I wasn't doing anything well. That is the problem with trying to do too many things."
Jeana used to have negative feelings about having more than one project going at once. "I've always felt that that was a bad thing, and now I think that's my thing, it's not bad or good, it just is," she says.
Since she has learned to embrace the variety and not be so serious about sticking with one kind of identity, she is free to dabble in many mediums.
Lately, she has been focusing on drawing, writing poetry, photography and jewelry.
She's been working on drawings called "Visitations," and "Guardian Angels" where she intends that spirits can return to their old haunts and wander into the drawings. Jeana prints these figurative drawings on 4" x 6" cards and sends packs of them to loved ones and people she knows are in need. "It's reaching out, you know, in a quiet way," she says.
Jeana is working with a mentor on her poetry, working to build her voice and her confidence in her writing. Her work has not been published, but that is a future goal.
She is also excited for her photographs to be part of the Pacific NW Drawers program at Blue Sky, the Oregon Center for the Photographic Arts in Portland starting in April. The Drawers program features original prints by more than 60 artists based in Alaska, British Columbia, Washington, Oregon, Idaho and Montana. The Drawers is a year-long exhibition, that changes every April to coincide with Portland Photo Month.
Her most recent creative outlet, and one that she says, "came out of left field," is jewelry making.
"A few years ago, I was given an award, and I had to go stand up on stage, and I thought, 'I have nothing to wear,' so I made my first necklace and it worked," she remembers.
Jeana admits she didn't know anything about jewelry making, so she has had kind of a steep learning curve, but it's been a lot of fun.
She finds the beads she uses in her pieces at gem shows, estate sales, thrift stores (the best ones are in small towns, she says) and people have been coming to her with beads from their grandmother or great aunt that they have never been able to wear. Jeana turns these beads into a wearable piece, bringing new life to something that had previously been laying in a drawer.
"That's been very meaningful. I love handling beads that come with history, when they come down through families like this – they're very special," says Jeana. "And then connecting so immediately with people. Even people who buy my necklaces – it's me, it's them, it's the necklace – they're trying it, we're fitting it, talking about it. It's so fun compared to the serious and difficult-to-penetrate art world."
Jeana has been making jewelry for about five years now. She has become more discerning when she travels to gem and bead shows and no longer falls in love with everything she sees. She is trying to figure out how to move the jewelry business forward and what to do next.
She holds salons at her house throughout the year so people can just come and try things on. She's also open anytime by appointment. "It's fun to open the house a couple of times a year and have an all-out jewelry extravaganza," says Jeana. "I started having some other artists show with me. Last time I had a painter and a wonderful clothing maker, that makes it more interesting and fun."
When asked if there is anything left to try in the art world, Jeana responds quickly, "No! I'm very into my photography right now, and the writing and the jewelry, and that's enough."
CREATIVE COMMUNITY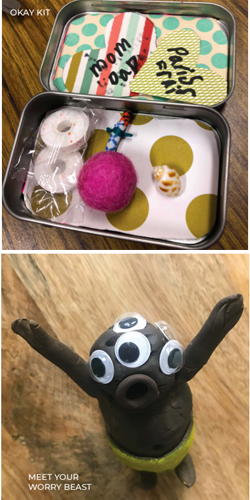 Recently, Jeana has become involved with a group called Create More, Fear Less (createmorefearless.org) that helps school children learn how to channel their anxiety, not only into creativity but also to reframe it, so it's not a negative. "That's actually gotten me to realize that I've been using creativity to channel my anxiety for decades," admits Jeana.
Create More, Fear Less was inspired by Kathleen Lane's personal experience with anxiety, and by the experiences of students she met while visiting schools with her book, The Best Worst Thing. Jeana got to know Kathleen through mutual friends. "It turns out so many people have suffered from anxiety their whole lives and have always just felt condemned by it, and I love how she has reframed it," says Jeana.
Jeana has donated pizzas before for events and recently held a house party to gain awareness for the organization. Create More, Fear Less creates projects, and then send all the materials needed to a school so that students can complete the work. She donated beads for one of the art projects. "The kids can make bracelets to remind themselves that everything will be OK," she says.
She likes being involved in the community, although she is not affiliated with a congregation at this time. "I identify as a Jew and have my own home practices, my family has kept family traditions, and my sister-in-law was a rabbi," says Jeana. "We were involved in her life and her work."
David's sister is Rabbi Marjorie Yudkin. She served as the rabbi for Reform synagogues in Rye, NY, Easton and West Chester, PA, before she passed away on May 8, 2014, after a long and courageous struggle with Huntington's Disease. David has lost both his sisters to this disease.
Jeana admits that that led to "some really intense complicating factors," when they were planning their family. Their children are now 23 and 25.
When asked if their children will become the third-generation owners of HOTLIPS, Jeana chuckles. "Our son just moved to the Bay area, and they don't really want to work for their parents, but I keep thinking, 'Give them a couple of years out there working for other people and then they'll realize, hey, it's not so bad.'"
She does admit that she and David do fantasize about it, although their lawyer tells them there's a pretty low possibility of it happening.
"We do wish," she says. "I'm not sure what's going to happen next, but I'm not going to worry about it – that's for sure."
That's sage advice that the younger Jeana probably wouldn't have heeded.
For more information on Jeana's businesses, visit jeanaedelman.com or hotlipspizza.com.

---
---