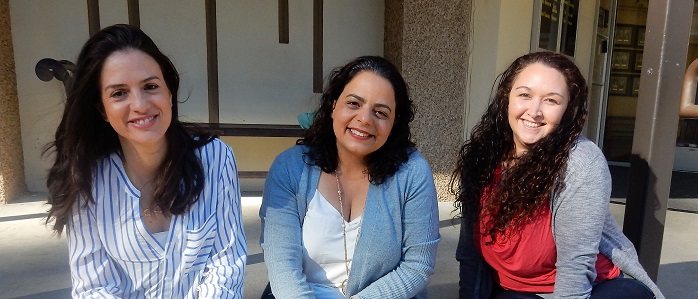 PHOTO: Ivrit Israelit founders and teachers: Maya Varon, Mor Yelvington and Etti Segal.
By Sarah Rohr
For some new arrivals, the U.S. melting pot heightens one's desire to maintain one's culture, while others rush to assimilate. Longing for a sense of home often creates a melding of the two extremes.
For Israelis Mor Yelvington, Etti Segal and Maya Varon, who teach in Congregation Neveh Shalom's ALIYAH K-12 education program, this tension of longing for the warmth and familiarity of home and the desire to make a home here has created a program that will infuse their new home with cultural influences of their childhoods for their own children.
The three mothers recognized that their own children did not have many opportunities to be in primary Hebrew environments where they can speak freely in the mother tongue of their mothers. Over the past two years, the trio spoke to other Portland Israelis who were having similar experiences of not having play and learning spaces that were dedicated to speaking in Hebrew. As lack is want to do, they decided to create a venue for their children to speak and be spoken to in a Hebrew educational gathering and where they could have an opportunity to reach a level of reading and writing that will open up the joys of Hebrew literature.
Ivrit Israelit was born this past September, after the faithful work of creating curriculum and of forging the partnerships to give them the space and tools to bring their vision to fruition.
The program operates through Congregation Neveh Shalom under the inspired guidance of Mel Berwin. The three teachers feel Neveh Shalom provides a home where they have the freedom to operate and bring their vision and dream into reality. They also partnered with the Israeli American Council and PJ Library to enrich the program with cultural events through literature and art.
The new program already has reached across the community. Currently they have 16 students, most of whom are unaffiliated. Most of the families are in Oregon long term.
Ivrit Israelit provides a rich Hebrew environment for children fluent in Hebrew. For example, beginning readers proficient with the alef-bet are able to discuss the poet or author of the month (in Hebrew) while they enhance their reading abilities. The teachers say talking about the life stories of poets and authors leads the students to explore other expressions of thought and create visual art.
The gan group provides a safe space for the youngest children, ages 3 to 5, to comfortably explore and express themselves in Hebrew. The preschoolers experience songs, stories and holidays.
Mor, Etti and Maya allow the structure of their lesson plan to be curated and fluid. They hold the container, and the spontaneity of the children's needs fill the space to create a trustworthy place for all to feel welcome and learn.
Ivrit Israelit offers one program open to the whole community – a seasonal Ivrit Story Hour. The teachers partner with PJ Library for a program of stories, songs and crafting, all in Hebrew.
Students in the yearlong program participate in classes held twice a week that bring in art, poetry, sand sculptures, popular Israeli folk songs and lots of play.
The trio's goal is to "inculcate the love of their Israeli cultural heritage through the use of the arts, introducing the yeladim (children) ages 3-13 to songs, literary culture, movement, tactile play and an entirely Hebrew-speaking environment.
"We want a center where our children, and the community as a whole, can find and experience Israeli culture and the modern Hebrew language. A place where we can retain our connection with our family members in Israel, our memories and our Israeli cultural heritage."
Are they succeeding? The answer is a resounding ken (yes)!
To learn more about the Ivrit Israelit program, email Ivritisraelit@gmail.com.
Sarah Rohr is teaches Hebrew for kindergarteners at Congregation Neveh Shalom and Beit Haverim. She serves on the Jewish Community Relations Council of the Federation of Greater Portland and is a Mikvah Guide at Rachel's Well.
The Morot (teachers)
Mor Yelvington is a mother of three. She has been teaching Hebrew at Neveh Shalom for years. She co-founded Ivrit Israelit and a successful kosher catering business called Ta'eemmm. Taeemmm@gmail.com
Etti Segal has years of experience teaching language. While in the IDF, she worked teaching children of all ages through numerous organizations. In Israel, she is a lawyer.
Currently she teaches Hebrew in Congregation Neveh Shalom's Aliyah program.
Maya Varon is a mother of three. She has decades of experience teaching students of all ages and developing and presenting curriculum. She has worked in management and educational institutions. Maya is a skilled visual artist and has a deep knowledge of Waldorf teaching methods.