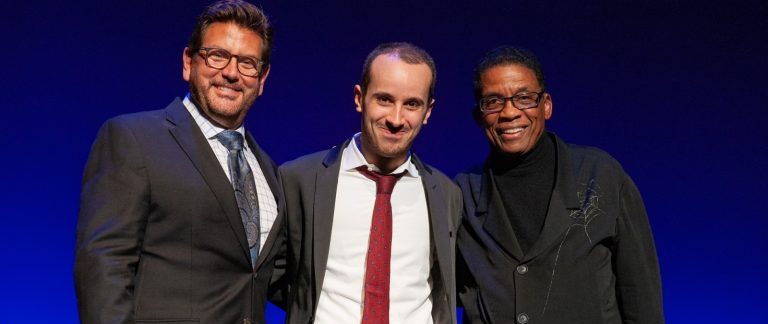 PHOTO: Concord Music Group's John Burk, left, and Thelonious Monk Institute of Jazz Chairman Herbie Hancock flank Israeli musician Tom Oren. Photo by Steve Mundinger/Thelonious Monk Institute of Jazz

Israeli jazz musician Tom Oren, 24, was selected as the first-place winner of the 2018 Thelonious Monk Institute of Jazz International Piano Competition last month at the Kennedy Center in Washington, DC.
Oren performed "Just One Of Those Things" and "Just As Though You Were Here" at the December 3 event. He was among 13 outstanding young pianists from around the world who competed a day earlier in the semifinals at the National Museum of Natural History's Baird Auditorium.
At the end of the competition and All-Star Gala Concert, the Tel Aviv native joined a host of jazz greats onstage to perform the Miles Davis tune "Walkin'" for the enthusiastic audience.
Presented by the Thelonious Monk Institute of Jazz, Oren's award included a $25,000 scholarship and a guaranteed recording contract with Concord Music Group.
Oren was trained in Israeli institutions including the Thelma Yellin Academy of Fine Arts, Arison Campus of the Arts, Israeli Conservatory of Music and Rimon School of Jazz and Contemporary Music. He then won a full scholarship to the renowned Berklee College of Music in Boston. During his military service as an outstanding musician, he was pianist and arranger for the Air Force Band. Today he tours with the Eli Degibri Quartet.
In 2014, Oren won the first prize in the annual Jazz Musician Contest at Rimon, giving him the opportunity to represent Israel in the 24th annual International Association of Schools of Jazz  meeting. He was awarded an America-Israel Cultural Foundation Scholarship in the years 2012-2017.
This article courtesy of Israel21c.org