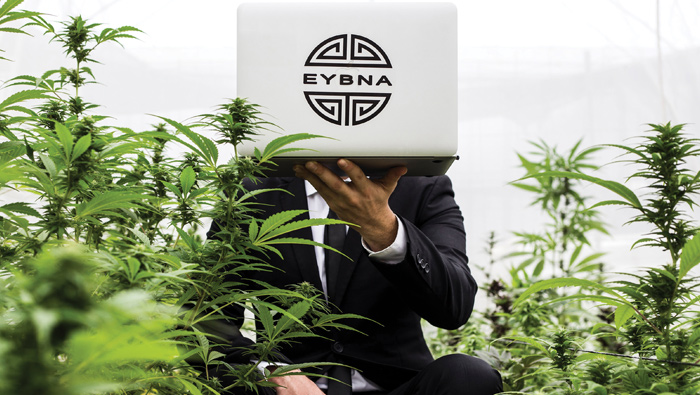 The medical marijuana industry is booming, and not just in Oregon. Israel has been a driving force in the field, where scientists have been researching and advancing the product using state-of-the-art technologies.
While the medicinal properties of the drug are potentially vast, for some patients, using a unique strain tailored to their disease could be even more beneficial. Also, many patients don't enjoy the psychoactive effects of the plant, and new technologies make it possible to remove the narcotic effect.
Eybna Technologies, founded by Nadav Eyal and Benni Eytan, whose mother hails from Portland, aims to do just that. The mission is to bring the benefits of cannabis to more patients by isolating the medicinal properties found in different strains. The products will eventually be tailored to treat specific medical conditions.
The technology focuses on terpenes, which are a large group of organic compounds produced by a variety of plants. Terpenes give each cannabis strain its unique flavor and smell.
Eybna's natural terpene-based cannabis products are free of illegal traces. The products have the smell and taste of marijuana but no psychoactive effect.
"Eybna's proprietary technology enables the creation of natural strain-specific cannabis terpene profiles that are 100% pure and free of illegal traces, making them 100% legal and shippable worldwide," Benni Eytan says.
Eybna is hoping to revolutionize the industry that, until now, has been mainly focused on the effects of the two main compounds in cannabis, THC and CBD.
Aviv Junno, the company's vice president of business development, says it is "similar to the 'Intel Inside' model."
The products are sold as "a branded component to global product manufacturers," Junno explains.
Israel, a global leader in many medical research fields, has some of the most progressive medical marijuana policies in the world. While recreational use is still illegal, the world is turning to the country to take the lead in development of products.
Eybna uses this to its advantage. Last month, the company participated in CannaTech, Israel's first International Cannabis Conference, where leaders in the industry met for "a summit on accelerating cannabis innovation."
With the potential of global expansion, Eybna is nearing the end of its first round of outside financing. The company plans to open U.S. and EU headquarters, with offices in San Francisco and Amsterdam.
The company, made up of nine employees and located in central Israel, has been self-funded for the last three years.
"It is now possible for Eybna to build the world's first global cannabis brand years ahead of the industry," Benni Eytan says.
Benni's connection to Oregon is far and wide. His mother, Perry Floom Eytan, grew up in Portland. Her parents, Harold and Lily Floom, were instrumental in founding Hillel Academy, now the Portland Jewish Academy.
She fell in love with an Israeli while in college and followed him back to Israel, where they eventually married and had Benni and his three siblings.
Benni's Aunt Noma, who is Perry's sister, made aliyah after her in 1987. She serves as a legal counsel for Eybna Technologies.
Perry says she is proud of what her son has done and believes the summers he spent in Portland as a child, visiting with his American family, helped him have a larger worldview and contributed to his entrepreneurial spirit.
"Benni and the Eybna team saw a problem in patients' use of medical cannabis and set out to find a safer and better way to relieve their pain and, by doing so, have created a product that enhances the use of cannabis for all users," Perry says.
Eybna products are seen as a game-changer in the industry. The vision of the founders, coupled with the benefits of being located in Israel, is a recipe for success. Often referred to as the Start Up Nation, Israel appears to be the perfect place for the company to get its global start.
Shuly Wasserstrom grew up in Portland and is happy to call it home again after spending five years in Tel Aviv during and after college. She has a BA in Political Science from Tel Aviv University but has a passion for journalism, storytelling and is an avid news junkie. When not reading the news, she enjoys spending time with her friends and family.