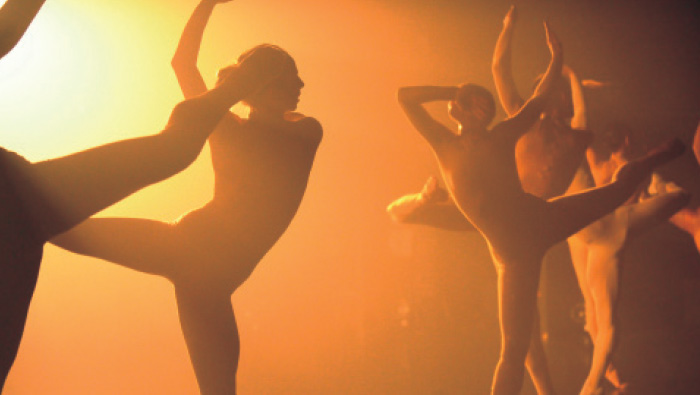 For the 11th time in the past 15 years, White Bird will bring an Israeli dance company to perform in Portland. L-E-V ("heart" in Hebrew) will perform at 8 pm, Oct. 15-17 at Lincoln Hall, Portland State University.
Walter Jaffe and Paul King co-founded White Bird, a Portland-based dance presentation and commissioning company, 18 years ago.
"Israeli dance, in general, is highly approachable – it tends to have a slight narrative thread, and our audiences respond strongly to this," says Walter.
Each year the two founders are invited to Israel to attend the dance festivals in Tel Aviv and Jerusalem, which gives them the opportunity to see a lot of Israeli dance in a short period of time.
"We don't go every year, but when we attend, we inevitably see at least one strong work we try to bring," says Walter. "In December 2013 we saw over 50 companies and that resulted in our bringing Yossi Berg and Oded Graf's 'BodyLand' and Hillel Kogan's 'We Love Arabs' last season, as well as L-E-V this season. The abundance and diversity of dance in Israel is astounding."
The brainchild of choreographer Sharon Eyal, former dancer and resident choreographer with Batsheva, and arts producer Gai Behar, L-E-V will make its White Bird debut with two boldly sensual works, "Sara" and "Killer Pig," performed by eight astoundingly agile dancers.
The Portland performances are sponsored by the Oregon Israel Business Alliance.
In 2013 Eyal launched L-E-V with her long-time collaborator Gai Behar.
Born in Jerusalem, Eyal danced with the Batsheva Dance Company from 1990 until 2008 and began choreographing within the framework of the company's Batsheva Dancers Create project. She was Batsheva's house choreographer from 2005 to 2012. In 2009 she also began creating pieces for other dance companies around the world: "Killer Pig" (2009) and "Corps de Walk" (2011) for Carte Blanche Dance of Norway; "Too Beaucoup" (2011) for Hubbard Street Dance, Chicago; and "Plafona" (2012) for Tanzcompagnie Oldenburg, Germany.
"Sharon Eyal, the choreographer, is a totally unique voice in dance," says Walter. "Her movement is focused both on the individual as well as the tight ensemble, and it's fascinating to see how she shines the light on each of her six very individual dancers. Each moves in a distinct way – there are often very small movements, but they accumulate into a powerful whole. The sound is equally important, often mysterious but also propulsive, that drives the movement along. There is no set or fancy bells and whistles. It's all about unique, tightly controlled movement, with evocative lighting and sound."
For tickets, visit whitebird.org/tickets