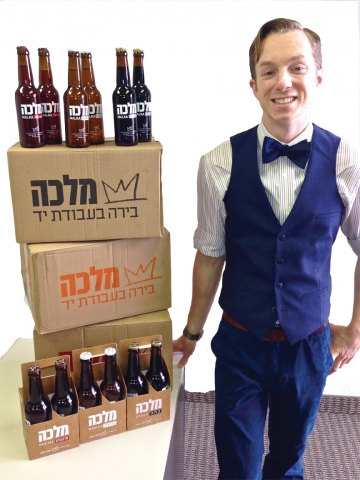 As the son of a Conservative rabbi, Austin Clar expected to find many connections and insights when he spent a year studying in a yeshiva in Jerusalem. What he didn't expect to find were some wonderful Israeli craft beers and the key to his career when he returned to the United States.
Thanks to that discovery, Israeli craft beers are now available in Oregon for the first time.
Before he left for Israel in June 2011, a friend who worked in the craft beer industry introduced Austin to the culture.
"When I got to Israel I didn't expect to find anything aside (from) Goldstar, Maccabee, and Carlsberg – per usual – but I did," says Austin. He first encountered Israeli craft beer when he visited a friend in Haifa. "We went out to dinner to a great Japanese fusion restaurant called Giraffe and, lo and behold, I discovered Malka bottles on their menu! I ordered a Malka Pale Ale and he a Malka Blonde. Shortly thereafter I was hanging out and shopping for food and such with a dear friend of mine from my Hebrew school days who has lived in Jerusalem for about a decade now. We went to grab lunch at a little cafe/ restaurant that had live music playing and found they had Alexander on their menu – I bought a Green (their IPA) and an Amber (their Biere de Garde) and really enjoyed them."
Those two chance encounters sent Austin on a quest for other Israeli craft beers. He searched the little bodega, liquor/ wine and grocery stores in the German Colony/Talpiot neighborhoods of Jerusalem and bought bottles of whatever he found.
"Eventually I realized there were about eight or so breweries I could find on a regular basis." When Austin returned to Dallas, he joined Sublime Imports, founded and owned by Mike Hammond, who used his familial and business ties to Spain to import Spanish craft beer.
"As I became more and more involved in the company as a whole, I suggested we look into Israeli craft beer. Mike and I began reaching out to all of the breweries I could remember, and now we are the U.S.'s first and only importer of Israeli craft beer!"
They began with one brand – Malka. Located in the up- per Galilee town of Yehiam, at the foot of the 12th-century Montfort castle, Malka is one of the first microbreweries in Israel. Malka maintains a tradition of handcrafting small batches of beer, specializing in traditional Belgian, German and English styles while imparting a local Israeli twist – using natural water from the Ga'aton Springs and local flavors, says Austin, who adds that their beer is of course kosher.
Sublime Imports is now licensed and ready to add Alexander beer, another one of the best craft breweries in Israel, says Austin. Alexander beer should be available in Oregon sometime this summer.
Austin says they targeted Oregon among their initial places to market because Oregon has "a great beer community that is well educated and open to all forms of craft beer. In the beer industry, San Diego, Portland and Bend, and the Seattle/ Tacoma areas are all known for having great local/craft beer scenes; it was a no brainer.
Vertical Wine and Beer: Earl: 503-791-1359 and earl@verticalwineandbeer.com Tony: 503-508-9738 and tony@verticalwineandbeer.com General: info@verticalwineandbeer.com
Sublime Imports:
Austin: austinc@sublimeimports.com Mike: mikeh@sublimeimports.com