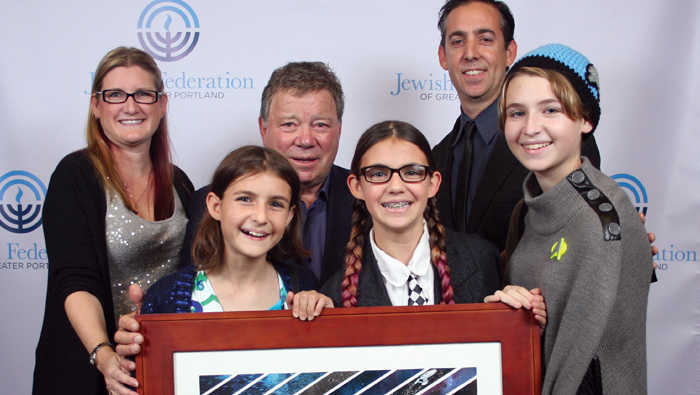 Jewish-themed papercuts generally don't conjure up visions of Star Trek. References to Jews beautifying commandments with this colorful, baroque folk art date to 1345. Symbols and inscriptions include biblical passages, Stars of David and the Zodiac – complete with fantastic animals. Captain Kirk and his Starship Enterprise are unlikely candidates.
Unless, of course, you're Isaac Brynjegard-Bialik, a Los Angeles-based artist who presented his custom-made papercut to William Shatner, the actor who played Captain Kirk, at the Jewish Federation of Greater Portland's Gala on November 14. A graphic designer and self-proclaimed "science fiction geek," Isaac synthesizes comic book figures with Jewish tradition to produce his sleek, clean-lined version of an ancient art.
"I always begin with text, often (from the) Bible and other traditional sources, but also the words of poets and musicians," Isaac says. "I layer cut-up comic books into my work, drawing parallels between comic book mythologies and religious traditions. Comic superheroes exist outside of the 'natural' world, be they visitors from other planets or people whose powers stem from strange scientific accidents. They have weaknesses and flaws, and their struggles are often a metaphor for the human experience."
Isaac started papercutting during his wife Shawna's rabbinical training in Israel. By the end of the year, he was showing at a Jerusalem arts fair.
"It was like finding something you were supposed to be doing all along," he says. "When we returned to the U.S., I continued papercutting. I was working on ketubot and doing traditional artwork. Then I found my voice, the way I wanted to express myself, and started incorporating comic books. I felt I had a breakthrough."
Today Isaac lectures and writes about the intersection of art and Judaism, and teaches workshops at the Union of Reform Judaism's Camp Newman. He served as artist-in-residence at the 2013 URJ Biennial and received the juror's award in the 2015 show at the Annmarie Sculpture Garden & Arts Center. He is a teaching fellow at American Jewish University's Dream Lab and is a judge for the RAVSAK Artists' Beit Midrash.
Galleries around the country have shown his work, and commissions include the "Tree of Life" for the chapel at Children's Hospital Los Angeles. And there's another Portland connection. He designed 13 windows that grace the entryway of the Maimonides Jewish Day School on Capitol Highway.
Isaac was happy to visit Portland again, where he has many friends. And, as a lifelong Star Trek fan, he was thrilled to meet and create something for the star of the show. He named the piece "To Boldly Go."
"In 'To Boldly Go,' I explore the story of Lech L'cha Canaan (Genesis/Bereshit12:1to 17:27), in which G-d tells Abraham and Sarah to go forth in a new land," he says. "Along the way they discover who they are and spread blessings to everyone they meet. Bill (Shatner) is also a philanthropist; he spreads blessings. I liked the parallel.
"This piece was modeled on Vasquez Rocks, which is the background for many Star Trek episodes and a place where I hike with my family. It plays the role of the desert on the way to Canaan where Abraham and Sarah walked. The color in the background is cut-up Star Trek comics. Behind the camels, the color is from Captain Kirk's uniform shirt. The rest of the piece features glimpses of the Starship Enterprise and quotes that I think tie into the story of Abraham and Sarah. In one speech bubble, Captain Kirk says 'And I will go far.' It includes the words 'To boldly go where no man has gone before.' Abraham and Sarah go forth into the unknown, and that's what Star Trek is about."
Isaac also included the Federation Starship Enterprise in his piece, as a reference to the JFGP gala. When he told his wife about the commission and presentation, she insisted on coming and bringing their three daughters, too.
"All of them are big Shatner fans," Isaac says. "I spoke at the cocktail reception before the gala. Mark Blattner introduced me and William Shatner, and we talked about the work and the meaning behind it. He said it was going up in his house. He was so nice and gracious, and spoke to my girls, and gave them practical career advice. He was exactly the role model I hoped he would be."
Papercuts by Isaac Brynjegard-Bialik are on display in the main lobby of the Mittleman Jewish Community Center until Jan. 31. Read more about Isaac Brynjegard-Bialik at nicejewishartist.com.