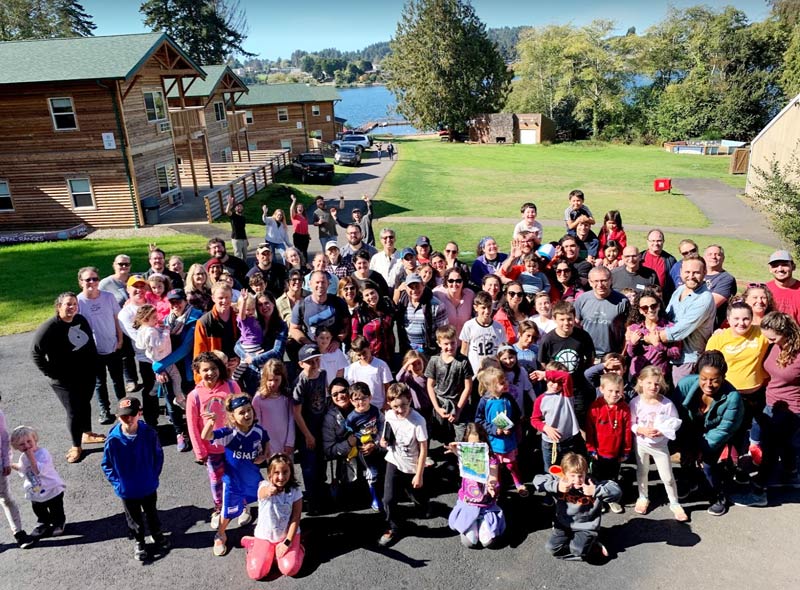 An appreciation for family reading and Jewish children's literature has led several communities to combine the benefits of Jewish family camp together with the PJ Library program. The resulting initiative, PJ Library Family Camp, offers families with young children a unique all-inclusive weekend adventure.
Family camp combines the benefits of togetherness and structured activity with the bonus of being in a natural, outdoor setting. Families can slow down, unplug and enjoy traditional camp activities such as arts & crafts, campfires, sing-a-longs, nature exploration, sports, ropes course and more.
There is also adult social time as children are supervised and engaged in camp adventures with new friends. The weekend camp is designed to be best for families with children ages 6 and under (older siblings are always welcome).
By choosing a Jewish family camp, families can also rekindle the Jewish spirit, as they celebrate Shabbat and Havdalah with songs, stories, and rituals – all alongside new Jewish family friends.
This year, the PJ Library will hold their Spring Family Camp on May 1-3 at B'nai B'rith Camp. Throughout 2020, BB Camp will be hosting many other family camps, including High Holidays Family Camp, Israeli Family Camp, Russian Jewish Community Family Camp and Portland Jewish Academy's Family Camp.
During the Spring Family Camp, you and your family can experience fun camp activities such as swimming, arts & crafts, ziplining, canoeing, archery, sports and much more.
Your family will also get to show off their skills in the Family Camp Talent Show.
For all the camps that BB camp has to offer, visit bbcamp.org.
Spring Family Camp
When: May 1-3
Where: B'nai B'rith Camp, NE East Devils Lake Rd, Otis, OR
Cost: Adults – $125, Kids ages 3 and older – $100, Kids 2 and under – FREE!
More information: Contact bamirbrownstein@bbcamp.org