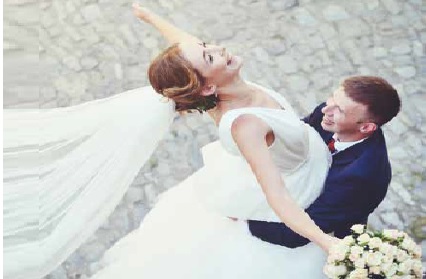 You are now engaged! NOW WHAT?
Here are five things to consider before jumping in, from a Master Wedding Planner:
Breathe. I'm not kidding! Take some time to enjoy your engagement – and each other. And your families. And your friends.
Get to work. When you are ready to start working (and yes, it may feel like work, so now would be a good time to consider a wedding planner if you are thinking about hiring one), you and your partner will want to have a discussion about your wish list: time of year (and which year), which city, what type of officiant, what kind of venue and more. So often there are other voices in this discussion, but the couple can prioritize their wish list first and then discuss it with family and others.
Get your guest list in order. You can't possibly pick a place for a ceremony or reception without knowing how many people you will invite. A question that I am asked very often is about the drop-off rate. If you invite your whole guest list, how many can you figure won't attend? You can't figure this at all, so please don't bother trying! I know of a wedding where 277 guests were invited and 275 attended. The moral of this story is to look for a venue that will hold everyone you have invited. Remember, you wouldn't be inviting these guests if you didn't want them to come, so they just might!
Choose an officiant. The officiant will need to be the first to be chosen/hired. You need that person to be available and willing to be with you on your wedding day, and you'll need to nail that day down before you can confirm with a venue. InterfaithFamily's clergy referral service is the perfect place to start! Next step is finding a venue.
Secure the reception venue and start hiring your wedding professionals. This looks very simple in the abstract. It is not! Especially if one partner has always imagined getting married in a synagogue and the other has a picture of an outdoor ceremony in mind. This is a big decision to figure out together and often requires compromise – what better time than the present to work on that skill? If you are hiring a wedding planner, or are even thinking of hiring one, it will be helpful to have this person on-board at this point as well.
When it comes to the wedding day itself, there are four things that I think are essential to keep in mind:
Invitations and their wording. Do the names of both sets of parents appear on the invitation? Are only the hosts (the ones who are paying) listed? Here's some advice from a planner: It is lovely to include all the parents and have them all feel a part of this day, and it is a clear signal to everyone that the two families are joining together.
Ceremony logistics. Who sits on what side, who walks down the aisle with whom and who stands or sits where? This can get complicated, especially since different religions handle it differently. It's a matter of compromise and sensitivity. Do mom and dad walk down the aisle with their child as Jewish tradition dictates? Or has the bride who is not Jewish always imagined herself walking down the aisle with just her father? Do the parents stand, do they hold the chuppah or do they sit during the ceremony? These are great questions to discuss with your officiant and one of the reasons clergy can be so helpful.
Religious ritual objects. Do you want to have a chuppah (wedding canopy)? What about a ketubah (wedding contract)? Which rituals do you want to include? How can you best represent your individuality and your coming together as a new family? Again, your officiant can be a huge source of assistance here. If you are having a Jewish wedding, a great place to learn about rituals and ritual objects is in Anita Diamant's go-to book, The Jewish Wedding Now.
The Jewish tradition of yichud is one that seems to have become both modified and universal. After the ceremony, the couple has some private time (often with hors d'oeuvres and drinks) to simply share the first moments of their marriage alone with each other. This is such a special time and lovely tradition, and I always recommend it.
The best advice I have heard is to take some days off every week and don't even discuss wedding planning. It will be exhausting if you try to do wedding planning every single day from now until your wedding, so spend a little time with your honey without the stress of wedding or religion talk.
 Lynda Barness launched I DO Wedding Consulting in 2005. Lynda earned the designation of Master Wedding Planner from the International Association of Wedding Consultants and also has a certificate in Wedding Planning and Consulting from Temple University. 
 This article was reprinted with permission from InterfaithFamily, supporting Jewish interfaith couples and families. Learn more at interfaithfamily.com.