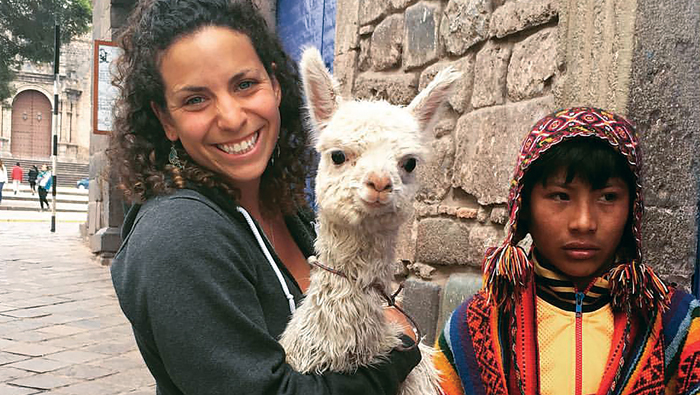 Life's turns have put Shira Einstein on path to Woman of the Year nominee
An immigrant and cancer survivor, Shira Einstein is an intelligent, empathic and very grateful young woman dedicated to giving back, both as a volunteer and a professional.
Shira, 24, is studying to be a pediatrician and has already traveled to Peru, Bolivia and Laos as a volunteer. Now she has been nominated as Woman of the Year for the Leukemia Lymphoma Society-Oregon/SW Washington /vote-for-shira-as-woman-of-the-year/.
"Shira is really unique because she is a survivor and a health-care professional – what a beautiful combination of determination to help conquer blood cancers," says Dr. Gabrielle Meyers, the 2014 LLS Woman of the Year who nominated Shira for this year's award. "She is so inspiring! As an eight-year lymphoma survivor and medical student, her story and hard won successes are heartening to hear about. Shira is also passionate about making things better for those around her."
Shira's cancer diagnosis at age 15 was not the first abrupt change in her life.
When Shira was 8, her family immigrated when CH2M transferred her father, Josh (Shuki) Einstein, from Haifa, Israel, to Portland.
Shira is the oldest of Shuki and Elana Einstein's three children. Now Shira is in her second year of medical school at OHSU; her brother, Nimi, 22, and sister, Adi, 19, both attend Portland State University.
But when they arrived in Portland, none of the children spoke a word of English, says Elana. Shira and Nimi entered Hayhurst Elementary as English as a Second Language students while Adi started preschool at the Mittleman Jewish Community Center.
"Going through a major life transition and immigrating at a young age was one of the biggest challenges I have ever faced," says Shira. "The language and cultural barriers shook up my 8-year-old world. But this experience provided me with an early foundation for understanding different places and people, valuing diverse communities… (and it) instigated curiosity for traveling, seeing the world, learning new languages and meeting people whose lives are very different from my own."
Despite the challenges, just weeks after arriving in Portland Shira found new friends who would see her through her next major challenge seven years later. Shira joined the MJCC gymnastics team, a tight-knit group of girls with whom she practiced and competed about 20 hours a week. She was on the team for nearly four years until a broken ankle ended her gymnastics career at age 12.
"Many of my closest friends have been and continue to be my MJCC gymnastics teammates and friends from BB Camp," she says, adding she was a camper at B'nai B'rith Camp for two summers and a counselor for one. "Having these shared experiences and a strong shared heritage led to developing lifelong, meaningful friendships. My MJCC gymnastics team friends were there for me when I was undergoing chemotherapy treatment: some of these friends slept next to me in the hospital bed when I had to stay for days at a time. Many of them were at my side each step of the way, stepping up to be the best friends anyone could be at an incredibly difficult time."
Both Shira and her mother describe two of those teammates, Annie Kagel and Na'ama Schweitzer, as incredible supports in Shira's battle with cancer.
It was during her first summer at BB Camp that Shira first noticed something was not quite right. Her feet and legs itched and she was exhausted by normal camp activities. When she started high school that fall, she joined the Wilson High School cross country team.
"Shira was always in shape," says Elana. "But she couldn't run. She would be last in every run and was out of breath."
Her pediatrician prescribed multiple rounds of antibiotics for swollen lymph nodes in her neck and referred her to a dermatologist when her scratching created sores on her itchy legs. A referral to a pediatric dermatologist at OHSU finally put the family on the path to an answer.
"My mom's motherly instinct was strong," says Shira. "She knew that something was wrong with her kid. When doctors gave up, she took me to see others, until, seven months after my symptoms started, I finally ended up at pediatric dermatology at Doernbecher Children's Hospital, where my symptoms were taken much more seriously and tests were done that showed that something was very wrong. The next week I was in the pediatric cancer unit."
That was in March 2007.
At OHSU's Doernbecher, Elana says, "We met angels. The people (there) dealing with children's cancer are amazing. They are human. You can cry on their shoulder and get reassurance and the truth."
Following a biopsy on a tumor in Shira's neck, the family learned she had Hodgkin's Lymphoma, the most treatable form of lymphoma. Five-year survival rates for patients diagnosed with stage I or stage II Hodgkin's disease are 90 to 95%.
"With the miracle of modern medicine, it is extremely treatable," says Shira. "It used to be treated only with radiation – then there was a higher rate of recurrence."
Research, much of which is funded by the LLS, has greatly increased survival rates. Dr. Meyers notes that LLS is the second-highest financial supporter of research for blood cancers, behind only the National Cancer Institute. "I was surprised and impressed by that fact, and it reminds me of how every dollar can make an impact," says Dr. Meyers.
"Very likely LLS-funded research went into developing the medicine that I was treated with," says Shira. "They kind of helped save my life."
But even with a good prognosis, cancer treatment was a rough road for an outgoing 15-year-old, says Elana. "She didn't want people to know she had cancer," she says. So Shira would have her chemotherapy on Fridays and recover over the weekend. She only missed a couple days of school during that spring term and finished her treatment over the summer. During cancer treatment, she earned a 4.0 GPA that she maintained until graduation, and she finished up as a Wilson High valedictorian.
Shira did, however, tell her two best friends from gymnastics. Annie and Na'ama not only supported her, they also respected her wish that other classmates not be told she was sick.
"I could not imagine more supportive friends," says Shira. "They were there the day my hair fell out in chunks, visited me any time I was hospitalized and sat with me through treatments. They were there to celebrate my last chemo and were an incredible source of strength. You don't find friends like that very often, especially at 15 years old!"
The weekend her hair fell out in clumps, she went to Angel Hair in Eugene, which provides "a cranial hair prosthesis (not a wig) designed specifically for kids suffering from hair loss due to a medical condition."
"They shaved the rest of her hair and fit the wig and glued it to her head," says Elana, saying it looked like real hair. "When she went to school on Monday kids said, 'where did you get that amazing hair cut?' "
In the fall, she returned to high school and started thinking about her future.
"Surviving my disease came with a powerful sense of responsibility to commit my life to healing others," says Shira. "At 15 years old, receiving my diagnosis also came with the realization that I was extremely fortunate to have access to excellent medical care. I knew that my disease would have been a death sentence in many other regions of the world, and I knew that I suffered less, experienced less pain, fear and loss because of the care that I was receiving."
Realizing how fortunate she was, she soon decided she needed to help those who were less so. "My fight is no longer for my own life, but for the lives and human dignity of others," she says.Two years later, when the chance of recurrence was very low, her pediatric oncologist Dr. Linda Stork supported Shira's decision to go on her first volunteer trip to Peru, where she worked to help street children.
That trip was followed by a summer spent volunteering in impoverished clinics in Bolivia.
There she met Dana.
"The care we get in the states is not the same as people are getting in developing countries," says Shira. "She had the exact diagnosis as I had. But when I met her, she was dying; she was receiving palliative care."
That experience enhanced Shira's desire to help others. And Dr. Stork helped her along that path.
"Dr. Stork naturally transitioned from being my health-care provider and oncologist to mentor and even teacher," Shira says. "She wrote me a letter of recommendation when I was applying to medical school and deeply understood why I was choosing this path. My dream came true when I got into the same medical school where I had once been a patient, and officially had Dr. Stork as my professor during my second semester, when she taught our class about Pediatric Leukemia and Lymphoma. She interviewed me in front of my class of 140 peers, using my story as a patient case."
Shira is now back in Peru for a 10-week elective rotation divided between 12-hour shifts in Lima's busiest emergency room and community health work helping chronically ill children living in the city's slums.
She returns to Portland May 9, just before the May 14 Gala of Hope where the LLS will name its Woman of the Year. "Becoming Leukemia Lymphoma Society Woman of the Year would be the biggest honor that I could ask for," says Shira. "It would mean that my story has come full circle: from childhood cancer patient to an advocate for cancer patients."
Another full circle she will complete is working with children. Growing up, Shira often helped out in the preschool her mother has run for 14 years, Little Garden Preschool, which is based on Israel's kibbutz preschool model. Combining her passion to help others and her affinity for children made her choice of medical specialty a snap – pediatrics.
"I love working with children and believe that every kid has the right to be healthy and to thrive," she says.
She believes helping children stay healthy sets them up for a lifetime of health.
She also believes her background will give her insight helping children facing serious illness.
"I believe that having been a patient facing a life-threatening disease, having felt scared, had my life shaken up, I will have the ability to grasp some of the struggles that my future patients face," she says. "I hope that my story can offer them hope and strength during tough times. Most importantly, I think my experience will help me understand human suffering in a deep and meaningful way that will allow me to be an empathic and compassionate physician."