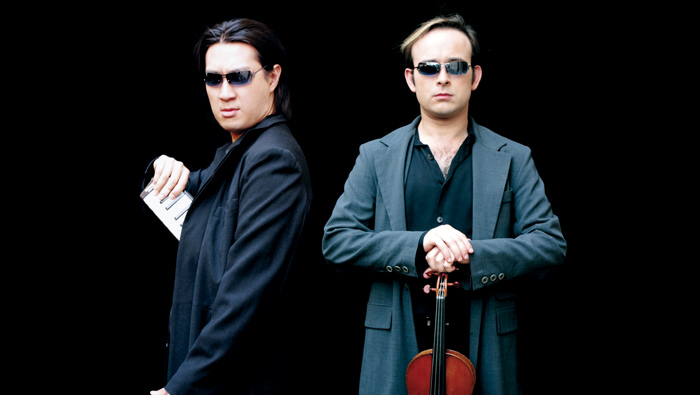 Classical music has had a difficult time shedding the widely held perception that it is stuffy and pompous. Judging solely from visuals, this assessment is understandable; after all, what other art form requires its practitioners to wear white ties and tails when they perform? But this viewpoint is outdated, and no better proof is required than the classical music comedy duo Igudesman & Joo, who blow in to Portland for an evening of subversive, slapstick and topsy-turvy takes on both classical and popular hits. The Oregon Symphony will accompany them on Sunday, March 6, at 7:30 pm at the Arlene Schnitzer Concert Hall.
Igudesman & Joo first gained a following over a decade ago, via YouTube videos of their first show, "A Little Nightmare Music" (the title is a comic nod to Mozart's famous "A Little Night Music"). Russian-born violinist Aleksey Igudesman and British-born Korean pianist Hyung-ki Joo have since gone on to worldwide fame, performing all over Europe, Asia and North America. Their brand of comedy combines the musical pranks of PDQ Bach and Victor Borge with the physical absurdist comedy of Monty Python. Their shows can start with Rachmaninoff or Liszt and find their way through martial arts, movie classics, rock, hip hop, folk, heavy metal, disco and step dancing. Sketches from their concert shows shredding the classical canon have gone viral on YouTube, with some 40 million views. The New York Times wrote, "Their blend of classical music and comedy, laced with pop culture references and a wholly novel take on the word slapstick, is fueled by genuine, dazzling virtuosity. It's that final ingredient that adds a dose of magic to their routine – and proves infectious to other musicians."
Born in 1973 in Leningrad (now St. Petersburg), at age 6 Aleksey and his family fled the Soviet Union's anti-Semitic culture for Bremerhaven, a city in northern Germany.
"Being Jewish wasn't hard in the Soviet Union, it was impossible," Aleksey recalls. When Aleksey's older half-brother, Leon, a child from his father's first marriage, left the Soviet Union in 1978, life for the rest of the family became intolerable. "Leon is a real Jew from both sides of the family," Aleksey explains, referring to the fact that his own mother is not Jewish. "When he left, suddenly my father had problems at work." The late Samuel Igudesman was the concertmaster of the Leningrad Opera Theatre and a member of the prestigious Rimsky-Korsakov String Quartet. "He was told he couldn't tour internationally," says Aleksey, which interfered with Samuel's ability to provide for his family and his opportunities to grow artistically. "In the Soviet Union, my father was also told parents were always responsible for their kids' decisions, so my older brother leaving was used as a means to punish our family."
Like most Jewish Soviet émigrés, Aleksey and his family were not allowed to practice their religion in the Soviet Union. For them, being Jewish was a societal, rather than a spiritual, identity.
Today, Aleksey locates his Jewishness in the strong connection he sees between his Jewish roots and his career as a musical comedian. And Alexsey's screwball sense of humor, like his love for the violin, came to him from Samuel. "He was very much an entertainer and loved to make people laugh," says Aleksey. "When he was in Russia, my father traveled a lot by train; it was normal to have an overnight ride and drink vodka all night. Once he made a bet that he could tell jokes all the night through without repeating himself once, and he won."
Jews and humor seem to go together like peanut butter and jelly. "The more we suffer, the funnier we are," Aleksey declares. "I think it's about survival. In order to overcome the horrible things our people have gone through, you have to be able to laugh; otherwise you are screwed. Survivors – not just of the Holocaust but other terrible situations – say two things brought them through difficult times: music and humor. Both have an incredibly strong therapeutic power."
Although Aleksey has no interest in religious practice, he has a strong spiritual bent. "God is all about creation," he explains. "When humans are creating something, this is the highest form of being true to ourselves, to God. I don't need the rituals of Judaism. My religious rituals are within music and art. Am I proud of my heritage? Yes, one hundred percent. But when I'm asked if I'm Jewish, I say, 'I'm a mensch.' If we pride ourselves on having this heritage, we should always say we are human beings first and we support each other."
Oregon Symphony Presents
WHO: Igudesman and Joo: Big Nightmare Music
WHEN: 7:30 pm, Sunday, March 6
WHERE: Arlene Schnitzer Concert Hall, 1037 SW Broadway, Portland
TICKETS: $35 and up: 503-228-1353 or 800-228-7343 (10 am-9 pm, Monday-Friday)