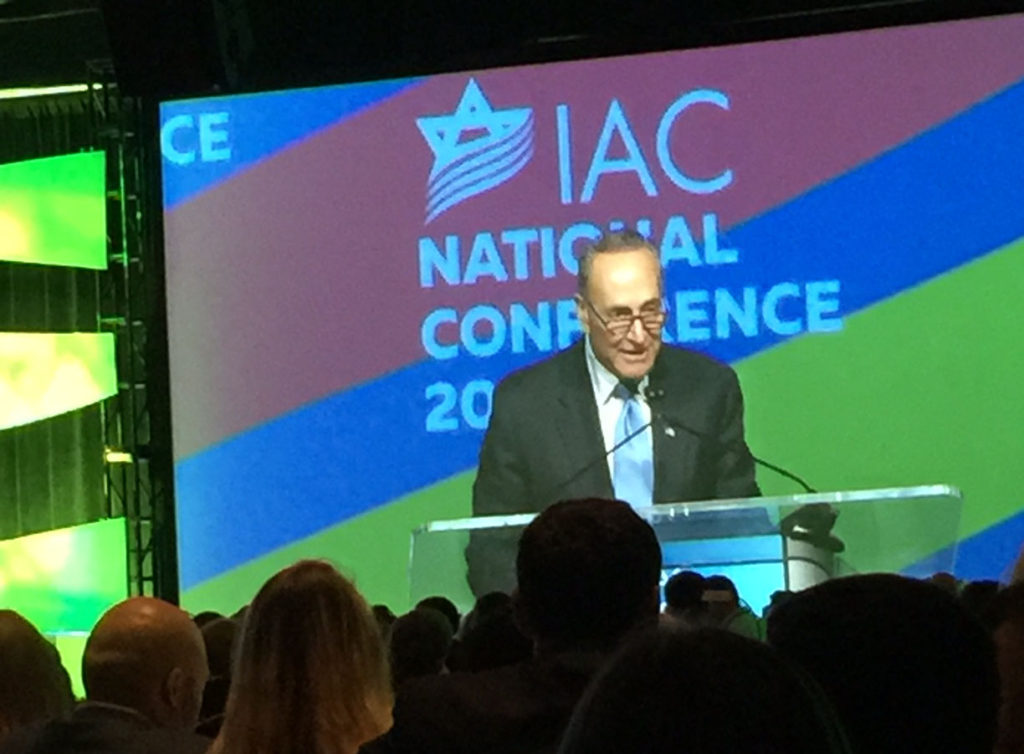 Senator Charles Schumer, at IAC National Conference: "U.S. should never use the UN as a forum to put pressure on Israel."
On Sept. 25, Senator Charles Schumer addressed 2,100 activists and leaders at the Israeli-American Council's National Conference with strong words in support of the U.S.-Israel relationship.
"The U.S. must always come to the aid of our friend Israel, and never use the UN as a forum to put pressure on Israel," said Senator Schumer at the plenary. He added, "As you know, I voted against the Iran deal and I have never regretted that vote a single day since."
He went on to say that, "Iran's feet should be held to the fire and Congress should renew the sanctions immediately," and also praised the efforts to combat BDS through legislation in state and local governments across the country. He cited the law signed yesterday in California – which was championed by the IAC – that prohibits companies engaging in discriminatory BDS boycotts from receiving state contracts, and called for similar legislation to be enacted in all 50 states.
During the evening, Dr. Miriam and Sheldon Adelson were honored with a special award for their visionary leadership of the IAC, which has driven the organization's rapid expansion over the past three years from a local organization in Los Angeles to a national movement with 11 regional offices, active in 27 states and reaching 250,000 people worldwide.
To conclude the evening, former Fox anchor Greta Van Susteren received the Fair and Honest Reporting Award from the IAC. During her acceptance remarks, Van Susteren spoke about close family ties with the State of Israel and her personal admiration for the country's humanitarian work. She cited a recent visit to Ecuador, which was devastated by a major earthquake last April, reporting that only Israel was active in providing aid to the country.
Van Susteren then hosted an Ambassadors Fireside Chat with three of Israel's most distinguished diplomats, former UN Ambassador Ron Prosor, former UN Ambassador and the current Director General of the Foreign Ministry Dore Gold, and former U.S. Ambassador and the current Deputy Minister for Diplomacy Michael Oren.
"We are seeing a revolutionary change in Israel's foreign relations," said Michael Oren, citing growing relationships in East Asia, Africa, and in particular, throughout the Arab world.
The evening's theme, "U.S. & Israel: Shared Vision. Shared Values," was echoed by all Ambassadors and summed up by Oren, responding to Van Susteren's discussion of Israel's aid work: "We enhance life around the world because our message is that we are the same – we represent the same values, the same liberties, the same freedoms."