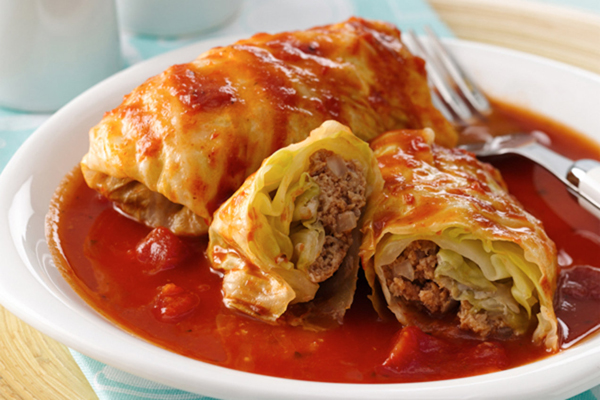 Hungry Girl Lisa Lillien has "swapped" out traditional ingredients for more healthy ones in some favorite Jewish dishes. For more fabulous recipes and heathly-eating tips and tricks, visit hungry-girl.com.
Floosh's Stuffed Cabbage (pictured above)

Ingredients
Cabbage
1 extra-large head green cabbage (large enough to yield 14 large leaves), core carefully removed with a sharp knife
Filling
1 1/4 lbs. raw lean ground turkey
3/4 cup finely chopped onion
1/3 cup ketchup
1 1/2 tbsp. tomato paste
1 tbsp. granulated white sugar or Splenda No Calorie Sweetener (granulated)
1/2 tbsp. chopped garlic
Sauce
2 cups low-fat marinara sauce
3/4 cup jellied cranberry sauce
1/3 cup low-sugar grape jelly
1/3 tsp. salt
Directions
Place cored cabbage head in an extra-large pot and cover with water. Bring to a boil.
Cover and cook, rotating cabbage occasionally, until the leaves soften, loosen, and begin to fall off the head, 5 to 7 minutes. Remove pot from heat. Drain cabbage and set aside to cool.
Meanwhile, in a large bowl, thoroughly mix filling ingredients. In a medium bowl, mix sauce ingredients.
Gently remove 14 large leaves from cabbage head. (Refrigerate the rest for another use.)
Lay one cabbage leaf on a dry surface and top with 2 heaping tbsp. filling (1/14th of filling). Spread out filling, fold in the sides of the cabbage, and roll up cabbage to enclose the filling.
Spray the extra-large pot with nonstick spray, and place cabbage roll in the pot, seam side down. Repeat with remaining 13 leaves and filling, gently stacking the rolls in the pot.
Cover cabbage rolls with prepared sauce. Cover the pot and set temperature to low. Cook for 1 hour, or until filling is cooked through. Enjoy!
MAKES 7 SERVINGS
1/7th of recipe (2 cabbage rolls with sauce): 260 calories, 6.5g total fat (2g sat fat), 629mg sodium, 32.5g carbs, 3g fiber, 24g sugars, 18g protein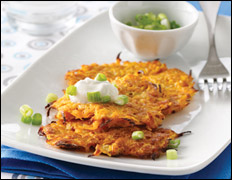 Butternut Squash Latkes
Ingredients
3 cups shredded butternut squash (a cheese grater works well)
1/2 cup shredded onion
1/4 cup fat-free liquid egg substitute (like Egg Beaters Original)
2 tbsp. whole-wheat flour
1/2 tsp. salt
olive oil nonstick cooking spray
Optional Toppings: fat-free sour cream and chopped scallions, unsweetened applesauce and cinnamon
Directions
Place a large baking sheet in the oven, and preheat oven to 450 degrees.
Place shredded squash and onion on a layer of paper towels. Cover with another layer of paper towels, and press down firmly to remove all excess moisture. Repeat until squash and onion shreds are as dry as possible.
In a large mixing bowl, combine squash, onion, egg substitute, flour, and salt. Mix well.
Using oven mitts or kitchen towels, carefully remove the hot baking sheet from the oven. Cover sheet evenly with a 3-second spray of olive oil spray.
Spoon squash mixture onto the sheet in 12 evenly spaced mounds. Using the back of a spoon, flatten and spread each mound into a circle about 3 inches wide.
Carefully (remember, it's hot!) return pan to the oven and bake for 8 minutes.
Using oven mitts or kitchen towels, carefully remove sheet. Coat the top of the latkes with another 3-second spray of olive oil spray. Gently flip with a spatula.
Return to the oven and bake for approximately 10 minutes, until both sides of latkes are crispy. Serve with sour cream topped with scallions and/or applesauce topped with cinnamon!
MAKES 4 SERVINGS
Serving Size: 3 latkes (without toppings),Calories: 84, Fat: 1g
, Sodium: 324mg
, Carbs: 16.5g
, Fiber: 2.75g
,
Sugars: 3g
 , Protein: 3g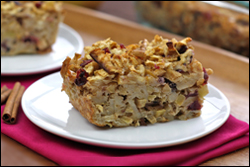 Apple-icious Matzo Kugel
Ingredients
4 sheets matzo
1/4 cup light whipped butter or light buttery spread
1 cup fat-free liquid egg substitute
1/4 cup granulated white sugar
1 tsp. vanilla extract
1 tsp. cinnamon
1/2 tsp. salt
3 cups finely chopped Fuji apples (about 3 apples)
1/2 cup sweetened dried cranberries, chopped
Directions
Preheat oven to 350 degrees. Spray an 8″ X 8″ baking pan with nonstick spray.
Break matzo into small pieces and place in a large bowl. Add just enough warm water to cover, gently pressing down to wet any pieces that float.
Let soak until slightly softened, about 2 minutes. Drain well.
In a small microwave-safe bowl, microwave butter for 30 seconds, or until melted.
Transfer butter to another large bowl. Add egg substitute, sugar, vanilla extract, cinnamon, and salt. Thoroughly whisk. Add matzo and gently stir. Fold in apples and chopped cranberries.
Transfer mixture to the baking pan. Bake until lightly browned and cooked through, about 45 minutes. Enjoy!
MAKES 8 SERVINGS
1/8th of kugel: 170 calories, 2.5g fat, 253mg sodium, 32g carbs, 2g fiber, 17g sugars, 4.5g protein