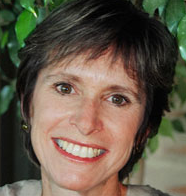 I grew up in a home where money was talked about openly and often. Not about how much money my dad made, but about how he invested it so that it would grow for the future.
"Most people make money with their hands, but if you're smart, you'll learn how to make money with your head," Dad counseled me. Unlike other girls my age, I knew as much about stocks, bonds and price/earning ratios as I did about lip gloss, cheerleading and the Beatles.
I followed Dad's advice and began investing in the stock market as soon as I received my first paycheck, back when the Dow was well under 1,000!
I check my portfolio regularly, rebalancing our investments so that they fit our evolving financial strategies and goals at each stage of life. I think about how vigilant I am about overseeing my financial portfolio and wonder, as the Jewish New Year approaches, if I have given the same kind of attention to my "spiritual portfolio" throughout my life.
One of the things I love most about the Jewish calendar is that inherent in each holiday are lessons and challenges that can inspire and advance personal growth. Nowhere is that more apparent than during the Jewish holidays of Rosh Hashanah and Yom Kippur. The High Holidays beckon us to take a hard look at our life: at our relationships, commitments, goals, successes and failings – to honestly assess how our spiritual portfolio is doing.
At Rosh Hashanah, we ask ourselves questions like: What am I doing with my life? Am I satisfied with my relationships, goals and commitments? Do I give enough of myself? Where am I in my relationship with God? What do I want to change in the coming year? Can I be better person, a more compassionate friend, a more caring daughter, a more supportive spouse? This type of hard questioning is called a Heshbon Nefesh, which in Hebrew literally means "an accounting of the soul."
In financial matters, it takes knowledge, discipline and personal awareness to properly manage a portfolio. These are the same qualities needed to create and maintain a healthy spiritual life.
We need knowledge – what it means to be Jewish and how we want to engage in Jewish living. To become "Jewishly literate," we can turn to the ample resources we have as Jews including our rabbis, teachers, family members, friends, community and the Internet.
We need discipline – to make choices that will further our personal and spiritual aspirations and to follow a course that will help us fulfill them. But knowledge and discipline will not get us what we want unless they are paired with cultivating personal awareness – who we are today and who we want to become in the months and years ahead, as people and as Jews.
We are each unique in our efforts to create spiritual lives. As with investing, each person begins with varying degrees of knowledge, confidence and tolerance for risk and failure. Rosh Hashanah levels the spiritual playing field in that it gives each of us an annual opportunity to engage in important introspection, the type that can help us craft a more meaningful spiritual life.
Amy Hirshberg Lederman is an author, Jewish educator, public speaker and attorney. Her first book, To Life: Jewish Reflections on Everyday Living, goes into its second printing this fall. Visit her website at amyhirshberglederman.com.