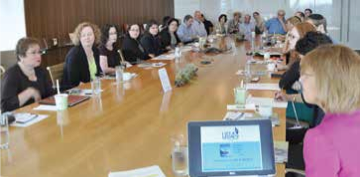 Maybe you only celebrate the High Holy Days; or you attend synagogue every week. Perhaps you grew up in a home where Jewish and other holidays were celebrated with joy and love; or you simply love your mother's chicken soup. The Jewish experience is nothing if not diverse, but at the core there is the shared value of communal living, of making a just world – not only for today but for generations to come, assuring Jewish tomorrows.
The Oregon Jewish Community Foundation is dedicated to securing the future of Jewish Oregon through the new Life & Legacy Initiative, in partnership with the Harold Grinspoon Foundation. The two-year program provides participating Jewish organizations with training, mentorship, marketing and incentive grants to support legacy gift development. The program supplements the ongoing foundation services for individuals and family philanthropy, partner organizations and the profes- sional investment of philanthropic funds.
"The Harold Grinspoon Foundation is thrilled to be partnering with the Oregon Jewish Community Foundation and its local partner organizations to integrate legacy giving into the philanthropic culture of the Oregon Jewish community," says Life & Legacy National Director Arlene Schiff. "Working together, we will provide the generous and forward-thinking members of the Oregon Jewish community with the opportunity to express their passion, purpose and commitment to your most valued Jewish organizations, sustaining them for future generations."
The OJCF Legacy Leadership Council met in July and selected 10 participating organizations from a total of 14 applications (see sidebar for list of organizations). Chaired by Ben Isenberg, Council members include Jill Edelson, Elizabeth Menashe, Jim Meyer, Eric Rosenfeld and Jeff Wolfstone. The evaluation was based on readiness to undertake the program and be successful. Each organization had to form a legacy team of a professional (rabbi, executive director or development director) and three volunteers. The 10 teams will participate as a group in the two-year program, with the opportunity for each to earn incentive grants of $9,000 per year for reaching their goals for securing legacy gifts.
"I want to thank the members of the Council who selected the participants with great thoughtfulness and respect for all the organizations who applied," says Isenberg. "Life & Legacy provides an unprecedented avenue for community collaboration. Our Jewish leadership will learn and work together and celebrate shared success as a community. I'm really excited to see this take off in Portland and Oregon."
The first training session is slated for Oct. 9 at the Mittleman Jewish Community Center. Schiff will focus on Writing Your Legacy Plan. Other topics include Making the Ask, Marketing Your Legacy Program and Stewardship of Your Legacy Donors. Legacy teams also will have other opportunities to meet one-on-one with foundation leadership, Schiff and other guest consultants during their visits to Portland.
"On behalf of the OHRC and Friends of the Memorial, we are so excited to be included in Life & Legacy," says Lisa Kaner of the Friends of the Memorial. "We believe this effort will be crucial in moving us from the halfway point of $500,000 to the $1 million goal for the Oregon Holocaust Memorial Endowment.
The timing could not be better as we approach the 10th anniversary in 2014 of the Memorial's dedication in Washington Park." The timing also coincides with the upcoming 100th anniversary of the Mittleman Jewish Community Center and other important capital and special campaigns taking place in our community.
"One important goal of Life & Legacy is to develop a new community culture where all conversations about giving include at least a mention of planned giving. Planned giving doesn't compete with annual giving. In fact, research shows that when people make arrangements for planned gifts, their annual giving actually increases," says OJCF President Sharon Morell.
Eric Rosenfeld, the foundation's immediate past president, played a key role in raising the funds locally to make it pos- sible to participate in the program and obtain match funding from the Grinspoon Foundation. The local funding represents contributions from the OJCF Community Endowment Fund, the Leonard & Lois Schnitzer Supporting Foundation, OJCF board members and other generous community leaders includ- ing the Goodman Family, Bob and Rita Philip, Rob and Mara Shlachter, and Dick Solomon and Alyce Flitcraft.
The other communities participating with OJCF in Life & Legacy are the Jewish Foundation of Memphis, Jewish Community Foundation of Orange County, Jewish Community Foundation of Greater Mercer, Jewish Foundation of New Haven, Charlotte Jewish Foundation and Greater Miami Jewish Foundation.
Life & Legacy Participants
Cedar Sinai Park, Congregation Beth Israel, Congregation Neveh Shalom, Congregation Shaarie Torah Jewish Family & Child Service, Jewish Federation of Greater Portland, Mittleman Jewish Community Center, Oregon Holocaust Resource Center, Portland Jewish Academy, Temple Beth Israel Eugene