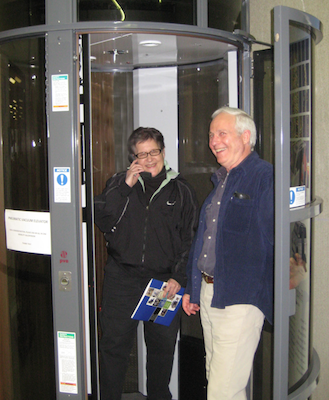 Home may be where the heart is, but it's also a place many people are forced to abandon as they grow old or infirm. But if an Oregon group has its way, a concept known as "lifelong housing" will prove that doesn't have to happen. A Portland Jewish architect is not only helping develop criteria for lifelong housing, he is designing a home that meets the criteria for a fully accessible home.
Robert Freeman, 69, has spent the past year working with a committee of aging and disability professionals, Realtors, contractors and others to develop statewide criteria for rating homes for three levels of livability. The committee has worked with and adapted a certification program launched two years ago in Rogue Valley, the first area in the region to address lifelong housing certification. Homes can be certified as visitable, fully accessible or customized for enhanced accessibility. AARP reports that nine out of 10 older Americans want to stay in their homes for as long as possible. Yet AARP also notes in a July 15, 2010, talking points report on aging in place, "Not all homes and neighborhoods are ready for the aging of the pop- ulation. Most homes lack the user-friendly elements that would enable a person with physical limitations to live comfortably." Yet lifelong housing is not just for the elderly.
"Livability in homes and neighborhoods transcends age," says Robert. "If a family has two kids in a stroller, where are they going to walk? I see Jews walking to synagogue on Vermont (Street) and it looks dangerous." He describes homes that meet the criteria for visitability as promoting community: "Can people without typical mobility visit and congregate in the main living space? Can an elderly relative in a wheelchair visit? Visitability extends out and relates you to community if the community can come in and if you can go out into the community." Robert says the Oregon initiative arose out of the simple acknowledgement that homes built from the 1950s to '70s, which make up the bulk of U.S. single-family homes, have two or more steps to the front door, narrow hallways and bathrooms that people without traditional mobility can't manage.
"With the housing stock we have, most people will have to move if they have any illness or injury that affects their mobility," he says. "The purpose of this group is to provide a structure for retrofitting homes and to influence new construction." The criteria are definitely influencing the home that Robert is designing for Brenda Jose, another member of the Lifelong Housing Committee. "Brenda has no requirements related to accessibility or mo- bility," says Robert, but she wants a home she can live in the rest of her life, and she also wants a home her 90-year-old mother can visit easily.
As the executive director of Unlimited Choices, a nonprofit that assists low-income individuals with home modifications to address mobility issues and seniors who fear falling in their home, Brenda is well aware of the benefits of having an accessible home. "I see on a daily basis what not planning ahead can lead to," says Brenda. Planning ahead is definitely needed when building a home on property such as Brenda's – located on the narrow Neskowin Ridge on Oregon's coast. To take advantage of the spectacular ocean views and to fit onto the narrow footprint available, Robert is designing a three-level home with the driveway and entrance on the ground level and the main living area on the third floor.
That's not accessible without some way to move people between floors, says Robert, adding he and Brenda discussed a traditional elevator. Then, Brenda says, "Robert sent me an email with the subject line, 'Beam me up Scotty.'" The email described the Pneumatic Vacuum Elevator – a vertical transportation vehicle in a transparent polycarbonate tube. Trying out a vacuum elevator in the All in One Mobility showroom in Northeast Portland sealed the deal. "We are go- ing to have a Star Trek elevator," Brenda says excitedly. Other accessible features include a 5-foot minimum turning radius in bathrooms, pantry and other areas to accommodate anyone in a wheelchair; showers with no ledge to step over that are enclosed only by a curtain with the entire bathroom floor sloping gradu- ally to the drain; and no overhead cabinets in the third-floor kitchen, which has the added benefit of better ocean views.
AARP Oregon Director of Community Engagement Bandana Shrestha, who originally brought the Portland area committee together, is delighted Robert and Brenda are using the criteria for the home.
"We want to see architects, builders and remodelers using the lifelong housing standards as they design new and remodel exist- ing homes so that they are homes for a lifetime," says Bandana.
One of the main reasons to certify an existing home is as a marketing feature to attract seniors or those with disabilities when selling or renting a home.
"In addition to the certification, the program also aims to educate consumers about their own changing needs, better understand how they may need to modify their current homes, or what sort of features they will need in their future home," says Bandana. "It's been invaluable to have an architect, and one with Robert's experience, be part the committee," says Bandana. "He brings the technical knowledge and the hands-on know-how, but also a deep understanding about process and how standards work. We have a diverse group of folks involved in the committee, including those like Robert who represent the industry professions that this program seeks to reach … their participa- tion in the process brings that understanding and credibility to the effort."
Also pleased with the prospect of a home meeting the criteria is Connie Saldana, planner for senior and disability services f Rogue Valley Council of Governments, which handles the certification in the Rogue Valley. Though several homes in Rogue Valley have been inspected, none have yet been certified. That is likely to change soon, since Rogue Valley has adopted the statewide committee's plan to have some features mandatory and some optional for each level of certification. Connie says one home that has been built using the criteria should be ready for inspection soon, and she expects it will be first home certified under the lifelong housing criteria.
In addition to builders and Realtors marketing accessible homes, Connie says her office has also had requests for informa- tion from people wanting to make their home accessible for aging parents who are moving in.n "We also want to educate builders that if you start from the design phase, it costs very little, if anything, more to make homes accessible," Connie says. "It's a home anyone can use, but if someone moves in or you become disabled, it's ready for you." Yet no home can be ready for every disability. "Everyone's accessibility needs are different," says Brenda.
"You need to look at an individual's needs." It was in that spirit that the committee added a third level for certification – enhanced accessibility, where a home has been customized for a specific accessibility issue. Homes certified as level 3 must meet the level 1 and 2 checklists and also have at least one custom feature such as being wired for hearing impairment with flashing lights or vibrating smoke alarm and door bell; tracks in the ceiling for a lift chair; therapeutic whirlpool; or backup generator for a respirator or oxygen concentrator.
"Sight issues, hearing issues and even mental disorders have a relationship to the physical environment," says Robert. "You can do things architecturally to accommodate mental disorders. For example, lots of windows offering the ability to see outside and plants and landscape can reduce anxiety, and textures and colors can affect sensory awareness and perception." Homes certified as level 3 will note the specific accommodations, making it easier for home buyers to find a home that meets their personal needs.
While criteria continue to evolve, the most up-to-date guidelines are maintained online at rvcog.org. While Rogue Valley's certification program is already active, Robert says the Portland group still needs to work out logistics and find an organization willing to host the checklist and run the inspection program.
LifeLong Housing Contacts:
Connie Saldana, Rogue Valley Council of Governments: rvcog.org | 541-423-1383
Robert Freeman Architecture: rfreeman@intergate.com | 503-827-4174
Bandana Shrestha, AARP Oregon: bshrestha@aaRP.org | 503-513-7368
Brenda Jose, Unlimited Choices: brenda@unlimitedchoices.org | 503-234-6167