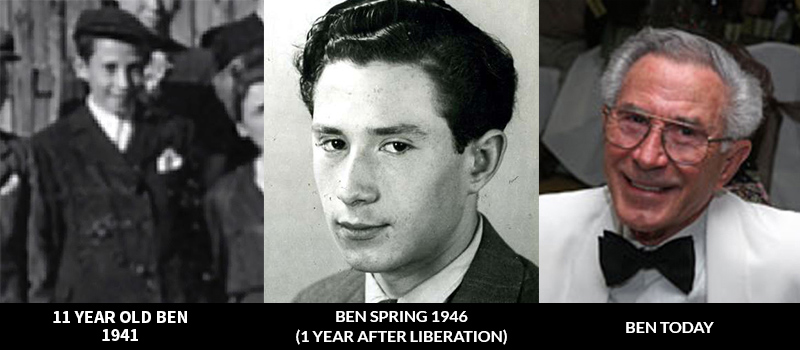 ZACHOR Holocaust Remembrance Foundation, a national non-profit organization founded by Holocaust Survivor, Ben Lesser, that is dedicated to ensuring the remembrance of the Holocaust, is thrilled to announce the launch of ZACHOR Holocaust Curriculum (ZHC). ZHC is available immediately via zachorlearn.org, for free, to school districts, schools, teachers, students and history enthusiasts.
ZACHOR Holocaust Curriculum is the first-ever curriculum that was fully developed and facilitated by a living Holocaust survivor, Ben Lesser. The free curriculum and interactive teaching tool includes six turnkey lesson plans along with videos, historical photography, personal anecdotes, a historical interactive timeline and various student activities and dialogue prompts that will provide a lasting impact on participants and ensure ease of use for teachers.
While various Holocaust curricula currently exist, ZHC stands out in three unique ways. First, this is the only such curriculum where the ramifications and lessons of the Holocaust are taught from the firsthand experience of a survivor. Second, ZHC was specifically designed with educators, who often struggle to find the time and/or resources necessary to build out such lesson plans and curricula, in mind. As such, it offers everything needed within one easily accessible website to teach the Eastern European portion of World War II. This virtual curriculum is especially useful as many schools and school districts begin their academic year virtually due to the COVID-19 pandemic. Lastly, ZHC will work with USC Shoah Foundation – The Institute for Visual History and Education to integrate additional testimony-based digital tools and educational resources into the curriculum and make it accessible via the Institute's internationally recognized IWitness program, which reaches educators in all 50 states and 90 countries.
"Ben's story of resilience and hope, overcoming the horrors of multiple Nazi camps, has already impacted and moved thousands of young people," said Stephen D. Smith, Finci-Viterbi Executive Director of USC Shoah Foundation. "Now, even more people can learn from Ben's voice and from his life's work about how to better use their own voices, which is also at the heart of our work in IWitness."
Having survived the most notorious work and death camps in Poland, Dachau and Auschwitz-Birkenau, two death marches and the infamous Dachau death train (of which he is the only survivor still living who can speak of its horrors), Ben Lesser offers his audiences, including those interacting with the new ZHC website, hope and solutions for a better future. After immigrating to the United States in 1947 and retiring from a successful career in real estate, Ben fully committed to speaking to and sharing his story with as many people as possible across the globe, including writing about his experience in a memoir and successfully distributing more than 500,000 of the Foundation's well-known ZACHOR (remember) pins. Through Holocaust education, ZACHOR Holocaust Curriculum is his culminating endeavor to promote tolerance, respect and diversity.
"My hope is that ZHC serves as a one-stop shop for educators, who, in turn, can provide memorable learning and engagement opportunities to students, allowing them to question who they are as individuals, who they can become and how they can live meaningful lives," said Ben Lesser, Founder of ZACHOR Holocaust Remembrance Foundation and ZACHOR Holocaust Curriculum. "At 91-years-old, I created ZHC so we always remember the Holocaust even when there aren't survivors physically present to share their stories."
To learn from and actively participate in ZACHOR Holocaust Curriculum, school districts, schools, educators, individual students or any other interested parties simply need to sign up for a free account by visiting www.zachorlearn.org. Those interested in donating to amplify ZHC and Ben's inspiring story of survival can do so on the ZHC website, as well.
ABOUT ZACHOR HOLOCAUST REMEMBRANCE FOUNDATION
The ZACHOR Holocaust Remembrance Foundation, founded by Survivor, Ben Lesser, is dedicated to spreading awareness, to remember, and most notably, TO NEVER FORGET. It offers educational programs, outreach and online resources to preserve the memory of the Holocaust, along with advocating for change for our future by teaching tolerance. The Foundation's mission is to not only preserve the memory but to teach the value of acceptance and peace through its anti-bullying campaign I-SHOUT-OUT.org. I-SHOUT-OUT is an innovative, interactive anti-hate campaign that strives to put an end to intolerance by speaking up – and out – for those who cannot. The goal of the campaign is to garner 6 million SHOUT-OUTS on its website, I-SHOUT-OUT.org, with people voicing what they shout-out for like anti-bullying, tolerance and more contemporary issues. The organization recently launched Ben's interactive story using the StoryFile artificial intelligence technology. Additionally, the Foundation developed ZACHOR Holocaust Curriculum, the first of its kind tool for teachers to educate their students about the Holocaust through a survivor's vantage point.
ABOUT USC SHOAH FOUNDATION
USC Shoah Foundation – The Institute for Visual History and Educations develops empathy, understanding and respect through testimony, using its Visual History Archive of more than 55,000 video testimonies, award-winning IWitness education program, and Center for Advanced Genocide Research. USC Shoah Foundation's interactive programming, research, and materials are accessed in museums and universities, cited by government leaders and NGOs, and taught in classrooms around the world. Now in its third decade, USC Shoah Foundation reaches millions of people on six continents from its home at the Dornsife College of Letters, Arts and Sciences at the University of Southern California.