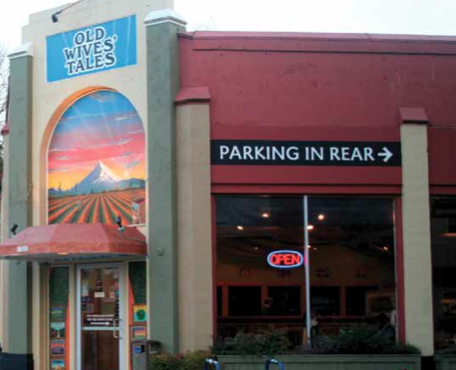 She was a leader in Portland's early gay rights movement, as well as a feminist, anti-war protestor and civil rights champion. So, when Holly Hart soul-searched for her lifelong vocation, a gathering place for activists came to mind. She combined this with her love of food. She'd even sold popcorn in her grade-school years. An International Studies major at Reed College, she hit on a restaurant with foods from around the world. She opened Old Wives' Tales, an iconic Portland cafe, 34 years ago.
"I've always understood that food is a social thing, and it can be utilized in political and social organizations," Holly said during a recent interview at her lightfilled restaurant on Southeast Burnside. Divided into three rooms plus a colorful play area for children, the large space felt cozy with wooden floors and handmade quilts decorating the walls. The inviting soup and salad bar included her signature Hungarian Mushroom. Although it was 3 pm, customers spread out to enjoy the all-day breakfast while they pored over laptops and good books.
Holly grew up in a Jewish neighborhood of Chicago and came to Portland in the 1960s to study at Reed, where she worked with civil rights and anti-war groups. By 1969 her focus switched to gay rights and women's liberation. After graduating from the University of California, Berkeley law school, she returned to Portland and served on Governor Robert Straub's Task Force on Sexual Preference. Meanwhile, she longed to open a feminist restaurant and bookstore. She settled on just a restaurant, but still considers herself an unfulfilled bookstore owner.
Old Wives' Tales soon became a meeting place for all manner of progressive causes from feminism to environ- mentalism. Just as the restaurant targeted unmet social needs, it specialized in hard-to-find cuisine. "Places did not have vegetarian food," Holly said. "Nobody talked about gluten intolerance, but they'd come in and say, 'I can't eat wheat.' Sometimes they wouldn't want sugar in their dessert or couldn't eat cabbage. I became aware that people have special dietary needs. We list all the ingredients in our food and welcome questions." Much of the menu is vegan and gluten- free and dishes include Italian, Greek, Indian, Southeast Asian and more. Try huevos rancheros with black beans or East Indian huevos rancheros with red lentil tomato dal.
Holly's activism extends to the Jewish community. Old Wives' Tales once hosted a get-together for Jews living on Portland's eastside. "I was looking for lost tribes," Holly said. She moved to Hillsdale to be closer to the Mittleman Jewish Community Center and Congregation Neveh Shalom, where her daughter became a bat mitzvah. In the spirit of tikkun olam, one of Holly's favorite activities is food donations.
"If I could, I'd spend all day preparing food to send out to the community," she said. "I personally do that; it's not just leftovers. We donate on a regular monthly basis and support a variety of organizations – feminist, street kids, refugees … . This gets back to why I started the restaurant. We support the missions of these organizations. I base my social activism here."
Old Wives' Tales, 1300 E Burnside St., 503-238-0470, oldwivestalesres- taurant.com. Open seven days a week, Sunday to Thursday from 8 am to 8 pm, Friday and Saturday 8 am to 9 pm.