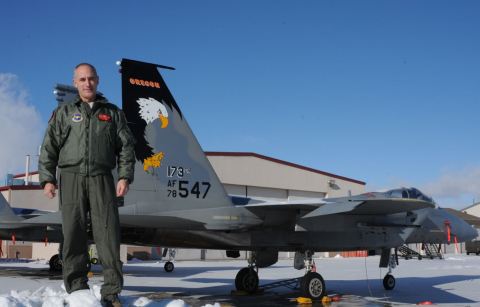 By the time an Israeli military pilot saluted Jeff Silver on the kibbutz where he spent his 17th summer in 1978, Jeff was already pre-disposed toward a career in aviation and the military. But Jeff couldn't know that now, 34 years later, he would be poised to ascend to heights few others reach in that career.
In February the 51-year-old Air National Guard Colonel left his post as commander of the 173rd Fighter Wing and base commander of Kingsley Field in Klamath Falls for a six-month deployment to Afghanistan. Jeff says he volunteered for the assignment after "my superiors in the Air Guard asked me if I was interested in moving up in the organization." After this combat tour, he is in line to become a brigadier general.
Jeff says he learned a lot about Israel in 1978, when he and about 10 other Portland teens participated in a summer program there. "The idea of people forging a nation against great adversity was great to see." He saw fighter jets fly by nearly every day, but the day that sticks in his memory was the early morning he climbed to the top of a high mound of dirt on the kibbutz and saw a fighter jet approach, cruising very low. The pilot's salute as he flew past and rapidly disappeared has remained vivid in Jeff 's mind. "Israeli fighter jet pilots were my heroes," he says. "Everyone in that country does their part. In the U.S. less than 1% of the people have served (in the military)."
He says he was inspired by the Israelis who were not militant but who "had to become adept at warfare to survive. … I identified with that sense of self-reliance."
"It was one of the things that made me feel it is not inconsistent to be Jewish and serve in the military," he says. "Having been in Israel, it seemed like the right thing to do." Even before that summer, Jeff says he found the prospect of being a military pilot alluring. His father, Norm Silver, was a navigator in the U.S. Air Force. Norm Silver lived in Portland before he joined the Air Force and became rated as a navigator-bombardier, who served on the B-57-B light jet attack bomber in the Far East. Norm met Norma in Sacramento while in advanced training there before going overseas. The couple married in 1958 with a Jewish Air Force chaplain officiating. "I crashed four months later on July 25, 1958, spent two years in military hospitals and was retired from the USAF in September 1960," says Norm. "Must have been saved for a reason 'cuz we have three kids and six grandchildren."
His father's crash didn't deter Jeff from wanting to fly. He grew up loving fire trucks, race cars and airplanes. When his parents offered him a television for his bar mitzvah, he asked for a motorcycle instead. As an ER nurse, his mother objected. They settled on a pair of skis.
Throughout his life, Jeff has been an avid outdoorsman. He enjoys water sports such as surfing and windsurfing, mountain biking and cycling on the road, tennis, skiing and, more recently, golf. He did eventually get that motorcycle, but hasn't ridden one in about 10 years.
In 1984 he was commissioned through the Air National Guard Academy of Military Science and was assigned to the 142nd Fighter Wing at the Portland Air National Guard Base.
"I've been flying since 1985," says Jeff, noting that his assignment in Afghanistan is "a non-flying assignment, and that pains me deeply."
He will serve in the Air Force chain of command as "an upper-level staff guy … to ensure the U.S. Air Force personnel and aircraft support ground forces with close air support, surveillance and reconnaissance." He says his wife, Theresa Silver, is "supportive with trepidation" of his Afghan deployment. Since her brother has already served two tours in Afghanistan as a pararescue jumper, her husband's assignment doesn't make her quite as nervous.
Hired by United Airlines in 1998, Jeff flew for United full-time for 13 years while serving as a part-time fighter pilot with the Air National Guard. On his military assignments he flies F-15 fighter jets and his call name is Hi-Ho Silver. For United he was a first officer and co-pilot on the 737 before beginning a three-year military leave of absence. He became vice commander of Kingsley Field and the 173rd Fighter Wing in June 2011 and was promoted to commander of both in September 2011.
"Being a fighter pilot is a track that is full of adventure," says Jeff, who has more than 3,000 military flying hours including combat sorties over Iraq to enforce no-fly zones. "Fighter pilots are engaging, smart, dynamic people, so they are fun to hang out with. … We do it because we like high stress environments." He says his "highlight reel" includes "getting commissioned as an officer, soloing a jet for the first time, becoming an F-15 pilot, becoming a squadron commander … and getting to take over the fighter wing at Klamath Falls." Yet not all of his favorite memories involve action and adventure. While flying a military jet at high altitude, he has seen "the Northern Lights and stars where there's no light pollution … and the occasional comet from outside much of the atmosphere. Seeing Earth from 30 to 40,000 feet is really beautiful."
Jeff says, "In the military in general, 99% of the people want to do good work. … it's not a profit motive; there's a credibility motive – they work hard because they don't want to let their buds down." "It's also very egalitarian," he says, noting people advance through hard work, proving how capable they are and furthering their education. "I've never seen any discrimination because I'm Jewish, and I don't hide it."
He describes Judaism as important to him because "I was raised that way." He attended religious school and Wednesday night school at Congregation Beth Israel, where he became a bar mitzvah.
"I buy into the idea we are the original religion, the wellspring, and I believe in going to the source," he says. "Also Judaism emphasizes learning, scholarship, understanding and tolerance. It has the 'rules of the road.' The Ten Commandments and Torah teach us how to be good humans." He clings to tradition most closely at Yom Kippur and Passover. The Silver family seder in Beaverton with his parents, two sisters, and six nieces and nephews "are really fun to go to." He describes those seders in aviation terms as a chance to "recage everyone's gyros," explaining that if a gyro gets out of whack in an airplane it needs to be "recaged," or reoriented to the horizon for stability.
Jeff says when he returns from Afghanistan in the fall, he will resume flying for United as a co-pilot on the Airbus 320 series and return to part-time Guard status, since full-time jobs for brigadier generals in the Air National Guard are scarce. Other than an active-duty tour, the only full-time positions for National Guard brigadier generals, he says, are for those called to serve in the governor's office or nationally at the Pentagon. "My intent is to become a part-time guardsman and go back to the airline, unless my country says it can't do without my sparkling wit and great command capabilities," he says with a grin.
"I've never seen any discrimination because I'm Jewish, and I don't hide it."