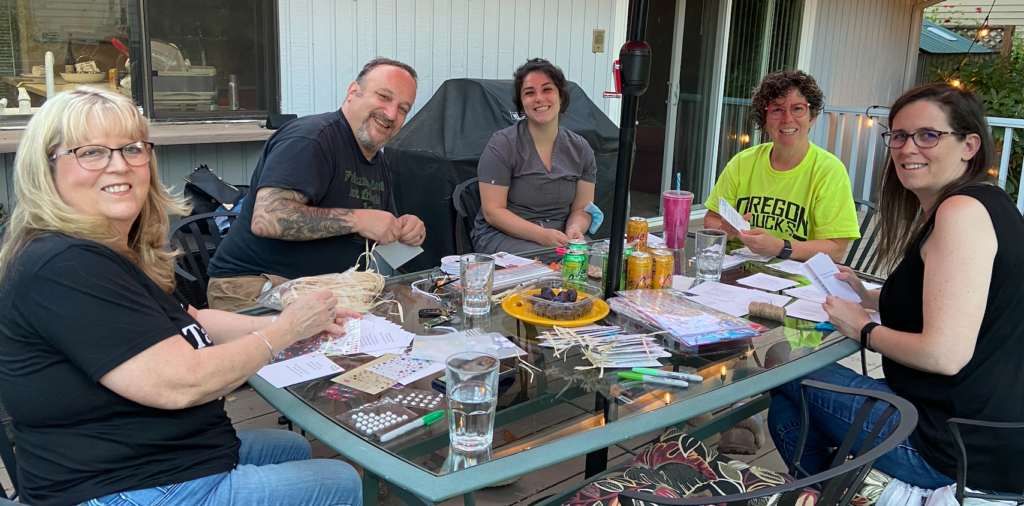 Photo: From left: Juli and Rick Barde, Jorden Cohen, Sallie Cohen, Karen Fairfield.

Positive Charge! PDX is a local 501(c)(3) nonprofit organization that is open to everyone, with a mission to make a positive impact on a collective scale by doing good deeds, sharing good news, and building community. They create opportunities for the public to make a positive impact in our community and our world by 1) giving volunteer time, 2) creating art for causes, 3) contributing to collections for causes, and 4) participating in Emergency Kindness Events. Past examples of their Emergency Kindness Events have been collecting, assembling, and delivering over 1000 backpacks full of daily necessities for migrant children fleeing Central America; collecting and delivering multiple carloads of daily necessities to firefighters and evacuees of 2020 and 2021 Oregon wildfires; and currently collecting almost 30,000 lbs. of food for the Neighborhood House (in Multnomah) to help individuals and families dealing with food insecurity in Portland. The two short videos on their home page nicely summarize what they do in a nutshell. Positive Charge! PDX is completely volunteer-run with no paid staff, and they run all of their programming through the generous donations of time and goods.
In September, Positive Charge! PDX launched an important, citywide Emergency Kindness Event to support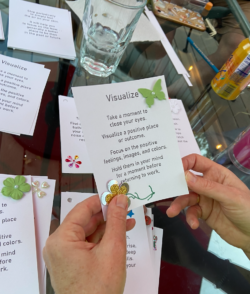 frontline healthcare workers in Portland hospitals. After speaking with a number of people working on the front lines of the COVID pandemic, they learned that "self-care packages" with cards of encouragement would be super appreciated ­­– and are really needed right now to boost morale. To that end, they created the Healthcare Heroes Project, a project that invites people of all ages in the Portland area to participate by:
Sewing and donating soothing neck wraps
Creating cards of thanks, encouragement & mindful relaxation
Donating lotions, essential oils, candles . . . & chocolate! (store-bought, pre-packaged)
They have small businesses across the city hosting collection bins for these items that they will assemble into the self-care packages and deliver to the hospitals, the OHSU COVID MICU and COVID Labor & Delivery units being first on their list. The timeframe is now through Nov. 5, and they will be collecting, assembling, and delivering the kits on an ongoing basis each week in order to get them to their intended recipients as soon as possible.
For more information, visit positivechargepdx.org/upcoming-events.