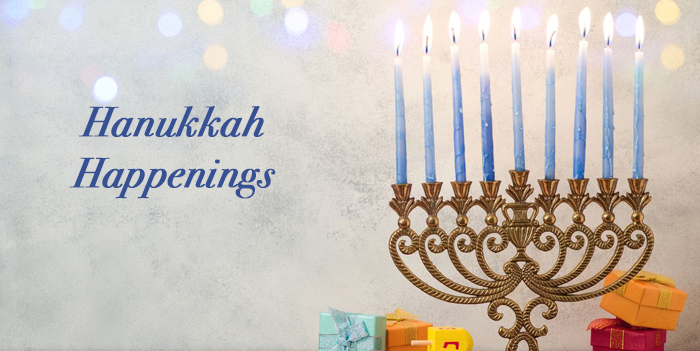 Hanukkah begins at sundown on Sunday, Dec. 22. There are many celebrations happening:
Dec. 21 & 22
Sharing the Light
Tickets $20 & up.
Join in the spirit of shared holiday traditions by attending a joyful musical collaboration between Kol Echad, Choir of Congregation Beth Israel and the Trinity Choirs, Pacific Youth Choir, Portland Chamber Orchestra, Samantha Farmilant, soprano, Helen Karloski, mezzo, William Goforth, tenor, Anton Belov, baritone and Yaacov Bergman, conductor.
The performances will be held on Dec. 21 and 22 and will feature the Christmas portion of Handel's Messiah on Saturday, Dec. 21 at 7 pm at Trinity Episcopal Cathedral at 147 NW 19th Ave. in Portland and excerpts from Judas Maccabeus on Sunday, Dec. 22 at 4 pm at Congregation Beth Israel at 1972 NW Flanders St. in Portland.
Trinity's annual Wassail Party follows the Saturday performance and Hanukkah treats and menorah lighting follows the Sunday performance.
For ticket information, visit trinity-episcopal.org/events.
Dec. 22
Chanukah Candle Workshop
10-11:15 am
Free
Chabad Center for Jewish Life, 2858 NE Sandy Blvd., Portland
Kids ages 5-12 can experiment with custom-made molds to make Chanukah-themed candles in different shapes and colors and also make their own Chanukah gelt launcher. To RSVP, contact jewishnortheast.com/candleworkshop
Hanukkah Extravaganza
11 am-4:30 pm
Milwaukie Grange #268, 12015 SE 22nd Ave., Milwaukie
Fun-filled Hanukkah Fair with terrific vendors, delicious latkes, sufganyiot, free coffee, raffle and activities for the kids! For more information, visit facebook.com/MilwGr268/.
Hanukkah Story Time with Eric Kimmel
Noon-1 pm
Free
Green Bean Books, 1600 NE Alberta St., Portland
Enjoy the amazing PJ Library author, Eric Kimmel for the annual Hanukkah Story Time at Green Bean Books to usher in Hanukkah. For more information, visit facebook.com/PJLibraryPortland/.
Chanukah Donuts + Dancing
2-4 pm
$10/per family; $5 individual adults
Mittleman JCC, 6651 SW Capitol Hwy., Portland
Make crafts + decorations for your home, take part in Israeli dancing, and eat some delicious sufganiyot (jelly donuts) at this family-friendly Chanukah celebration. To register, visit oregonjcc.org/donuts.
Light Up the Night
4-5:30 pm
Free
Director Park, 815 SW Park Ave., Portland
Celebrate the first night of Hanukkah with the Dreidel Man, music, Hanukkah treats and a grand menorah lighting. Menorah lightings occur each night through Sunday, Dec. 29.
Sunday-Thursday lightings are held at 5:30 pm. On Friday, Dec. 27, lighting occurs at 3 pm and on Saturday, Dec. 28, lighting occurs at 6:30 pm. For more information, visit facebook.com/pg/ChabadPDX/.
Chanukah Party
4-6 pm
Congregation Shaarie Torah, 920 NW 25th Ave., Portland
Enjoy Chanukah themed treats, a Blazer-suite ticket raffle, latkes, Klezmer music, driedel games and more. Bring your chanukia to help kindle the first light of Chanukah with us at around 5:30 pm. At the Chanukah Party, they'll be accepting donations for Street Roots for individuals experiencing homelessness and poverty. For more information, contact communication@shaarietorah.org.
Light Up Hillsboro
4:15 pm
Free
Plaza at Orenco Station, 943 NE Orenco Station Loop, Hillsboro
Enjoy this festive Hanukkah celebration with a grand menorah lighting, live music by Ori, latkes, donuts and more. For more information, visit chabadh.com.
Community Chanukah Celebration
4:30- 6 pm
Free
301 W. Eighth St., Vancouver, WA
The Chabad Jewish Center invites you to celebrate the lighting of their brand new Menorah in Propstra Square at Esther Short Park in downtown Vancouver!
Enjoy a festive Chanukah celebration, including live music, hot chocolate and donuts. The Grand Gelt Drop will shower spectators in chocolate coins, and a new 19-foot Menorah inspired by the new Grant Street pier will be unveiled.
All are welcome to attend this free community event. Online RSVPs requested, visit jewishvancouverwa.com/holiday-celebrations.
Community Chanukah Party
5-8 pm
$18 adults, $12 kids; $54 family
Congregation Neveh Shalom, 2900 SW Peaceful Lane, Portland
Celebrate the festival of lights with Neveh Shalom. Bring your own chanukiah to light with the community and enjoy a latke dinner. TO RSVP for dinner, visit tinyurl.com/CNSChanukah2019.
Dec. 23
Candle Lighting at Cedar Sinai Park
4:15-5:15 pm
Cedar Sinai Park, 6140 SW Boundary St., Portland
Join PJ Library families at Cedar Sinai Park for a special Hanukkah candle lighting with Kim Schneiderman! There will be candles, music and sufganiyot. For more information, visit facebook.com/PJLibraryPortland/.
Inaugural Beaverton Menorah Lighting
5 pm
Beaverton City Park, 12350 SW 5th St., Beaverton
Please join Mayor Denny Doyle and your community to celebrate the second night of Chanukah at the inaugural Beaverton menorah lighting at Beaverton City Park.
We will celebrate this Festival of Lights in partnership with Chabad of Hillsboro.
Free to the public! Please bring friends of all faiths to help bring the light to the darkness. facebook.com/events/823792141385216/
Jewish Heritage Night
6 pm
Moda Center, 1 N Center Court St., Portland
Chabad of Oregon and the Portland Trail Blazers are once again partnering together for Chanukah Jewish Heritage Night. Watch the Menorah lighting being viewed on the Jumbotron, wear your Hebrew "Blazers shirt" with hundreds of other Jews as the Trailblazers take on the New Orleans Pelicans on the second night of Chanukah! For sponsorship opportunities and groups, email Rabbi@JewishNortheast.com.
Dec. 28
Annual LGBTQ Hanukkah Happy Hour
5-8 pm
Congregation Shir Tikvah, 7550 NE Irving St., Portland
It's time to gather in close with our community, enjoy a few cocktails, light candles, and remember that there is light in the darkness. Bring your own menorah if you please and enjoy each other's company. This is an event that values the voices of historically marginalized Jews, but we invite and encourage our allies to show up too!
Featuring beer from Leikam Brewing, homemade latkes and all of the other libations and treats everyone wants to share. If you're able please bring a bottle of wine or spirit to share.
For more information, visit shirtikvahpdx.org.
Dec. 29
Congregational Hanukkah Party
3:30-6 pm
Free
Congregation Shir Tikvah, 7550 NE Irving St., Portland
¡Feliz janucá! Enjoy sweet deep-fried bimuelos and spicy hot chocolate in the light of the Hanukkah candles. Nosh on Sephardic Keftes de Prasa (leek fritters) from Beetroot Market and Deli All are welcome – we've got the 6th Annual Dreidel Smackdown for the adults, games for the little kids. Bring a friend, sing Ocho Kandelikas and spread the holiday warmth around. For more information, visit shirtikvahpdx.org.