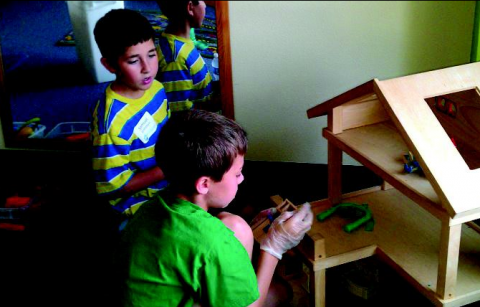 To help launch a new community program that links volunteers with community needs, the Portland Mitzvah Network of the Jewish Federation of Portland is planning a broad range of volunteer projects to coincide with international Good Deeds Day March 10.
In Portland volunteers will be able to choose from projects such as outdoor environmental work at Tryon Creek State Park, book repair with the Children's Book Bank, a building project with Tivnu and Habitat for Humanity, feeding the hungry with Jewish Family and Child Service or participating in a project with elders at Cedar Sinai Park.
That one-day diversity of volunteer opportunities will soon be available at the click of a mouse when the Portland Mitzvah Network launches its volunteer website in March.
"I have had this passion and vision to create a communitywide volunteer program and portal since 2005," says Portland Mitzvah Network Chair Jon Caplan. "With greater reliance on technology, social media and increasing emphasis (and need) to promote volunteerism, the timing seemed optimal for creating a community volunteer program in 2012-2013."
While Caplan's earlier push to create a communitywide volunteer program failed to take root, he is optimistic today's linked-in public will find the network a valuable asset. "Currently, there is no single source or communitywide program where individuals can go and learn how to get involved in the community," says Caplan. "Whether individuals are involved in synagogues, federation-related agencies or other Jewish-oriented groups or organizations, it has always been difficult for someone in Portland (especially those new to the area) to learn how to get involved in and outside of the Jewish community.
"Good Deeds Day represents a great one-day event where individuals can gather, meet others in the Jewish community and perform mitzvot that benefit others," says Caplan. "It has been our vision to promote on-going events and opportunities (i.e., help drive seniors to the grocery store on a weekly basis) along with special events and community-gathering special volunteer events." Caplan says the website will provide "an individual and agency-friendly volunteer portal."
Good Deeds Day was created in 2007 and by 2012, Good Deeds Day events took place in 50 countries.
"I'm really excited to be working with a committee of great people to make Federation's Good Deed Day on March 10 a wonderful success," say Steve Sirkin, who is chairing the day's events. "We're looking forward to bring together people of all ages from across the Jewish community to perform acts of 'gemilut hasadim,' (loving kindness) or, put more simply, 'good deeds.' Our plan is to create a wide range of deeds for people to do along with offering the option of simpler ones that anyone can do on their own. Our goal is to involve thousands of Portland Jews and for as many of these acts as possible to become the first step in a longer-term commitment." 
According to the international day's official website, gdd.goodnet.org, "Good Deeds Day is an annual celebration of good deeds. … (that puts) into practice the simple idea that every single person can do something good, be it large or small, to improve the lives of others and positively change the world."
For more information on Good Deeds Day in Portland, contact JFGP Community Engagement Director Caron Blau Rothstein at 503-245-6449  or Caron@jewishportland.org.