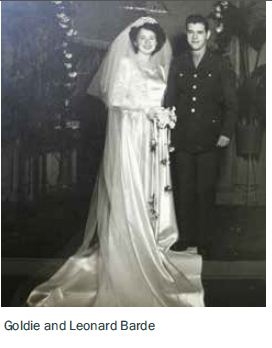 Most people know Goldie Barde for her great work as president of the Robison Home Sisterhood or the religious services she led at Cedar Sinai Park. They remember when she and her late husband, Leonard, received the 2008 Maurice D. Sussman Memorial Award for their contributions to the community. But many don't know her fascinating history of growing up Jewish in Portland during the 1920s and '30s. Only her three children, eight grandchildren and 10 great-grandchildren hear the stories she's happy to share.
"My earliest memory is First Street," Goldie said during a recent interview at her home in Beaverton. "I was born upstairs from Korsun's Grocery. I remember women sitting in front of Calistro and Halperin's delicatessen on boxes and chairs schmoozing all day in Yiddish. They weren't good at English until the children went to school, and then they learned from us. And Dora Levine's fish market was a centerpiece. They had a tank outside, and the kids loved looking at that."
Goldie's parents, Rose and Louis Puziss, made their way to Portland from Uman, Ukraine. When her father and uncle were on furlough from the Czar's army, the family escaped. Her father opened a tailor shop, and when Goldie was 4, they moved to SW Park and Clifton. With 10 rooms and three stories, the family's five children had plenty of room. Goldie's grandparents, Bernard and Sarah Blackman, lived next door, and her aunt lived across the street. The children walked to Shattuck School and Lincoln High. "You could be late; when you heard the bell, you could still make it in time," Goldie said. She remembers a Jewish neighborhood with Congregation Shaarie Torah across the street.
"My mother was a dressmaker in Uman and had her own business at 13," Goldie said. "She sewed for the rich ladies. When she came to America, it helped her a lot." Soon after moving to the Park Blocks, Rose Puziss opened a secondhand clothing store called Rose's Garment Shop in a ground floor space on SW Third Avenue and Jefferson. "It was Depression time" Goldie said. "She was successful because she knew how to buy. She could go through a rack in seconds where we would look and look. She mostly bought at storefront rummage sales run by high society people as fundraisers. She knew whether clothes needed work and transferred decorations from one garment to another – a button, a flower. And she altered garments – no charge."
Rose's sales sense contributed to her success. "She fed customers coffee, cookies and crackers; she always had that going," Goldie said. "She sold shoes for 25 cents. She'd bend them and say, 'See how flexible?' or hit the sole with her thimble and say, 'See how good this is?' She had layaway. And she developed a following of people who kept coming back. "A lot of customers were what my mother called nafkes," Goldie continued. "That's a woman of ill repute. They loved my mother and were so nice to me. The Depression caused heartache. One time, a classy-looking woman walked in. She said, 'My husband committed suicide; we have nothing.' You know, big investors lost everything. My mother sat her down, gave her coffee and found a dress for her – no charge."
At that time, Portland's Roma (Gypsy) population lived in storefronts near the garment shop. Stores didn't carry the styles they preferred – voluminous blouses and skirts, big sleeves, scoopnecks – but Rose Puziss whipped them up in no time flat. When their local king died, the Roma held up the funeral procession until Rose could finish his final outfit, and they then carried his body high on a gurney as they paraded through the streets.
Goldie often visited her mother's store and "lived" at the Jewish Community Center, then on 13th Avenue. Her friends formed a sorority called Megas that met every other week. "The Lincoln Theater was 10 blocks away," she said. "Girls came home at 11 o'clock at night and nobody worried. They had silent pictures, and a young man played the organ. "This guy called Paul drove a popcorn wagon," Goldie said. "We'd buy popcorn or ice cream during breaks at Lincoln High." Paul established himself in front of Berg's Theater on First Street until Mr. Berg got his own machine and refused to let Paul's popcorn in. "Kids liked to sit through the movie twice, but Mr. Berg walked up and down the aisles, and if he recognized you, you had to get out," Goldie said.
Goldie also remembers mothers chatting on Park Block's benches while children played games nonstop. "There were hardly any cars, so we played ball in the street and roller skated," she said. "The best part was the Fourth of July. Our neighbor, Mr. Potter, opened a fireworks store to make some money, and he'd bring back the leftovers and set up pinwheels and rockets. Kids today miss out on the kinds of experiences I had."