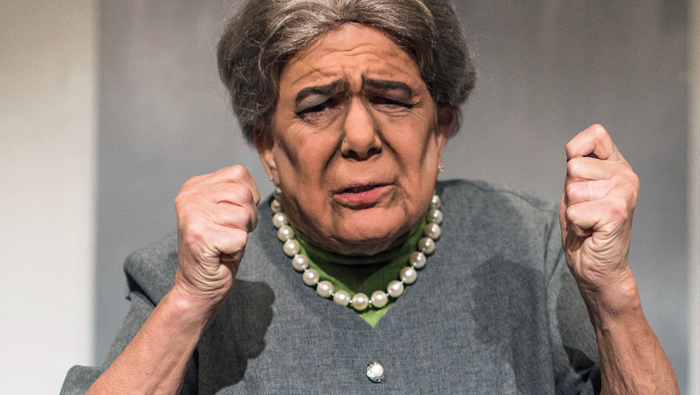 Portland theatergoers will have the opportunity this month to learn more about the remarkable life of Golda Meir, the iron-fisted fourth prime minister of Israel.
The fearless leader is being played by Portland actress Wendy Westerwelle in Triangle Production's "Golda's Balcony." The one-woman show explores how Golda found her voice and the courage to become one of the great leaders of the Jewish state of Israel.
"Golda's Balcony" is the final work from playwright William Gibson. Triangle Production's Founder and Executive Director Don Horn found the script with Wendy in mind.
"When he told me he got it for me, I almost fell over," Wendy says. "She's been my hero since I was a little girl."
Golda Meir was born in Kiev in 1898 and moved to the United States as a child. She and her husband Morris moved to a kibbutz in Palestine in 1921. She was involved in politics, holding different offices, before becoming prime minister from 1969 to 1974.
"I can't think of a better example than Golda Meir how she used her strength and perseverance to shape the world around her," Don says.  "Was it easy? Did she do everything right? No, but she stood against many tides and found a voice. I believe we need that voice right now."
The play covers many parts of Golda's life including her bold interactions with foreign leaders at a time when women had a different place in the world.
"She was a heroine and will always be one of the great women in history," Wendy says.
Wendy and makeup artist Alexis Campell Starr spent hours studying her features to create the look for the show. "It's fun to bring her to life," Wendy says.
Wendy's late husband Mark Larsen, to whom she is dedicating her performance, found the pearls she will wear in the show. Golda Meir often donned pearls around her neck.
"The biggest challenge is to do my best work so people can know her and she can be revered," Wendy says.
Wendy has worked as an actor her entire adult life in both Portland and Los Angeles. She says playing Golda is the start of the last chapter in her career as an actor.
"I can only hope to be as honorable, truthful and fearless as she was. It's an honor to play such a woman."
Golda's Balcony
WHERE: The Sanctuary @ Sandy Plaza, 1785 NE Sandy Blvd., Portland, OR 97232
WHEN: March 9-April 1 (7:30 pm Th., Fri., Sat.; 2 pm Sun., March 19 & 26)
TICKETS: $15-35; all seats are reserved; call for student and group rates.
CONTACT: 503-239-5919 or trianglepro.org