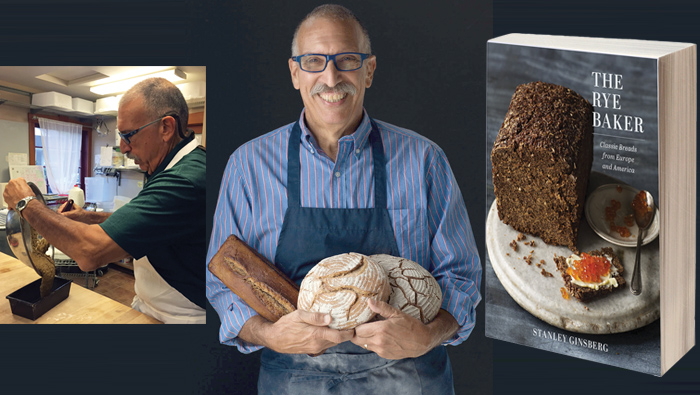 You may think of rye bread as just a dry, nondescript backdrop for a pile of pastrami. With his new cookbook, The Rye Baker, author Stanley Ginsberg aims to change that perception. Stanley, who was recently in town to school Tabor Bread patrons on the art of baking rye rolls and Swedish sweet bread, describes himself as "seduced" by rye.
"I am now a rye addict," he says with a laugh. "I grew up with all the Jewish breads, and when I was researching my first book, Inside the Jewish Bakery, I discovered that the breads that I grew up with in the '40s and '50s were actually later iterations of breads that had come over with my grandparents in the early part of the 20th century.
"Jewish bakers brought breads over with them from all over Eastern Europe. Those breads got more into the Jewish rye, pumpernickel, but I was much more interested in the breads that first came over – the breads that my grandparents ate, and their grandparents (ate) in Europe. And so I started doing research and discovered this incredible tradition of rye that nobody knows about in this country. I started collecting recipes … I just got blown away."
A native New Yorker, Stanley learned to bake as a child. He recounts, "We lived in the same apartment building as my mother's parents, and my Ukrainian grandmother, when I was like 3 and 4, would give me a piece of dough and I would play with it and then she would stick it in the oven. There was my roll, my bread, my cookie. The bug bit me early."
Stanley spent more than two years performing culinary research for The Rye Baker. "The recipes come from all over the United States and Central and Eastern Europe, and the book is organized by region," he explains. "We have immigrants' bread in America, and (breads from) France, Spain, the southern shore of the North Sea, the Nordic countries. … All of the breads in the book I baked myself, because I knew exactly how they were supposed to look, and I wanted them just the way I wanted them."
His beautifully photographed cookbook contains a history of the rye grain in addition to more than 70 sweet and savory recipes, from caraway beer bread to gingerbread to East Berlin malt rye. The book would make a great Hanukkah gift for the home baker.