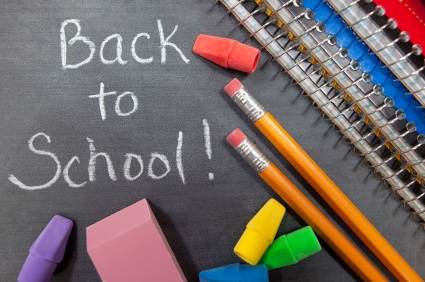 Ah, shopping for school supplies. Is there anything … worse? First of all, why do they need so darn much stuff ? I mean, honestly, are they really gonna use one pencil a week for the next 36 weeks? Plus, this school supply stuff really adds up fast. It was probably wrong to tell my son he could have the Mario Wii game if we netted out at under $100. His subsequent tantrum was rather embarrassing I must admit. After he composed himself, he looked at our $180 stash and said, "School costs enough. I think the teachers should just buy all the school supplies themselves and give them to students."
Of course I used that as a teachable moment to launch into a diatribe about the shattered state of education in the country (and particularly within our own state confines) and shared with him the rather disturbing fact that nationwide, teachers earn a whopping $.88 for every dollar earned by those in "comparable" positions. This might have gone over my 9-year-old's head.
But back to the chaos of the school supply aisle. It reminded me of Passover shopping on Devon Avenue at Hungarian when I was a little kid growing up in Chicago. (While this image may only be accessible to a few of you, it is such a perfect analogy that I had to include it.) Only instead of large Jewish women with short, complacent husbands bodychecking me in the macaroon aisle, here we had hordes of over-privileged children violently grabbing the last few packs of sharpened pencils, staplers and highlighters with absolutely no regard for personal space, safety or courtesy. And the parents were even worse.
One lady literally raced me to the dry-erase pen section after I foolishly pointed out its whereabouts to my dazed son, who'd been up and down the aisles three or four times without spotting them. She took the very last package of pens. "Um, excuse me," I politely announced. "My son was on his way over to get those. I believe you heard me direct him to this section, and then you ran over here before he could get here and took the last package of pens. Don't you think you're being a little too competitive?" "Hey," she smiled with self-satisfaction, "You snooze, you lose."
For a brief psychotic moment I thought about taking both of my children to purchase their school supplies at the same time. Instead I decided to make it a "fun" mommy and me outing for each child individually, complete with a post-shopping trip to the local fro-yo shop.
Luckily by the time we got home, it was too close to bedtime to play out the second half of this cutthroat educational acquisition competition. We tabled it for the night.
But let me tell you, come tomorrow morning, I am gonna be a force to be reckoned with. So if you see me coming down the aisle, accordion folder in hand, please, for the love of God, get the hell out of my way.
Debra Rich Gettleman is a mother and blogger based in the Phoenix area. For more of her work, visit unmotherlyinsights.com.