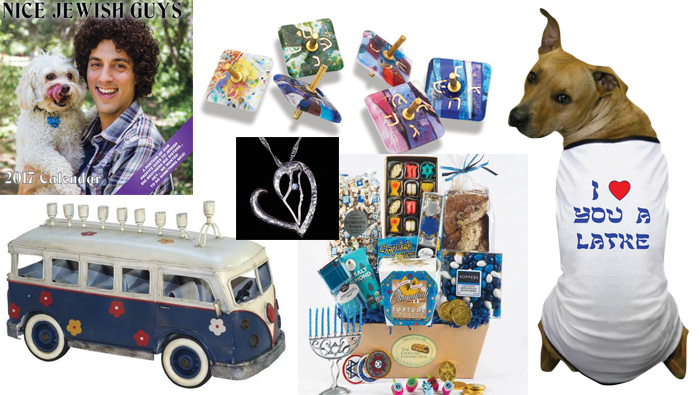 There are lots of traditional gifts to give your loved ones during Hanukkah. But there are also some unusual ones to consider. I spent some time searching the internet for some ideas. I hope you enjoy my top picks for an especially unique Hanukkah this year.
1) The 2017 Nice Jewish Guys Calendar features an array of menschen you can proudly take home to mom. The calendar turns the spotlight on the underrated characteristic that pecs and tight buns can't deliver…niceness. The Nice Jewish Guys Calendar features a different mensch every month. Major secular and Jewish holidays noted. $14.95. moderntribe.com
2) Dreidel is a fun game to play, but you can also have dreidels that are works of art. These Glass Dreidels by artist Gary Rosenthal have a contemporary style rooted in tradition. His inspiration comes from the rich history of the Jewish people, which tells us it's a blessing, or mitzvah, to make beautiful, functional art. $120 for 6. menorah.com.
3) You can find menorahs made of metal, glass and clay in traditional, modern and unusual shapes, including people, animals, planes and cars. There is something about the Wheeling Groovy Menorah that just makes you smile! This enameled metal bus looks like it just came back from a road trip to a 60s concert. $52. menorah.com.
4) What better gift to give than your time? Pinspiration has all the supplies you need to "create" together as a family. Current Judaica projects include: a linen canvas and Star of David collage, a shalom pennant banner, Shabbat beaded/painted wine goblets, an oy vey food platter, Judaica wine charms, dreidel and Star of David mason jars, wooden menorahs and beaded spoons. Projects range from $26-$42. Reservations not required but recommended for large parties. Pinspiration is located at 5410 E. High St. #105 in Phoenix. Call 480-636-8010 or visit pinspiration.com.
5) The Chanukah Festival Basket has it all. Enjoy an assortment of noshes, including chocolate drizzle popcorn, Chanukah fortune cookies, chocolate babka, shortbread cookies, marzipan candies, assorted gourmet chocolates and other holiday necessities: menorahs, gelt and dreidels. Serves 10 to12. Parve & dairy. $159.99. challahconnection.com.
6) Whether you own a teacup breed or a mastiff, your best friend can be decked out for Hanukkah in an I Love You a Latke Dog T-Shirt. They'll be the envy of the dog park! $14.95. cafepress.com.