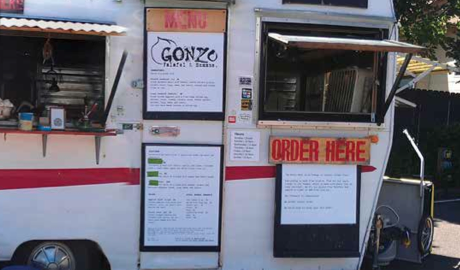 Tal Caspi, who has lived in Portland for almost decade, was born to Argentinian parents in the Israeli city of Ashkelon, which lies 36 miles south of Tel Aviv. He would go on to live in Southern California and all over the United States, but people kept telling him to move to Portland. "I had just sort of heard that it was great. I kept meeting people who told me that Portland would be perfect for me. They were right. It's young, hip and there's a great music scene."
Now Caspi is generating considerable interest in his imaginative Middle Eastern menu, which includes his famous shawarma fries. "It outsells everything else now," says Caspi. "We put a layer of hummus and a huge pile of fries – as many fries as we can possibly put on a plate – and then on top of that we put tahini, house- made harissa and tsug, then chicken shawarma on top, and pepperoncini."
For those who are unfamiliar with tsug, it is a Yemenite hot sauce made with garlic, hot peppers and spices. Caspi explains that this sauce is a favorite of Israelis.
Caspi, who has lived in Portland for almost decade, was born to Argentinian parents in the Israeli city of Ashkelon, which lies 36 miles south of Tel Aviv. He would go on to live in Southern California and all over the United States, but people kept telling him to move to Portland. "I had just sort of heard that it was great. I kept meeting people who told me that Portland would be perfect for me. They were right. It's young, hip and there's a great music scene."
It was in Portland that Caspi realized he wanted to work in the food industry. He gained valuable experience working as a line cook and then managing popular food carts Perierra and Pyro Pizza. Says Caspi of Pyro Pizza's John Eads: "He's the most inspirational boss I ever had." Still, Caspi felt a culinary void. "I was hungry, and I wanted to feed myself – and I could not find traditional Israeli or Middle Eastern food from scratch." Caspi soon got to work recreating all of the traditional foods he loved.
At Gonzo Falafel and Hummus, Caspi features a menu that includes various Israeli salads, small plates, sandwiches, and platters with falafel, hummus or shawarma. All of the meat is free-range and local, and the eggs are cage-free. The cart offers many vegetarian and gluten-free options. Caspi is always serving up exciting specials like spicy Moroccan carrot salads, tacos or root vegetable slaws inspired by Sami Tamimi and Yotan Ottolenghi's Jerusalem: A Cookbook. He says of the chef duo: "They're the people I look up to."
Customers can enjoy Caspi's creations from the warmth of the adjacent Basecamp Brewery. People can order inside the family-friendly brewery, and he will deliver right to their table.
Future plans of Caspi's include opening up a mobile food cart and an Israeli-style barbecue restaurant. "I want to do mangal, the little barbecues that Israelis love so much, and have a wood-fired grill. There's a lot of places in Israel doing kebabs and different meat products on a stick." For now, Portlanders are lucky to experience a small slice of Israel at Gonzo Falafel and Hummus.