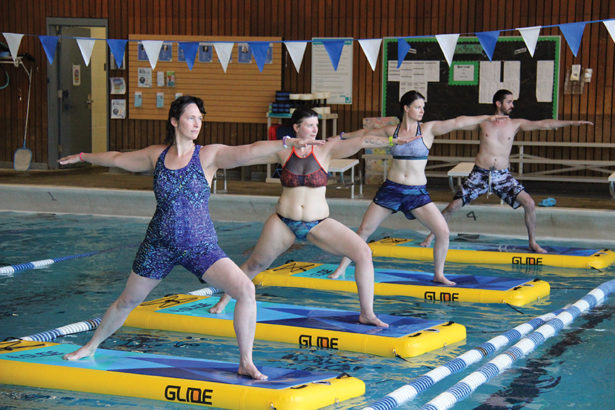 NOTE: New sessions Saturdays, June 30-Aug. 25: Aqua Strength 11:30 am-12:30 pm; Aqua Yoga: 12:30-1:30 pm. oregonjcc.org

Yoga, strength-building and swimming have long been popular fitness options. Now you can literally work out ON the water with a floating fitness mat called Glide Fit.
The Mittleman Jewish Community Center has purchased the boards and is offering two classes designed to strengthen your core and improve your balance as you mix up your fitness regime. Aqua Strength and Aqua Yoga will get you on the water for a workout like no other.
In Aqua Strength, participants perform traditional strength-building exercises while floating on top of the water.
"When training on an 'unstable' environment, your body is required to continuously contract muscles to maintain balance and stability in addition to perform any range of motion," says Alexander Ness, who teaches the Aqua Strength class. "In other words, by maintaining balance and moving through a series of exercises, your body will require more muscle activation to maximize the workout and double the efforts to perform during the exercise(s). The results of your body's muscle endurance will increase when exercising on the Glide Fit boards."
The boards are anchored to the lane lines to provide people control over a specific area within the pool.
MJCC member Sylvia Grant says she decided to take the class to further diversify her fitness regime, which includes body shop, Pilates and swimming.
"It's fun and a good workout," she says. "We do planks and sit-ups and bicep curls with bands and core work, but when you're on the water, all your muscles are engaged trying to keep your balance. It's fun; if you lose your balance, you fall in the pool and don't care."
Alex learned about the boards from his mother, who is a yoga instructor and an ambassador for Glide Fit boards. She encouraged Alex to create a class at the MJCC.
The J's Aqua Yoga instructor is Amy Bradford, who has taught yoga for kids, youth, gentle yoga, "regular" yoga and chair yoga since 2014. She also teaches aqua aerobics classes and swimming lessons.
Amy says her students range in age from their 30s to 70s.
"It's all core work," says Amy. "Getting onto the board, balance on the board. Pretty much everything requires intensive core engagement. … Anyone who is interested in working on balance will find a good challenge in this class. It requires a fairly robust willingness to be challenged and potentially fall into the water."
Doing yoga on an unstable surface offers an opportunity to explore balance, enhance core work and be playful in an aquatic environment.
"It's definitely cool to do something that's different that challenges my balance while doing yoga at the same time," says student Carolyn Fischer.
Cheryl Macy is 72 and says she has a love/hate relationship with the yoga class. "It's really hard, but that is part of the fun.
It's hard to stay balanced on that thing."
As an added benefit, Cheryl says she also got a good muscle workout pulling herself back up on the board after falling into the pool – which she did frequently for most of the session.
"I did get through the last class without falling off – that was quite an accomplishment," she says.
Alex hopes to develop other classes on the boards in the future, including a fall-prevention class for elderly people who need stability exercises. He says the exercises are fun and challenging and can benefit all ages and abilities for people who want additional training for muscle endurance, balance and strength.
AQUA GLIDE CLASSES
Mittleman Jewish Community Center
Aqua Strength
12:30 – 1:30 pm, Wednesdays, Jan. 3 – Feb. 7 & Feb. 14 – March 21
$72 members/$92 non-members
Aqua Yoga
 12:30-1:30 pm, Saturdays, Jan. 6 – Feb. 10 & Feb. 17 – March 24
$72 members/$92 non-members For details, call 503-244-0111 or visit oregonjcc.org